Welcome, recently I visited some wordpress sites using Commentluv Plugin interacted with them and before I know it have gained something new from my short period of stay there. You would be wondering what have I gained, but that's what I have here for you and we would discuss it together.
If you do visit some blogs you would have been seeing CommentLuv below comment section of each post like below.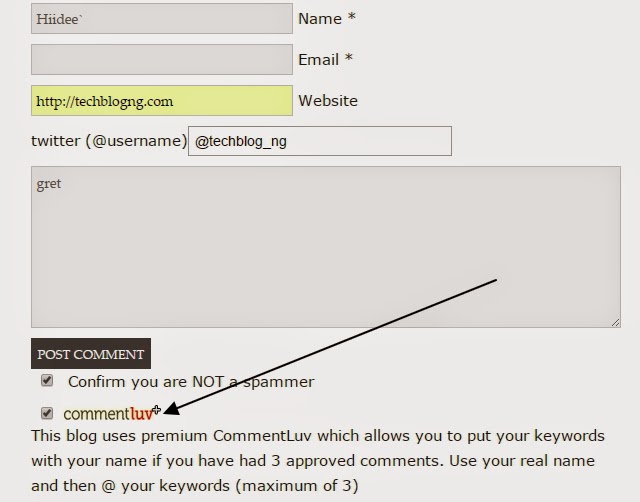 CommentLuv have both free version and paid version. You can choose which one to use but they possess different features which makes paid version more valuable than free version.
Download CommmentLuv free | Download CommentLuv Premium
How CommentLuv Works:
– Thick the CommentLuv section after filling comment details.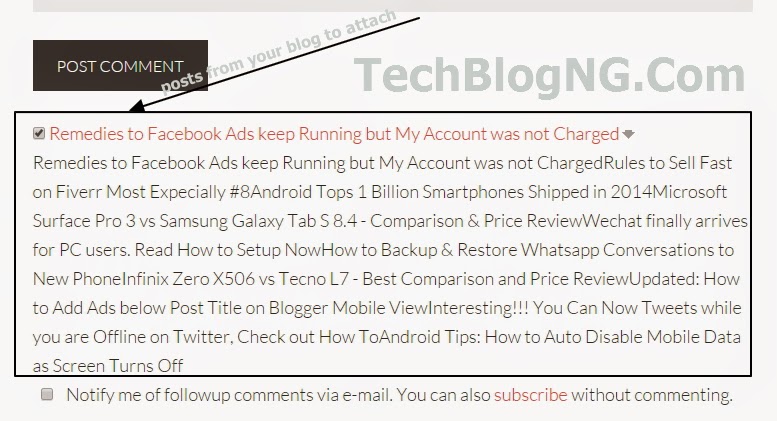 – You would be provided with list of last 10 Posts from your blog as above.



– Choose any one you wish like attaching to the comment and Publish.
CommentLuv Premium Version include some plugins bundled together:
1- Twitter Link – It allows your blog commenters to leave their twitter username with their comment. People know Twitter handle of each other, and probably it can also help you as the owner to identify and interact with your commenters on Twitter. I can simple say it helps to connect with new people on Twitter.
2- ReplyMe – In this state, your commenters drop a comment on an article you publish but fortunately he didn't subscribe to your blog feed or comment feed. This plugin would email the commenter once there's a new reply to his/her comment. This sounds great and can eventually remind your visitor that your site exists because he/she may be from search engine and may just pick up what is needed, drop a comment and leave but you replying to the comment would remind him your site exist and would surely visit again.
3- GASP – This is a plugin to add a simple captcha in the form of a checkbox on WordPress comments form (which is the Confirm you are not a spammer you see below comment section) to reduce automated spamming.
Now back, Have you ever considered why and what are these people using CommentLuv for on their WP site, although some think it does invite spammers who would just drop a link, but it's advisable you moderate your comment well. Without wasting much time let get up to the title to be discussed today:
Importance of using CommentLUV Plugin on WordPress Blogs
CommentLuv Build Interaction between your Readers: Other commentators can browse posts and find other blogs in their niche pretty quickly only if the commenter drop a link by thicking the commentluv check box. It allow WP Owners to know their true Readers: From post title you can easily see if there's a lot of self-improvement, your niche people or from another niche. Am simple saying you would know which post category to lay emphasis on? i.e. as am writing about technology news, SEO, tech review, smartphones, etc. if I have commentluv installed and the post dropped by commentators is mostly about smartphones I would now make sure to feed my commentators with more smartphones tips and tricks.
To Identify Spammers: If it's a spammer, they would have bad posts linked with their comment and would get deleted as soon as you detected that.
Adding more to Conversation: Probably, if I posted about Must have apps for successful blogging and my reader comment and left the webpage commentluv will link to a similar article with alternatives to what have said. So it gives room for new learning.
For Saying Thanks to Your Readers: When Readers leave an inspiring/good comment, this can serve them to promote a good blog post which you too can do on commentluv enabled blogs.
How I wish there's Commentluv for Blogger Blogs….am already falling for it.
It's now your turn to give reasons why you prefer using commentluv on your blog but if you have never heard or use it before let us know how you feel about this plugin.