Facebook is one of the great tools for marketing nowadays. Most companies and websites have a facebook fan page where they convey all information to facebook fans. There are instances when pages will have thousands of subscribers and the normal website subscribers will be very low. Advertising is the best way to promote most Facebook Page, but there are still other ways to promote that.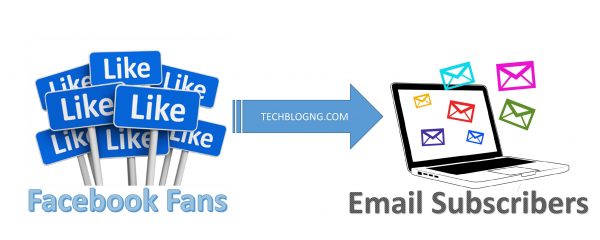 Getting a bunch of likes is not the real answer, when you have many likes and fews are engaging on your Facebook Page posts it is more or else you don't have fans at all. Most people have many friends and follow most companies website facebook pages, their news feed might feel occupied and they might not be able to pay attention to all posts. The most profitable solution to this answer is turning those fans into email subscribers.
Below are the top strategies you can use to turn your facebook page fans to email subscribers and send the latest products, posts or gists straight to their emails.
Secrets on How to Turn Facebook Fans to Email Subscribers
1. Post Valuable Contents
Quality and valuable contents are one of the great key to successful marketing. By posting unique and valuable contents, your facebook page will spread and more people will learn about you. If you are promoting an article or a product on your facebook page, it is advisable to draft a little bit from the article paragraphs as introduction before adding website link/url. You should get away from copyright contents, I even see no reason why you should not be able to sit, think and write down something meaningful. Content is the king, the more attractive the words are the more you will gain readers or subscribers attention.
2. Promote A Free Product.
Yes, we all like free things even me. But the product to be promoted must relate to our business or websites. For example, promotion of an ebook about Gadgets on a Health Blog or website or facebook page that discuss of health tips. You can see this is totally out of the box, so note that what you should promote should be related to your subscriber's interest. Some people do think on writing books themselves, Yes it is a nice decision but it is not a must for you to write a book before you can promote them. We have different books online you can grab anyone and give your subscribers links to download it for free but it must only be available to the people who enter their name and email address in a form.
Note: If you are using someone else ebook or book, you must keep it intact you have no right to edit their works unless te Author gave you the permission to. You might be punished for that if you are caught.
[clickToTweet tweet="Hidden Secrets on Turning Facebook Fans to Email Subscribers" quote="Tell Your Loved Ones about the Hidden Secrets on Turning Facebook Fans to Email Subscribers" theme="style6″]
3. Host A Giveaway on Facebook.
Giving out things does not mean you are losing, but if you don't use unique strategies to host the giveaway you might loss last. There's more to giveaways than just slapping some product up that you may have on hand or got for free for writing a review. You need to know good ideas for giveaways, how to promote the giveaway and how to benefit the most from the giveaway. Once a giveaway is hosted on Facebook, you must make sure that the only way for a person(s) to win the prizes is by subscribing to your blog or website newsletter.
MUST READ: On Page SEO Tips to Rank Higher on Search Engines
4. Engage with Your fans
.
Engaging with Facebook fans is also one of the keys to success in Marketing. When your fans engage on your facebook page posts you have to show you care for them by giving them a proper reply to their requests. This will allow you to attract more fans and build stronger connections. So the more you engage with your fans the more they will feel relaxed with you and those fans will become your subscribers.
5. Offer Discounts on Products.
Top sellers making huge sales out there daily are those that provide discounts to their customers. Most people looks for discount products only to save their money. If you usually promote products on your facebook page, it is advisable to give your fans discounts. But make sure you require them to subscribe to your website newsletter before they can take advantage of the discounts.
RECOMMENDED: Important Tips for Marketing on Twitter
6. Share Customer Testimonials
.
Customers feel honoured when you share their testimonials to the public. They will feel happy their names is shown to millions of people around the continent and your own purpose will be to proof quality to gain more subscribers. These testimonies will also prove to your Facebook fans that you provide valuable and meaningful contents. This will encourage more people to subscribe to your blog for updates.
The money is really in email lists, so you don't have to treat your email list like your in-laws. Simply tolerating them just to get what you want. Most successful online marketers understand that the hidden secrets to effective email list marketing start with the quality of your connection to your list. You can promote your products and blog posts to the people on that email lists. It's now time to hear from you, what methods are you using to grow your email lists???