It's been a while i wrote, now back with how you can simply make a hard reset of your window phones.
Last time i posted on How to send attachments through email on window phones .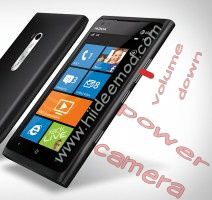 To hard reset your window phone follow the below guidelines given:
★ Hold down the Volume Down + Power + Camera buttons at the same time until the phone
vibrates.
★ Once the phone starts to vibrate, release the power button, but continue to hold the other two
buttons for about 5 – 7 seconds.
★ Now your window phone reboots.

You now have your device as bought.