Last Year December 2015, we witness the launched of two great smartphones from Infinix which is the Infinix Note 2 and Infinix Zero 3. Both smartphones are fantastic and really built to improve the technology market. Recently I received calls from our beloved readers asking which is preferable among the Note 2 and the Zero 3. Though I can't really say anyone is better than the other because it only depends on what purpose you want to buy the smartphone for and the type of specs you want as well. For example someone that like snapping photo would prefer a smartphone with sharp and clear camera compared to someone that likes using the phone to browse and play games.
Today we are to differentiate between the two smartphones, to know which one serves the purpose you want. And which one you can afford. Both smartphones are built with two micro sim card slot. Both Note 2 and Zero 3 features 4G network connectivity for faster browsing experience.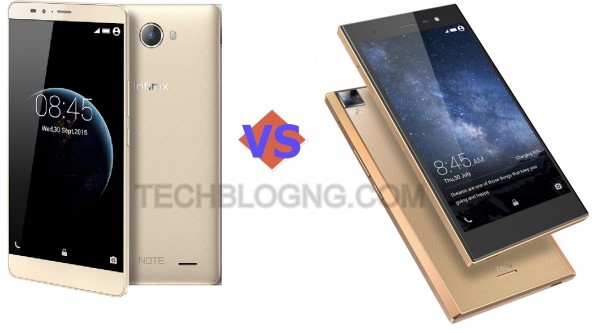 Also Read:
Infinix Note 3 – Specifications, Features and Where to Buy
Design and Display Comparison
Both smartphones are built with excellent technology craft making use of high durable materials and polished with elegant design and colours. The Infinix Note 2 popularly known as "the Big 6" features a normal design expected from a mid-range phone while the Infinix Zero 3 X552 features a chic, durable and classic design. The minimalistic exterior of Zero 3 is complimented with dual-sided explosion-proof glass and a stainless steel frame. The front of the Zero 3 is processed with glossy piano paint and the back features meticulously brushed metal. I can only say both are great and built for easy handling and smart handling while in use.
Infinix Note 2 Phablet features a
6.0-inch
FHD display Screen with a resolution of 720 X 1280 pixels and a Corning Gorilla Glass 3 for maximum screen protection while Zero 3 features a
5.5-inch
FHD 1080P display screen with resolution of 720 x 1280 pixels (400ppi density) and the Corning Gorilla Glass 3 as well for high light transmittance, allowing users to experience greater clarity for immersive gaming and video.
IPS technology
in both smartphones enables 178° wide viewing angle which makes sharing of content easier, whether you are watching movies or browsing photos. Note 2 features a dimension of
159.5 X 82.5 X 9.3mm
and the Zero 3 dimension is
151 x 75.8 x 6.8 mm
. The dimension already shows that the Note 2 is bigger than the Zero 3 and the Zero 3 is slimmer and lighter in handling than the Note 2.
Verdict:
Note 2 is more bigger than the Zero 3. So if you want a big phablet you can go for the Note 2 but Zero 3 is preferable if you don't like the big 6inch screen of the Note 2.
Must Read: How to Upgrade Infinix Smartphones to XOS Marshmallow
Hardware Comparison
Both smartphones feature a powerful MTK 64 bit processor but with different processor name. The Note 2 is built with the MTK6753 64-bit Octa-core processor clocked at a processor speed of 1.3GHz while the Zero is built with a Mediatek Helio X10 Octa Core processor clocked at a speed of 2.2 Ghz. The processors deliver a powerful hardware performance which guarantee best user experience as well as the extreme balance of performance and power consumption. Both smartphones run on latest Android 5.1 Lollipop but with different Memories. The Note 2 has 1.5GB/2GB of RAM and 16GB internal storage while the Zero 3 has 3GB of RAM and is of two versions, one with 16GB internal storage and the other with 32GB internal storage.
Verdict:
As for the hardware comparison the Zero 3 is more faster in everything than the Note 2. Zero 3 has 3GB of RAM compared to Note 2 of 2GB of RAM. Zero 3 is also built with a faster processor speed of 2.2GHz compared to that 1.3GHz of Note 2.
Camera
The Note 2 is built with a 13MP Back Camera which can be use for taking great photos and 2MP front facing camera for taking selfies. The Zero 3 is built with a super amazing Sony 20.7 MP back camera which can capture crystal clear images like never before than any other Infinix phones in Market as at now. Added to the Zero 3 is also a 5 Mega Pixel front facing Camera for selfie lovers. Note 2 back camera has a single flash led compared to Zero 3 Back Camera with a great Double LED flash (warm & cool light) which auto-calibrates for 6000K to 2300K light based on ambient environment temperature.
Verdict:
The Zero 3 is preferable for photos and selfie lovers because it has a more improved camera specs than the Note 2. Though Note 2 is not that bad in snapping clear and sharp images but if you want a more sharp image like the digital camera then Zero 3 is the best option for you.
Battery Life, Price and Availability
Note 2 is built with a big battery size of 4000mAh while the Zero 3 has a 3030mAh battery. The Note 2 battery is expected to last for more than 48 hours while using the internet connection while Zero 3 would last for around 36 hours on usage.
Both smartphones are available on most big online shopping mall for cheap price. The
Infinix Note 2 is available for a price tag between N31,000 – N34,000
and the
Infinix Zero 3 for price between N45,000 – N47,000
. The varying price depends on your location.
Click here to buy if you are from Kenya.
Click here to buy if you are from Ghana.
In case you have any other question or info on any of the smartphone, you can drop a comment and expect reply as soon as possible.