Microsoft Outlook is favored among versatile email platforms because of its reliability, security, adaptability, and availability. It uniquely stores all email items in local machines as .pst format and these PST files can be exported or imported to other locations without any hassles. However, sharing the PST email items is worthless if the client machine doesn't have the MS Outlook client as an email platform. Overcoming the technological barrier, where a non-Outlook user is required to view the PST email items, with a freeware application is the cloud with a silver lining.
Kernel Outlook PST Viewer is rolled out in the market for free usage benefiting the large pool of users. Quick look at the tool gives us an impression of a reliable and robust PST viewing experience. For initial testing purposes, I have used the Windows 10 64-bit machine on which the PST viewer works smoothly. To get deeper into the intrinsic functionalities, let's take a brief tour on Kernel Outlook PST Viewer.
Getting Started with Kernel Outlook PST Viewer
The smooth functioning of Kernel Outlook PST Viewer can be determined through its effortless and glitches-free installation. You will get to view the following screen once the software loads on Operating System. It is good to see the multiple provisions to upload a PST file, i.e. Browse or Search buttons. The PST file upload process is enhanced and simplified with the Search facility which lists all entries of PST file from specific hard drive location.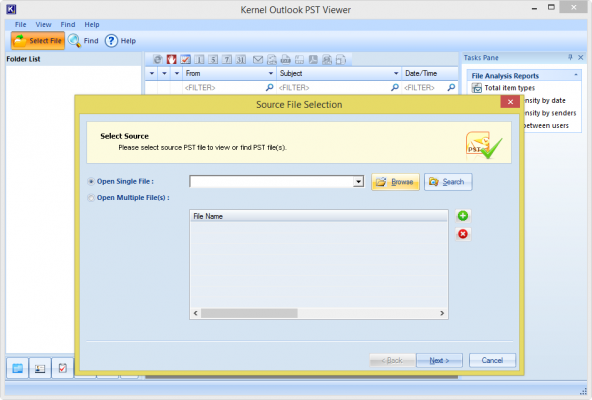 The show-stopper of this freeware PST viewer application is its capability to process any corrupted or healthy PST file without losing an inch of information. I am addicted to the responsive interface which have displayed what I haven't thought of. It formidably retrieved all deleted emails while exclusively preserving the properties and hierarchy of emails, which are clearly indicated in the red col0r.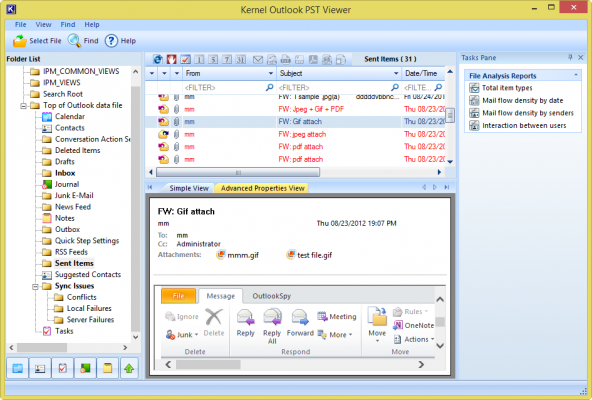 I had a misconception that the freeware application lacks over-rated features; however, after looking at the Find functionality of Kernel Outlook PST Viewer I think I was wrong. With the intelligent Find feature, I can easily retrieve, manage, and read PST mailbox items which falls under desired conditions such as From, To, Subject, Received before, Received after, and Message has attachments.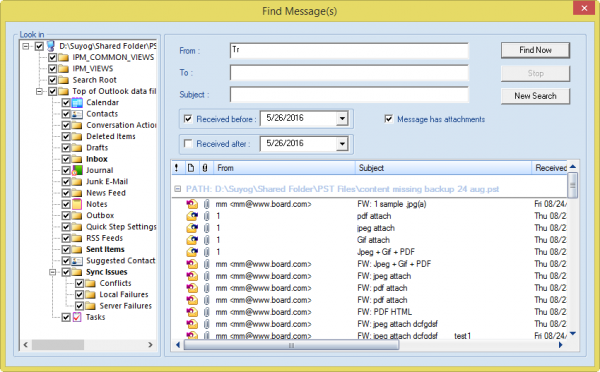 Apart from providing advanced PST viewing capabilities, the File Analysis Reports feature enhances the overall functionality of software. What I have seen after using the File Analysis Reports is the accurate reporting and rendering of distinct email parameters like Mail flow density by date/sender, Total item types, and Interaction between users. Here, I have selected Mail flow density by senders which triggers the rendering of all email information accurately. Truly a magnificent feature.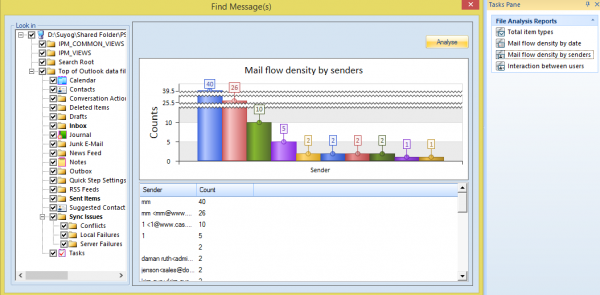 Quick Facts about Kernel Outlook PST Viewer
Despite the freeware application, it uniquely offers HTML and TXT saving option that eases the printing of email information.
Upgraded with extreme potentialities that facilitates processing of even password-protected, ANSI, and Unicode PST files.
Interface is enhanced with responsive emails manager with fields like From, Subject, Date/Time, and Lost/Deleted.
Accustomed to run proactively on the latest Windows 10 and MS Outlook 2016 platforms.
Conclusion
Summing up my review about the Kernel PST viewer, I would recommend this tool to all those users who need sure-shot and priceless utility to view Outlook PST files. Just get the first real look of the software by downloading Kernel Outlook PST Viewer from here. http://www.nucleustechnologies.com/pst-viewer.html