We are in the era of smartphones, we see technology improving day in day out, and new smartphones are also finding their ways to the technology Market. Following some statistics, it has been observed that the market for mobile gaming is rising fast. iOS and Android are the main platforms used for this, followed by others such as Windows. With these new age smartphones, so many things can be done with your palm-sized gadget(s). You can make calls, send messages, browse the internet, do your internet chat and even entertain yourself with top music players. All thanks to the new technology and latest mobile phones. Smartphones are compact devices packed with all features that are guaranteed to entertain the owner. Apart from the music apps, you have a series of mobile games as I have said earlier. Those games can help you open your mind to a new world of possibilities. But some people do claim that mobile gaming is not good for health, but this is totally wrong. All works and no play, make Jacks a dull boy, so entertaining oneself with a mobile game is nothing bad at all. Different categories for gaming are puzzles, platform, and tile-based ones, 2D RPG, strategy, and racing.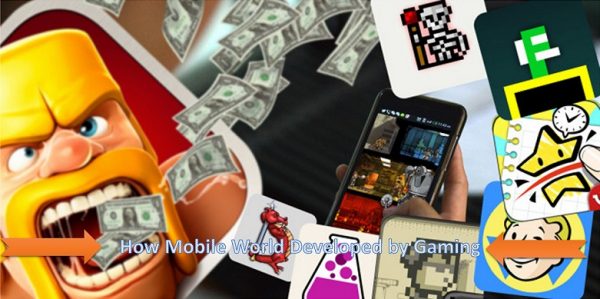 How the Mobile World have been Developing by Gaming:
1. Improving Knowledge
Learning new things is cool, but this doesn't mean that a mobile game should immediately become a branch of school on your smartphones. Gathering new experience, finding out exciting facts, discovering a foreign world, or exploring an interesting topic is fun. Searching for more knowledge has always been pushing humanity forward. I can say that is one of the reasons why the process of solving problems and puzzles or any other kind of intellectual activity can be an important source of gaming motivation. Filling the game world with mysteries, puzzles, interesting facts, and secrets will turn a user to a discoverer learning things not because he has to but because he wants to.
2. Ability to Achieve & Be Motivated
People can become anyone they want to be by the significant temptations of a game. The opportunities of game plot and its characters are endless, and the likelihood criterion is only optional. So if a worker that's not that good at work returned home and started playing games. The more he plays, the more skills, experience, and points he earns from the game and these rewards are highly valuable to him. If he also has the opportunity to play in multi-player along with someone else and he was able to win more than the opponent. A game gives its player a possibility to become something else, a better, more important person, and to be more successful than he possibly is in its real life. This can motivate users to work more hard and successful in day life jobs and activities with the ability that he/she can do better.
3. It helps to Reduce Stress
Scheduling some time for a little bit of gaming through your mobile is not bad. It actually feels good for the mind because it helps you get rid of the stress that you have accumulated. From the frustration at work to the inability to do things properly, you can get rid of all the stress with just a few rounds of gaming.
4. Improve in Hand-Eye Coordination
Smartphones games are also one of the excellent tools to improve hand-eye coordination. Gaming on a regular basis will actually help you improve your skills in a big way. While playing games, you have to keep an eye on the screen and manage the control through your small gadget. So, as you practice the game gradually, you get used to applying the controls without looking at the keyboard. This will help's in improving your hand-eye coordination for other situations as well.
5. It Brings about Need for Respect
One of the important things in life is respected and appreciated by other people for something. You can play games alone but playing with more people will be more fun and can gain you respect. Online Games can be played with more opponents, and you can also play through your personal smartphone. Mobile casino games generally offer odds and payback percentages that are a bit higher than land-based casinos. Some online casinos claim higher payback percentages for slot machine games, and some publish payout percentage audits on their websites. You will play online, demonstrate achievements and win different competitions. Before you know it, your opponents will admire and praise you only when you continuously win over them. Online games have a very significant social side by creating virtual communities as well.