Music is something many can't live without, and it has the ability to relax us. With today's smart mobile devices and handy apps, you can take your music and conversation anywhere you go. Android devices are among the gadgets offering techie music to consumers. With the Android software living in your gadget, you can always access an incredible number of music apps flooding the Android market. It would not be easy to know the music apps with good features other than just listening to music. It is more than just hearing the sound of the music. If you love your android smartphone and you are a music lover, you can check out these best music apps for Android:
1. MusixMatch Lyrics & Music Player



Musixmatch is one of the best music apps for android. It is the world's largest collection of song and lyrics apps. It is used by many people (millions of people) to get instantly synchronized lyrics for Youtube, Spotify, Pandora, and lots more. It also allows you to browse and play songs either from specified folders on your device or from the automatically generated Android library. With Musixmatch, you can enjoy lyrics as the music plays either from Spotify, Youtube, Pandora, Apple Music, SoundCloud, Google Play Music, and all your other favorite online streaming services. This is a free music app, so you don't have to pay any dime for downloading it.
Must Read:
The Importance of Electronics In Each Sphere of Life
2.
DoubleTwist Music Player
DoubleTwist is a cool music player and podcast manager with music sync functionality. With this app, you can find all kinds of music you want on your Android phone. But what is more amazing is that you can synchronize your Droid with a desktop PC via a Wi-Fi connection to detect music files. If you are a MAC PC user, you can use iTunes to synchronize with your Android device. The good news is that the basic functionalities of this app are available just for free.
3.
PowerAmp Music Player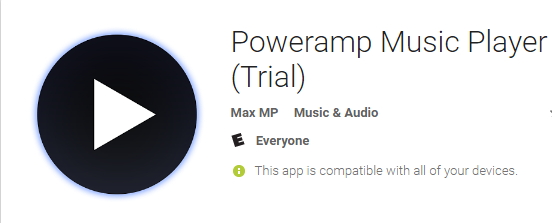 Poweramp
is also a powerful music app; if PowerAmp is not on your list of apps, you are missing a lot. This music app plays several files on your device, including MP3, FLAC, ALAC, WAV, and WMA. The player comes with a ten band equalizer with presets and separates treble and bass adjusters, a sleep timer for pausing in between songs, and an album art finder and tag editor. It also allows you to browse and play songs either from specified folders on your device or from the automatically generated Android library. Lastly, PowerAmp comes with several home screen widgets for fast music control as well as a lock screen for controlling music playing. Poweramp has a free and paid version, and you can try the free version first before going for the pro version, which will cost you $4.95
PEOPLE ALSO READ:
5 Quick Tips to Make Your Smartphone Charge Faster
4.
Player Pro Music Player

This amazing application is an advanced music and video player for your Android device. PlayerPro features a beautiful, fast, and intuitive interface alongside powerful audio configuration options. In addition, there are several FREE plugins like Skins, DSP Pack, Widget Pack to complement the player. You can browse and play your music by albums, artists, composers, genres, songs, playlists, folders, and album artists. With this music app for Android, you can search, download and save lyrics on your Android smartphone. The good part is that this player routinely downloads appropriate album art and artist photos, saving you a lot of time.
5.
TuneWiki

Tunewiki is one of the music apps with lyrics and a social network for music discovery. TuneWiki allows you to see song lyrics on the player dashboard while listening to the song. Moreover, this amazing app can translate the lyrics into the different languages you want. With TuneWiki, you can find and follow users using the apps to discover what they are listening to. Also, this app gives you a choice to search for great songs through song maps and top charts that are updated periodically. So giving it a try will be of important thing you won't regret.
RECOMMENDED:
Exclusive Tips on Saving battery Life on Android Smartphone
6.
Shazam

It sometimes happens that you hear a song that you like but don't know the artist's name or title. When this happens to you, Shazam will help you identify the song. Then, Shazam will explore its library to find information about the song. This amazing application also enables you to share tagged songs with friends as a social feature. The good news here is just that you can download this app for free.
Did you have other music apps, which you think should be included? Drop your thought and let us know your desired music players and why it is your preferred choice.