After much research, I would be explaining to you how tO log out from Whatsapp Account. Whatsapp doesn't have logout button or options on both mobile or web version even this has also been explained on WhatsApp official websites. It means WhatsApp don't want to give you access to log out from it an app which I think to suppose to be there to be able to switch between more than one WhatsApp account.
Since Whatsapp didn't add the option, did you think this can be done in any other way? Probably YES But why did you want to Logout of Whatsapp?
Some people do receive lots of chat messages which may be disturbing sometimes, and this may bring about thinking of logging out. Some people might want to just switch account and logging out is needed. For those receiving too many messages the best thing is either switch off mobile data, diable conversation tones or you stop notifications.
HOW TO STOP WHATSAPP NOTIFICATIONS
Only for smartphones.
1. Go to your device Settings
2. Scroll down and tap on Apps
3. Here you would see all apps which you have downloaded on your mobile. You have to Find Whatsapp there and tap on it.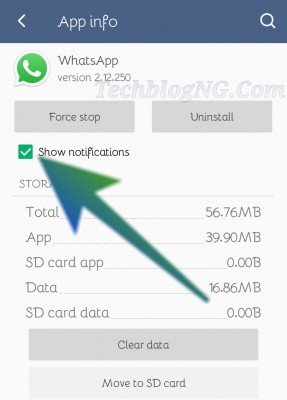 4. Uncheck the box next to "Show notifications." and then click on Force Stop.
Now the alerts won't disturb any more messages would be received silently, you would only see them when you open WhatsApp app.
HOW TO DISABLE/ENABLE CONVERSATION TONES ON WHATSAPP
Conversation tones are the sounds to be performed when you send and receive a text, audio or video message on WhatsApp. The latest edition of WhatsApp for Android operating system has conversation tones turned on by the standard.
1. Open WhatsApp App.
2. Click on Menu Button > Settings > Notifications > Conversation tones.
3. Uncheck the box to convert the shades off. Check the box to convert the shades on.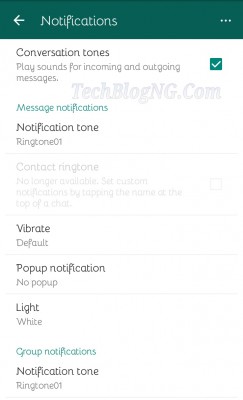 NOTE: Editing the Conversation tones setting will change both the incoming and outgoing message tones simultaneously.
More Whatsapp Tips:
– 4 Cool WhatsApp Tricks You Should Try Out
– How to Bold, Italicize and Cross Over WhatsApp Text Messages
– How to Disable Read Messages (Blue Ticks) On WhatsApp
– The Best Freeware for Your PC and Other Devices
HOW TO LOGOUT FROM WHATSAPP
Are you intending to switch to another whatsapp account? It's now easy as you don't need to delete your whatsapp app anymore before this can be done.
1. Go to device settings » Apps and tap on Whatsapp.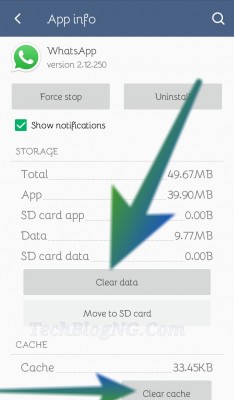 2. Now tap on Clear Data and then clear cache as shown above.
Open your Whatsapp back, and you would notice you have logged out.