Are you in need of a free website or you need a website and don't have much knowledge of the codes to be used? Wix.com is the solution to this. Wix.com, a leading cloud-based development platform with millions of users worldwide makes it easy for everyone to create a beautiful and professional website presence. You can promote your business, showcase your art, set up an online shop or just test out new ideas with the websites. The free website builder Wix.com has everything you need to create a fully personalized and high-quality website. If you are looking up for having and managing a personal or business website service, Wix.com stands out with easy to use solutions that are specifically designed to meet your website building requirements and other needs, even when you don't know anything about HTML, CSS, and others. You can simply create yourself a website with the premium site builder from Wix.
As we all know there are some popular website hosting services for blogs like Blogger and WordPress but Wix.com is not like them. I have already said before that it does not require any coding stuff but if you are good in coding, then you still have your options there as well.
Following the introduction, we can discuss the top three reason why Wix.com is the best website builder for your small or large business.
1. WEBSITE SPEED & TRAFFIC
Website speed helps a lot in SEO or in other words, it has become an important SEO ranking factor. Furthermore, people/audience like to visit websites with fast loading time. Search engines strive to present searchers with relevant content from sites with improved user experience. Slow loading sites are *an* absolute waste of time and one of the main reasons for slowness is server configuration and hosting problems. On both blogger and WordPress, you have to do this with the aid of a plugin or some other manual settings but on Wix all this are already taking care of. Once your site is created and published you would notice you already have a good and excellent site speed for easy navigation.
Once you have and own a website what comes next is getting the audience to visit your site. One of the main issues people mostly face with some hosting companies is the limited capacity to handle the traffic. Once your site is plublished and it begins to get popular, you start facing server errors due to a number of site requests from your growing traffic. In case of Wix, I am assuring you a free flow handling of traffic.
2. WEBSITE SECURITY
I have been online for over 4 years and I must say and you would also agree with me that security is another thing that highly demands the attention of everyone with an online presence, mostly website owners, email users, social media users etc. Your website would be highly at risk if it's not hosted on the server where security is treated at high priority. Any business website hosting service must be able to assure its users of stringent security 24/7. Websites created on Wix are free of hack protection and Account Isolation. This revolutionary approach makes Wix environment as secure as more expensive dedicated solutions for business websites.
3. CUSTOMER SUPPORT
Customer support is also one of the core points to focus on while looking for a small business website hosting service or website builder. As a matter of fact, this applies to any business online. While the price tag most often seems to be attracting a lot more attention, it will be practically worthless to pay low for a web hosting service with poor customer service. No one is Mr. Perfect i.e. you might encounter any problem with your website and need customer support for rectifying it. The speed and quality of the customer service determines the strength of your service. Wix provides many ways to contact them in which the phone call is the fastest method and for email messaging you should receive a reply in just 8 – 10 minutes. There are other companies out there that don't pick up calls immediately and some didn't even have a phone line to contact them.
How to Create Website with Wix Site Builder
As we have already said, this is not like PHP, Blogger or WordPress where you would need coding. The builder is simple and easy to use. Register and login, then visit the create website tab and you would get something like
the screenshot below.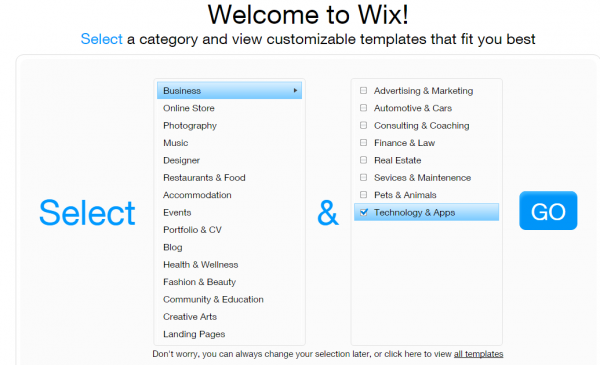 1. Once you register the first page, you would see is the one above. Here you have to select your website category, and this would help in suggesting templates for you. The template is just like a theme for your website. You have as many free templates as possible depending on your website category.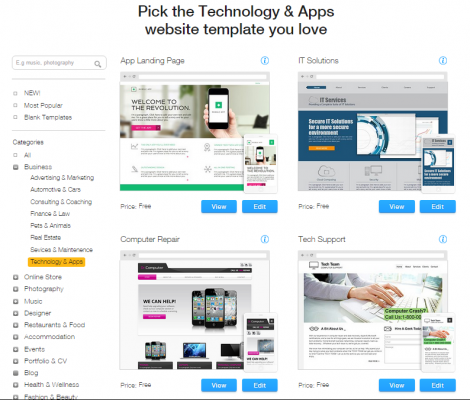 2.  After choosing the template then the next thing is designing your website. From the screenshot below you can see some menu at the left (Background, Add, App market, My Uploads) and from the top bar you have pages, site, tools, help and upgrade. Those are the tools to be used.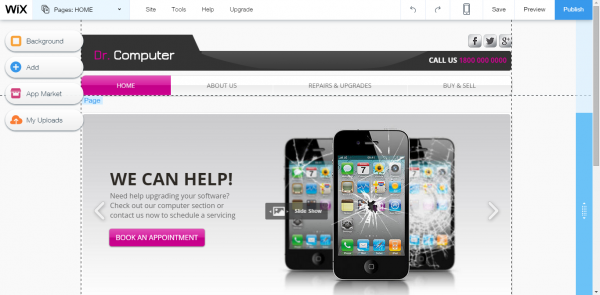 3. Now lets discuss about the four tabs on the left hand side, The background tab is just for choosing the background for you website/web page. You can upload a new image or use some existing images that comes with the template.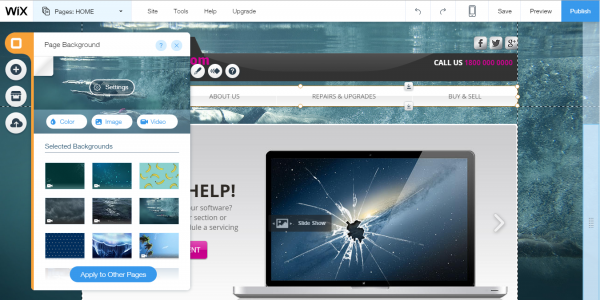 The Second one is ADD, where you can add text, image, gallery, buttons, box strip shape, link, blog contact, social and other stuffs for creating the website.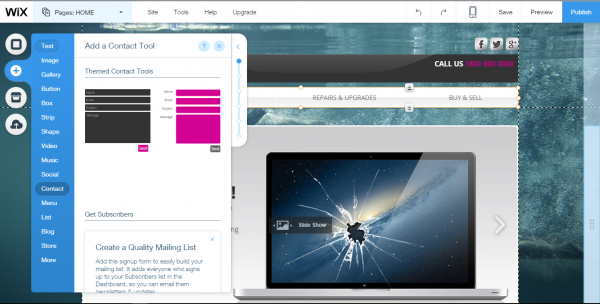 The third one is just the Wix App market, in there are just the tools you need for more advance functionality of the website. You have the social share buttons, email subscription app and other apps for more advance functionality.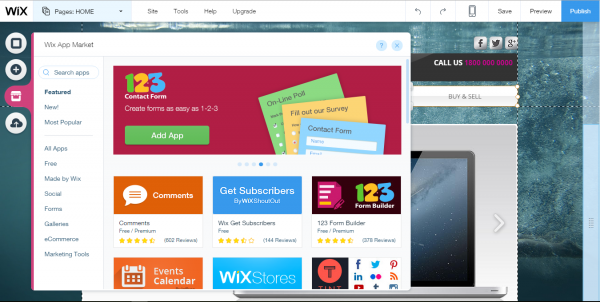 The last one is just like cloud storage for saving files and documents that you can use on the website to be published. You can upload and attach photos, videos and other documents.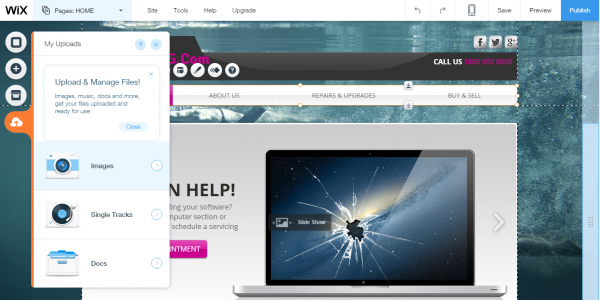 4. After designing or even when designing you can preview and save from the buttons at the top right hand side. When you have finished you can publish your site so that everything would be ready for your audience.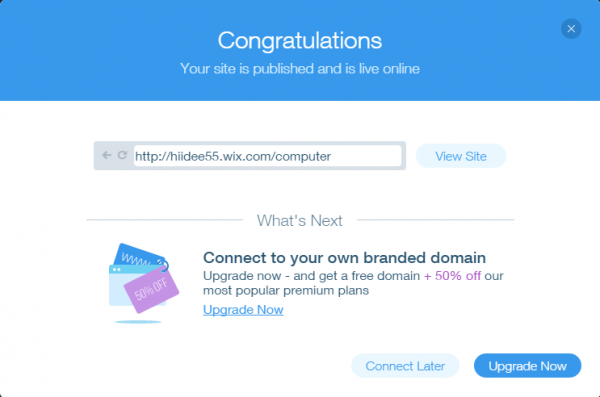 You can also attach a custom domain to the website but this can only be done when you upgrade your wix account. Wix.com prices are friendly. With Premium templates, hosting (and FREE domain name for life) starting from $4.08/month, this website building service is definitely worth trying out.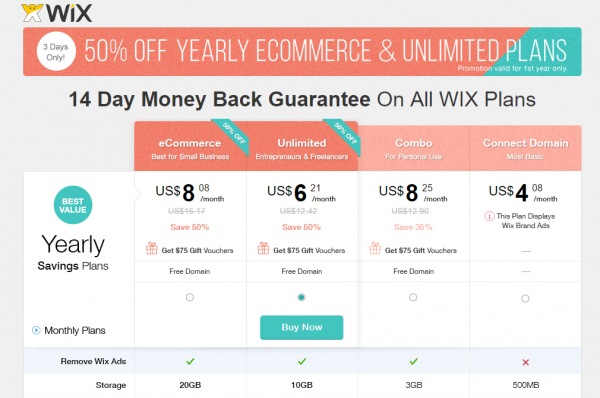 Check the Wix website Homepage and start website creation easily. If you have any *questions* then make use of the comment section below. Don't forget to share this post to others on social networks.