-Advertisement-
Some people claim free hosting companies exist and they claim they won't go for paid hosting plans. But we are all smart business people, right? So, therefore, no one is into business to you anything totally for free. Even if they are available for free there will be some limitations and trade-offs attached to them. The best thing is just to keep our business smarts and we shouldn't fall prey to all the cheap web hosting company hype.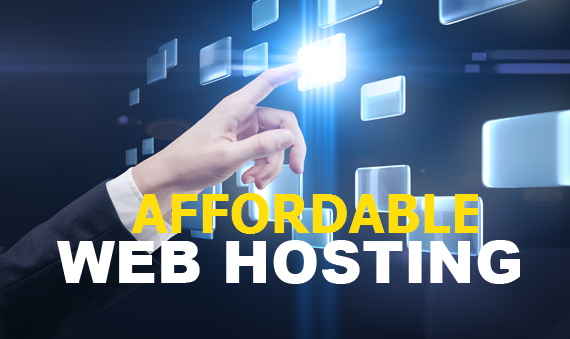 Some of the features you need to check before going for any web hosting company includes;
– Availability and speediness of customer support (24/7 phone & email)
– Choices in hosting platforms (Windows/ASP, Linux/PHP, etc.)
– Choices in database platforms (Microsoft SQL, MySQL, etc.)
– The Availability of scripts you want to use on your personal/business website.
– Support for any free goodies or free marketing tools.
-Advertisement-
I recently discussed picking the right web host company for your website whether for personal use or for business but I did not highlight some top web hosting companies that can satisfy customers needs. I am not saying other web hosting companies too won't satisfy their customer but the ones I will highlight below are reliable and have worked with most of them for at least one year each to be very sure abut their service.
Hostgator is a Houston-based provider of dedicated web Hosting, Cloud Hosting, WordPress Hosting, Reseller Hosting, VPS Hosting, Dedicated Hosting, Application Hosting, Windows Hosting and Website Builder. With Hostgator, I have never had even one complaint from my thousands of daily visitors about any downtime or server issues. Though my website speed is not as fast using VPS because am on the shared server where I am sharing resources with upto like 500 other users. But I must tell you that my visitors never faced any problems with the 'slightly' slow speed of page opening on Hostgator Severs. There are different options for customer supports which include; live chat, Phone Calls and emails. But I preferred and mostly make use of the phone call or live chat because I will be attended to as soon as possible instead of waiting for email replies. You can host your website with Hostgator from as low as $3.95 per year.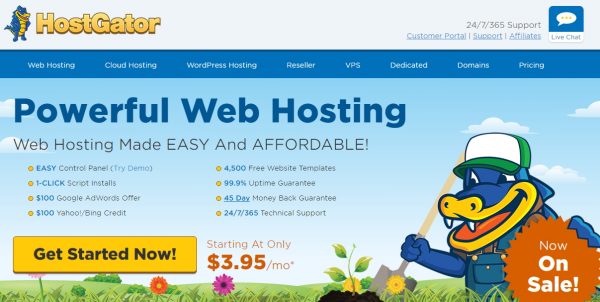 CLICK HERE TO CHECKOUT HOSTGATOR HOSTING PLANS NOW
Bluehost has been on top of the market while keeping their hosting plans prices cheap. With Bluehost, you can get unlimited number of domains as per your need. Bluehost plans come with Linux hosting only, they offer shared hosting, cloud hosting, WordPress hosting, wooCommerce hosting, VPS hosting, dedicated hosting and domain names. Bluehost is reliable and well-trusted by many because they provide services like; Secure and reliable backups, a very high quality Customer Support (which includes live chat and phone calls), quality equipment and servers, Maximum guaranteed uptime, various and efficient functional tools for administration and lots more. With a token of $2.95/month, you can get your website hosted on Bluehost.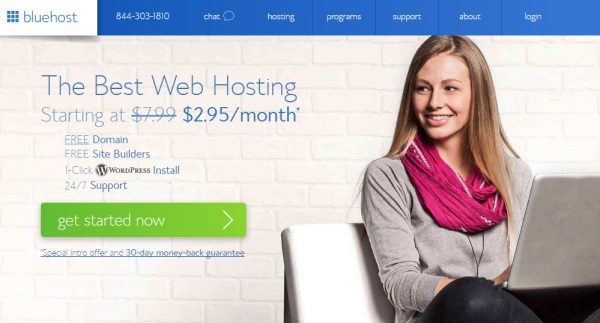 CHECKOUT BLUEHOST HOSTING PLANS NOW
InMotion Hosting mainly focus on three things; speed, reliability and fee. They keep their hosting plans cheap, attend to customers asap and even update users when there is any problem with their website without additional charges. InMotionHosting.com has experienced several honors and this takes a grant for client support. As a matter of fact, this prizes is the one that passes me a plenty of trust in the functions of InMotionHosting. Their consignment towards customer support as well as flash tutorials and guides are also not left out.
Inmotion majorly focus on Shared Business Hosting, VPS Hosting, Dedicated Servers, Enterprise Hosting Solutions, Reseller Hosting, WordPress Hosting, Launch Assist, Managed Hosting, Domain Names as well as Web Design Services for those that don't know about codings and the likes. Inmotion Hosting features includes; SSD Hosting, Shared cPanel Hosting, eCommerce Hosting, SSH Hosting, Ruby Hosting, PostgreSQL Hosting, Cheap Hosting, Cheap Dedicated Servers, Transfer Websites, PHP Hosting etc. With as low as $3.99/month you can get your website hosted on inmotion.com.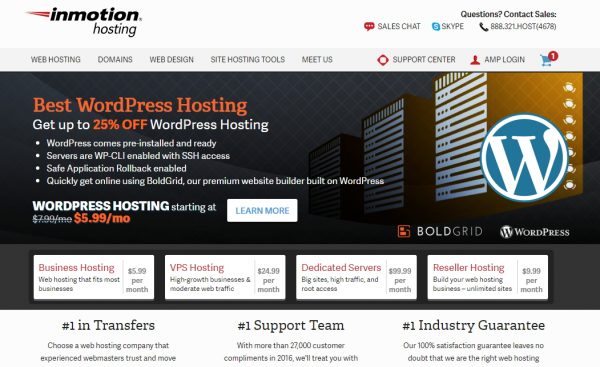 CHECKOUT INMOTION HOSTING PLANS NOW
Hostwinds is also a good webhosting company which mainly focus on customer satisfaction. The only thing I like about hostwinds is the fast servers even on shared hosting as well as free dedicated IP which some other hosting company don't give out for free. Hostwinds plans includes; Shared Unlimited Hosting, Business Hosting, Reseller Hosting, VPS Hosting, SSL Certifictaes, Dedicated Servers, as well as domains. With Hostwinds your website visitors won't experience any downtime and it there will be any downtime due to maintenance you will be notified. With as low as $3.99 you can get your website hosted on Hostwinds.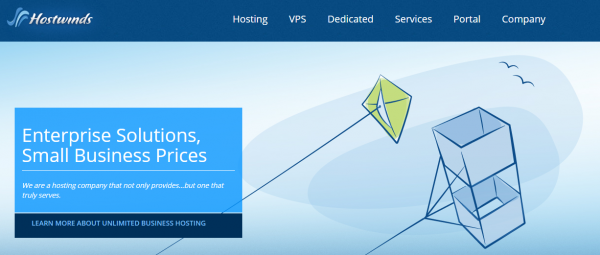 CHECKOUT HOSTWINDS HOSTING PLANS NOW
-Advertisement-