Making the right choice for an action camera can be overwhelming. In my prior article, I talked about resolution and frame rates. In this installment, I'll discuss the angle of view, using the camera in the field and sharing-in real-time and beyond.
Everybody's got an angle
When you're shooting at the edge of a mountain you can always move closer, you can't step off the edge to go wider. When you're shooting action, you want to stay close, and you want to show a good balance in your scene. Because of this, you want to look for a lens with at least 140-degree horizontal field of view and ideally close to 160 degrees. This ultra-wide angle allows you to capture most of what is going on around you, ensure you are in the picture if you like and makes it easy to compose a great video that everyone will want to see.
Touchy subjects
If you're using a laptop or desktop computer, you've probably tapped on the screen trying to control a setting or highlight a word. I know I've done it. Then I sat there in embarrassment as I realized I did not have a touch screen. Or unlike me, perhaps you already have a touch screen computer. Either way, you know that using a touch screen has become a way of life. To that end, the best action cameras will have touch screens for easy access to all settings and a minimum number of buttons to reduce the risk of accidentally changing a setting. And since we're talking about action, you probably want to make sure it has a Gorilla Glass® cover too!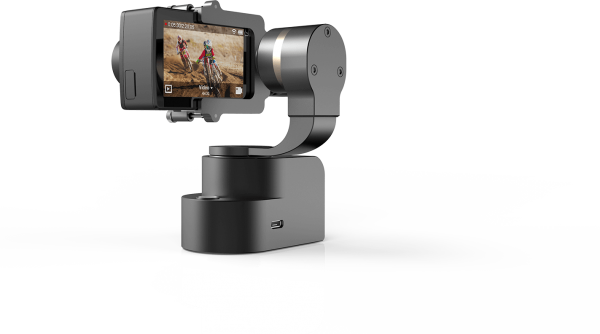 Power to the people
With all the screen use and high processing power, one of the most overlooked features is battery life. Imagine you're out on a sailboat and a pod of whales swims by you. That would be amazing, and you certainly wouldn't want to miss that! That's why it is so important to look for high battery capacity with at least one-hour of recording time, and preferably two or more. The number to look for if you can't find a quoted battery life is battery "Milliamp hours" or "mAh." The larger the number, the higher the capacity and the longer you can shoot. Look for cameras offering 1,400 mAh or more.
Share, share alive
We've become sharers, and some would say over-sharers. But who wouldn't want to share that pod of whales or the best snowboarding you've ever done. If you have that camera mounted up on the mast, you won't want to leave the helm to start shooting.  That's why it's important to look for great apps that come with your camera.
You'll also want to ensure your action camera app allows you to share and you'll also need to know how fast the Wi-Fi will be. You'll want at least 2.4 GHz and ideally 5 GHz Wi-Fi to keep the action streaming and keep your friends tuned in while the whales swim by or you're shredding that mountain.
Some final thoughts. With so many action cameras to choose from, be sure to get the camera that can outperform what you're trying to capture. You'll want a great screen with a touch interface protected by Gorilla Glass. You'll want long battery life, and you'll want powerful apps and high-speed connectivity.
You don't want to go slow and your action camera shouldn't either.
That's all for this installment. In our next installment, we'll talk about accessories, mounts, stabilizers and all sorts of other interesting uses for action cameras.
More About Action Caamera
– How to Choose an Action Camera, Accessorizing Your Action Camera
– How to Choose an Action Camera – Resolution and Frame Rates