If probably you are someone that use to surf the internet and download files, you need an Internet Download Manager but maybe for one reason or the other, you can't use IDM so I am introducing some software you can use instead of the Internet Download Manager.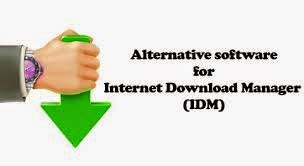 1. INTERNET DOWNLOAD ACCELERATOR
As the name implies, the software accelerates your downloading speed and makes download faster and easier. Although, I prefer IDM to IDA but am adding this for those that don't like using IDM. I can just summarize that it solves three problems while downloading files which are: speed, resuming broken downloads and management of downloaded files.
2. JDOWNLOADER
This is an Open source free software just for downloading files from the internet. It is also faster same as Internet Download Manager to the extent I don't even know which is faster. It would save your precious time and you can also schedule downloads with it.
3. DOWNLOAD ACCELERATOR PLUS (DAP)
This was provided to increase the acceleration of files downloads. Move on now and download this software and see how great your download moves faster.
4. ORBIT DOWNLOADER
Orbit Downloader is really a great download manager, it aims to download video or music and other files from most popular social media sites like YouTube, Myspace and others. It makes the download faster, easier and safer.
5. GO!ZILLA DOWNLOADER
Go! Zilla Downloader is for Windows and it also increases download speeds. It has many features and works great. Download now and see how great it handles your downloads.