The cyber space was never safe. With personal computers now continuously plugged into some sort of internet network or Wi-Fi, never has it been easier for these machines to get infested with viruses, malware and Trojan horses. An outdated antivirus would always run the risk of not being able to detect updated forms of these viruses and malware. Hence an antivirus software is a must to ensure a safe ecosystem for the personal computer.
Amongst a lot of security tools available today, Bitdefender has been one of those to provide adequate resources to fight computer threats on a consistent basis. With every different version, they have come up with suitable updates to counter potential dangers.
Bitdefender recently launched its Bitdefender Total Security 2018 security suite. Let's take a sneak peek into what this product has to offer.
To start using the software you will have to:
1. Create your account.
2. You can sync your account with Facebook, Google or Microsoft and this ensures a faster login process
3. Once you have opened your account, you will be led to an easy to use interface. The design is sleek and optimized for easier access to its various features.
How Does the Bitdefender dashboard looks like?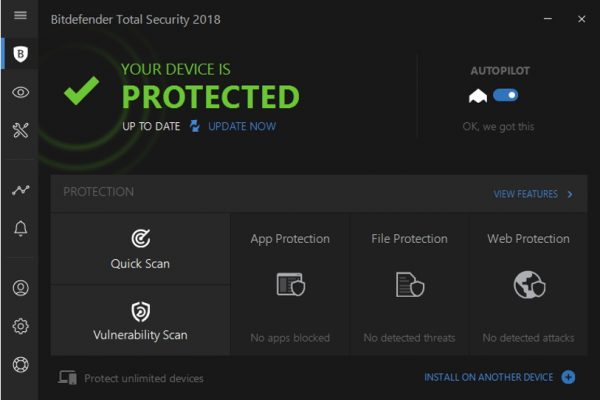 The dashboard will instantly notify you if your computer is protected or not. You will find an "Update Now" option to update the virus definitions. The dashboard will help you access your blocked applications or deleted threats. Also a quick scan of your system is only a click away.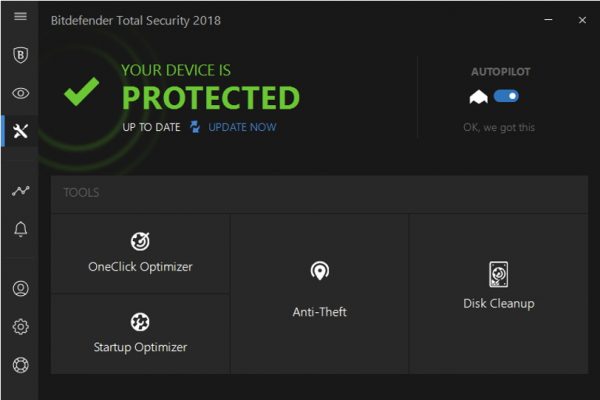 Scanning Types:
1. Quick Scan: For routine check-ups, you can use the quick scan option present on the dashboard.
2. Vulnerability Scan: This scan is intended for checking critical application updates, if any are available. It also scans the Wi-Fi network to ensure a secured network.
3. System scan: This would scan all the contents of the PC and would detect viruses, if any exist.
4. Custom scan: You can also customize your scan by selecting the hard drives you want to scan, or the external hard discs or pen drives you might want to scan.
You can also schedule your scanning as per your timetable and ensure that your PC gets its routine check-up.
Scanning Options:
With Bitdefender Total Security 2018, you can opt for either a:
1. Permissive scan option
2. Normal scan option
3. Aggressive scan option
The difference between these options lies in how the software would utilize various resources of the personal computer. Hence programs might take time to load and the system performance might suffer if you opt for an aggressive scan option.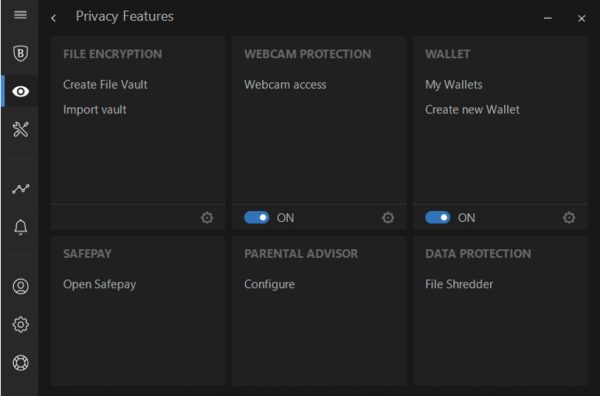 Rescue Environment is one of the striking features of Bitdefender Total Security 2018.
The Antispam feature allows you to list down the email addresses or domains you want to block. The web protection feature cautions you if you come across a malicious website. This is a very useful tool against phishing websites. Any kind of fraudulent attempt is notified to the user so that he can proceed to the website with caution. You can list down the trusted websites by using the whitelist option. This will prevent Bitdefender from scanning these websites. You can customize the type of security you want by toggling between keeping a certain setting on or off. Search Advisor feature allows you to search and browse with internet security as its first priority.
The firewall doesn't interfere with browsing. You can manage the apps and control how they access the internet via the firewall. Go for stealth mode if you want to ensure extra security. The Wi-Fi Security Advisor monitors traffic in the wireless network you are connected to.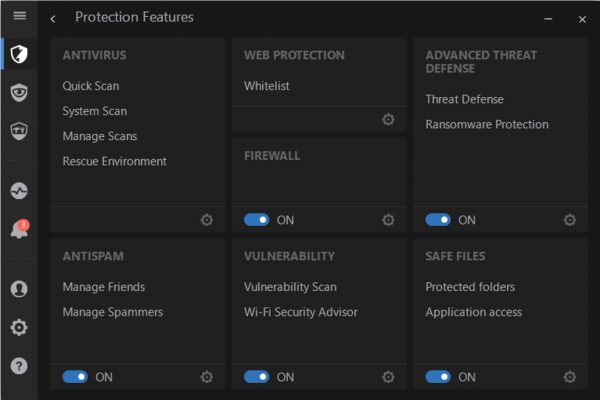 Let's briefly look at the features that make this product stand out:
1. Threat Defense: Cuts down on all threats by shutting down all apps that are potentially dangerous to the system.
2. Ransomware Protection: Ensures protection from ransomware threats.
4. Safe Files: Certain folders can be protected by managing how different apps access these folders. Bitdefender Total Security 2018 thus ensures that you do not have to compromise on your sensitive information.
5. Safe Pay: Intended for secure online payments, it prevents your sensitive information from reaching the wrong hands. It can protect your finances as it warns you against all possible online frauds if it suspects any. With Safe Pay, online payments become quicker. You can store your password credentials and billing details in Safe Pay and be assured that it will be safe and never be shared with anyone else.
6. One-Click Optimizer: This is a quick, easy to use an option to get rid of immediate junk and clean up space. It also improves system performance.
7. Anti-Theft: You do not have to worry even if your device/personal computer gets stolen. Bitdefender will easily track down the device via the Bitdefender Central.
To add on top of this, there also is Start Up optimizer which allows us to control the applications we want to start up when we switch on our personal computer. Besides disabling the applications, we also can choose to delay them. This optimizer helps in smoother and faster restarts and reboots.
There's a Parental Advisor feature to entrust parents the control of their kids' online activity. From any other device or OS, it is possible to monitor the kid via Bitdefender Central.
Disk clean-up is one of the regular features of this product. The best thing about Bitdefender Total Security 2018 is the fact that you can easily access all the device permissions, the blocked apps, the disabled program updates, firewall settings, and also get an overall security report. Thanks to the notifications feature, you can keep a track of all activity on your personal computer. Of similar importance is the exciting webcam protection feature. Every time any application wants to use the webcam, you would be notified and you would have to grant permission before the app can use it.
Bitdefender Total Security 2018 comes in packed with a lot of exciting features to keep the user completely informed about his system and the impending risks their device is facing.