I have once explained how to take screenshot and save it on your computer/PC, but would you just consider saving your screenshots in a safe folder which can be backed up easily online. This can be done using onedrive to save screenshots. Onedrive comes with a new feature that allows you to automatically save screenshots to your local OneDrive folder on your system. I have tried this and it's working perfectly. Enabling this setting will allow the app to automatically save the screenshot to a special folder in the local drive. It's free service and you will get couple of storage space for free, which you can later extend with further subscription. Pressing the appropriate keyboard shortcuts for screen capture will trigger OneDrive to save the captured screen to your cloud storage. You can capture the screenshot of full screen by pressing Print Screen button, or press Alt + Prt Sc button at the same time to take the screenshot of the current window only.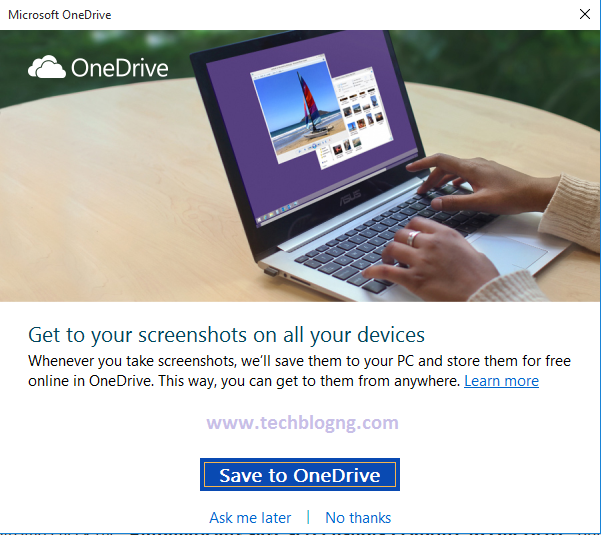 All the pictures will be saved in Users > OneDrive > Pictures >Screenshots folder. You can share these photos to anyone, right-click on the image and select "share a OneDrive link". Please note that anyone with the link will be able to view and download the file.
Signin to your OneDrive account now and follow the following steps to enable this option.
Navigate to OneDrive icon in the system tray, then right click on it and selectSettings.
Click on the "Auto save" tab and check the "Automatically save screenshots I capture to OneDrive" option to enable it.
Now you'll receive a notification every time after you capture the screenshot.
That's just it. Enjoy and don't forget to share to your loved one.