Summary:
This article is simplifying the procedure to convert MBOX file to Outlook PST. In this tutorial, we will cover the methods to migrate emails from Apple Mail to Outlook. So read this technical stuff carefully to make your task easier. 
As we are living in the new aeon of technology, where an individual or corporate users must have interactive email program to boost the connectivity with the partners or channels. A legacy email system is a barrier to the growth of running or startup business.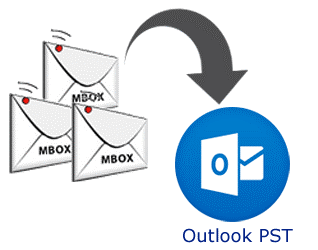 However, the migration procedure takes continuous efforts when moving from one email platform to another, but it transforms the entire business communication into business-oriented and smooth shape.
Reasons to Migrate from MBOX based Email Clients to Windows Outlook?
Thunderbird is not compatible with exchange server or MAPI as MS outlook supported well. As it is very important to maintain emails in offline.
2. Thunderbird doesn't support full password protection whereas MS outlook provides full password protection. So it is safe to use MS outlook for business or individual objectives.
3. MBOX email clients like thunderbird, apple mail appallingly fails to filter spam; the inbuilt anti-spam function doesn't work properly while Outlook helps users to prevent from unwanted emails.
Steps by steps Conversion of Apple Mail to Outlook 2016, 2013 or Outlook 2010:
As the MBOX file format is compatible with many email clients like Thunderbird, Apple Mail, Entourage, Spice bird, etc. But, here I will discuss the manual method for the migration of Apple Mail to Outlook.
Manually Convert Apple Mail to MS Outlook
Step 1: Run Apple Mail Email Client on your System.
Step 2: Go to File and under File click on Import mailboxes.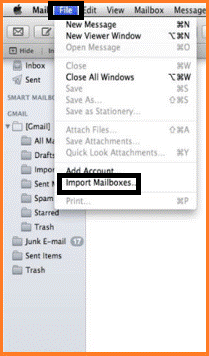 Step 3: Select the file or program from where you want to import the data. Here you have to choose file in mbox format after that click on Continue.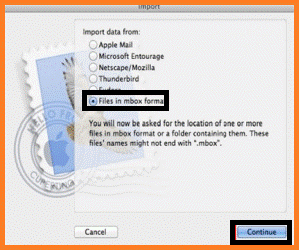 Step 4: Browse the location where you want the MBOX file is saved. Here you have to select MBOX file which you want to import, click Choose to select the items and Click on Continue. (Here importing process will start)
 Once the process is complete check the import items and clicks on done for the further process.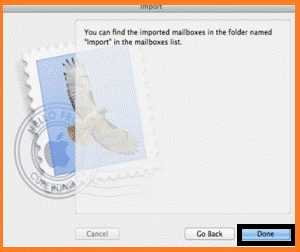 First, you need to install the latest version of Eudora to complete the further process (if Eudora is not pre-installed on your system). Without this, you can't directly export MBOX file to MS Outlook. You must have to use Eudora for the creation of mailboxes and then, import the required mailbox or other folders to Outlook Express. In the final process, you can move mailbox to MS outlook from Outlook Express.
Check and Follow the below mention steps on Eudora
Steps to create the mailbox using Eudora
Step 1: You need to append the MBOX file extension which you have imported earlier.
(If the file name is "Inbox" then rename it to "Inbox.mbx")
Step 2: Now you have to move the renamed file i.e. "inbox.mbx" to the directory where Eudora saves its file and the location is C:Documents and Settings<user>Application DataQualcommEudora
Step 3: For to finalize creation of the mailbox, Double click on "inbox.mbx" and now you can close Eudora.
Steps to Import mailbox using Outlook Express
Step 1: Open Outlook Express on your system, if not installed then install on your system.
Step 2: Click on the File to go to the Import and then click on messages.
Step 3: You need to browse the location in which you have to move the "inbox.mbx" file and then click on 'OK'
Step 4: Then Click on Next and again click on next.
Now you will be able to check the imported file on Local folders section of Outlook Express.
Steps to import mailbox from outlook express to MS Outlook.
Step 1: Open MS Outlook and go to File > Open.
Step 2:  Click on Import option to open Import Export Wizard.
Step 3: Select Import Internet Mail and Addresses from the List and Click Next
Step 4: Now Choose the Outlook Express 4.x, 5.x, 6.x or Windows Mail option. Check the Import Mail option given over there.
Step 5: Now check or find the imported Mailbox data in MS Outlook, located at personal folder of MS Outlook.
Pros:
 1:  It is a free method
2:  It can be used for individual purpose if you have technical expertise.
Cons:
1: Risk of data loss due to involvement of various complex procedures
2: Migration of large scale email account is not feasible with manual method
3: Sometimes original SMTP headers may be lost during the manual process
Alternate Method:
If you are not confident for implementation of the manual method, then try alternate solution like Stellar MBOX to PST Converter. As an independent techie, I suggest you to check the efficiency of software through free demo version.