Facebook, the leading and popular social network are mostly used by over 96% of all people around the World. I don't need to talk much about FB as everyone already uses and knows about its service.
There are sometimes a friend tag you to a post on Facebook, you are a member of a group and your friends are also there or anyone mentioned you on Facebook comment, once anyone of this is done you would always receive notifications of what's happening on the post you are tag too.
Sometimes I do receive over 20 notifications from a post being tagged with, the notification does come in when facebook users add a comment or like the post being tagged to but sometimes this so-called notification is useless as some comments may not be useful to me. The notification just gets my tray loaded with none useful notifications and I might just wipe off the useful notification accidentally but have got a way to switch off notifications from a certain post.
How to Stop Facebook Notifications on Desktop Browser
1. Launch your browser and go to facebook.com 

2. Look top right and click on Notification icon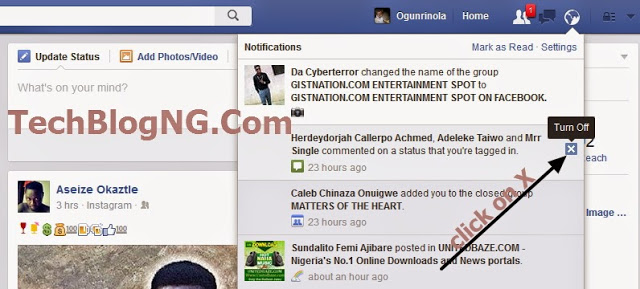 3. Place your mouse on any notification you wanted to stop and then click on the X (cancel button)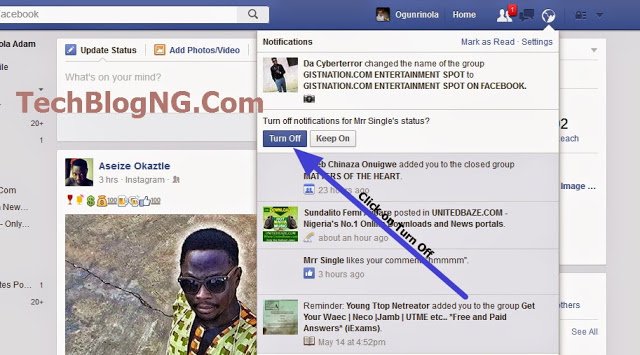 4. Finally click TURN OFF and all is done
How to Stop Facebook Notifications on Smartphone
If you are accessing Facebook with a smartphone or mobile phone either with a browser or Facebook app then continue with the below steps:
1. Launch your Facebook App or your browser and visit facebook.com
NOTE: Operamini cannot perform the task but opera browser, chrome, ucbrowser, firefox, and other browsers can do it.
2. Locate the post that you do receive excess notifications from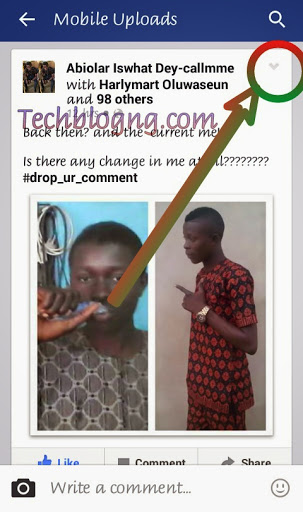 3. You would see a curve-like arrow pointing down at the right-hand side as shown above.
4. Click on the arrow and tap on Turn Off Notifications