Recently, the Apple Company has launched their new X phone series (iPhone XS, iPhone XS Max, and iPhone XR) in the September 2018, along with this, there was also a release of iOS 12 in the month of May, at World Wide Developers Conference (WWDC). The iOS 12 promises to make everything smoother, faster and convenient and brings many great features from animations to app launch, to Camera, to keyboard display, which really attracted more users to download and install it in their various iPhones. The benefits of all the attractive features of the latest iOS 12 extended not just to the latest iPhone models, but also to every older iPhone (iPhone 5s and later) that can be updated to the new operating system as well.
But this is not the case with some older iPhone models, as real tests show that iOS 12 actually slows down older along with overheating issues. The updating of the software has been blamed responsible for the lethargic operation of these earlier versions. This phenomenon has become so prevalent, that it appears to have hurt the image and reputation of the Apple Company, as people have come to claim that the company is engaged in "planned obsolescence" and slows people's phones down intentionally to make them buy a new one.
If your iPhone is also got slow down after, you have updated it with the latest iOS 12 updates and you are finding it difficult to operate your iPhone, then not to worry. In this current post, you will find some effective methods to fix this iPhone running slow issue so that you can operate it smoothly with a better user experience.
Turn on reduce motion & reduce transparency
Enabling the 'Reduce Motion' feature can help in resolving the problem of iPhone running slow after updating to iOS 12 updates. This feature will disable all the motion effects like parallax, animation effects in some applications like weather animation etc, which results in the better performance of your iPhone. To turn it on, follow the steps explained below.
First, start with opening "Settings" and tap on "General" option.
Then move to "Accessibility" feature and tap the "Reduce Motion" button on.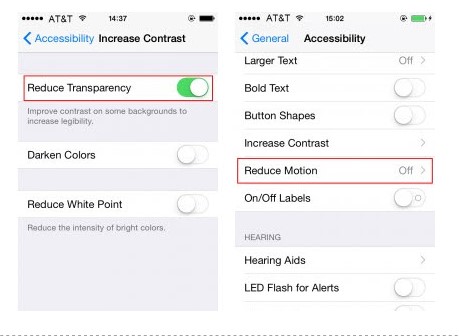 Another feature you need to enable is Reduce Transparency from all the places like the lock screen, notification center or control center etc. This feature was added since the release of iOS 7 updates and can take up memory. Reducing this see-through background could finish the lag in the iPhone. To turn this feature on:
First of all, go to the "Settings" of your iPhone and then move to "General" option.
After that to "Accessibility" and after scrolling down, tap on "Increase Contrast".
Lastly, tap on "Reduce Transparency" and make it on.
Hard Reset iPhone
Performing hard reset feature does not take much time or technical expertise, as it just needs your fingers and few seconds to wait for. Therefore this method should be tried first when your iPhone begins to running sluggishly after updating to iOS 12 updates.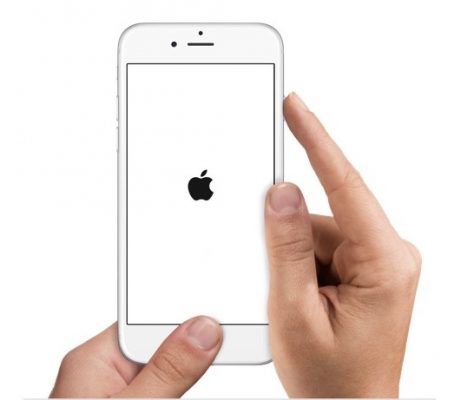 To make this feature activate, you just need to keep pressing the "Sleep/Wake" and "Home" button until the Apple logo comes on the screen. After that release the buttons once you see the logo. On the other hand, if you are using iPhone 7 or 7 Plus, you need to press "Volume Down" button instead of "Home". And if you are using iPhone X and iPhone 8, just quick press the "Volume Up" and "Volume Down" buttons and then keep holding side button until you see the Apple logo.
Update Apps and delete unwanted Apps or files
Another reason can be if the apps are not updated, it can also cause the slow performance of your iPhone. This is because the apps that are not updated are not might be compatible with the new iOS 12 updates. Therefore, to speed up your device, update all the apps, which are present in your iPhone. For this, just head to "App Store" and tap on "Update All" button of your iPhone device.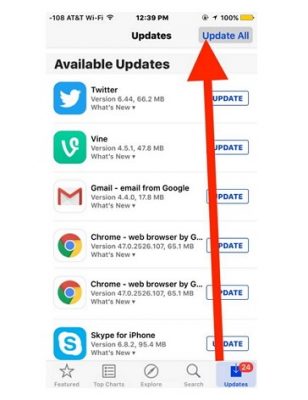 Less space in memory of your device can also be the major reason for your iPhone for running slowly. Make sure that your iPhone must have 1GB as a minimum free space. So, if you have less storage in your device, remove the unnecessary files and applications which are not so important or even try to delete the apps which are occupying more space. For this, you can delete apps from home screen directly by long pressing the icons of the particular app and tapping on the cross appearing on the right corner or even to execute this process, you can go to "Settings" > "General" > "Storage & iCloud Usage" > "Manage Storage". There, you will see a list of apps and the space these apps are occupying in the memory of your devices. From there, you can easily choose "Delete App" to remove a particular app that you do not want to keep in your iPhone.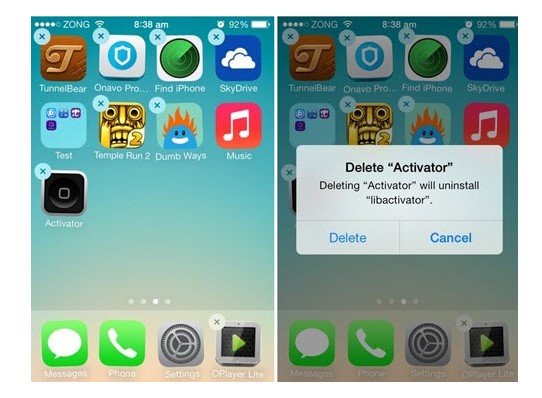 Turn off Background App Refresh and Automatic Download
Backgrounds App Refresh is one of the automated features of iPhone, which can hamper the speed of the device ultimately making the iPhone running slow than usual even you are running iOS 12. Therefore, you need to disable "Background App Refresh" feature in order to improve the speed of your iPhone. To execute this method, go to "Settings" > "General" > "Background App Refresh" and turn it off.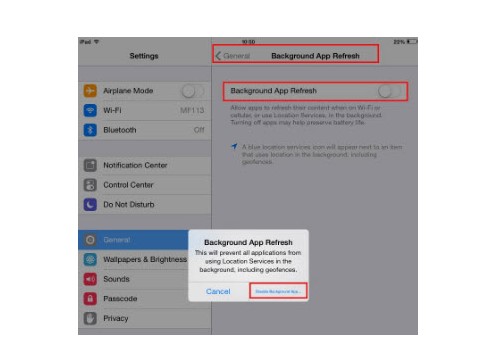 Even turning off the Auto-Update feature is suggested when your iPhone is running slow. For this, go to "iTunes & App Store" and turn off the options below "Automatic Downloads" to make the device perform faster. The reason behind this is automatic updates of apps use up more memory of your device and lead to the slow performance of your iPhone. Hence, do not depend on automatic update; instead, it's better to go for manual update approach.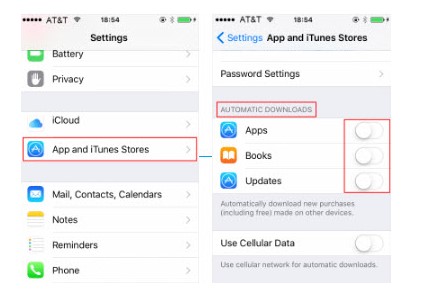 Factory Reset iPhone
When the above fixes didn't show any results and you are still facing iPhone running slow problem while operating it, factory resetting should be the last option. This feature will wipe off all the stored data in the device making it the same as when you bought it for the first time. Thus, to get rid of the slow performance problem, head to "Settings" > "General" > Reset" > "Erase All Content and Settings". Now, type the passcode and hit "Erase All Content and Settings" again.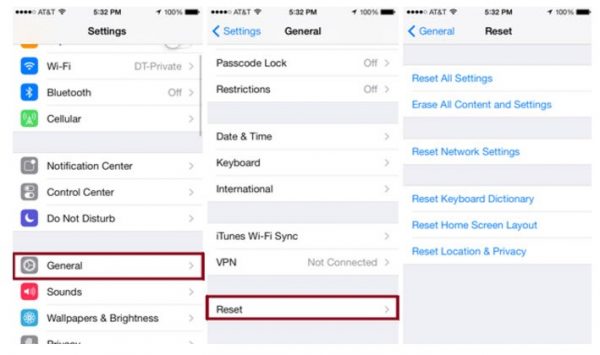 We provided some easy and handy tips that you can apply to get out of the trouble that your iPhone is working terribly slowly after you have updated it to iOS 12 update. Also, the plus point is, you can repair and speed up the device without losing any important data of your device.