Oukitel, one of the Chinese smartphone company have been lately releasing smartphones and smartwatches which are interesting and good products. The new device from the company is Oukitel A29 Smartwatch phone. As you heard the name, it is just a smartwatch that can make use of a sim card which implies that you can make and receive calls with it. Oukitel A29 smartwatch phone is built with premium stainless steel which provides enhanced durability with a stunning gloss finish and fine leather watch band which delivers a refined, comfortable fit on your wrist for extended wear.The smartwatch phone is also waterproof(IP53) in nature i.e. it cannot easily get damaged when water touches it. Oukitel A29 smartwatch phone features a 1.22 inch round touch screen (240×240 pixels) with HD display that delivers stunning clarity and colors.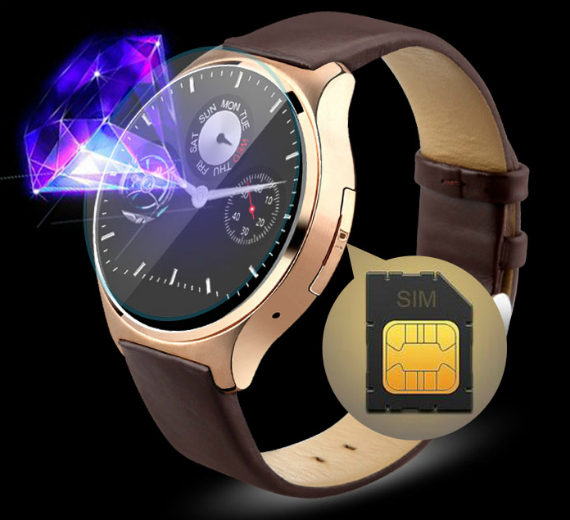 The Oukitel A29 smartwatch uses Bluetooth 4.0 which allow easy connection to smartphones to synchronize your list of contacts. Moreover, it gives you the opportunity to use it as a handle to pull photos from your mobile phone or play music. The smartwatch phone is compatible with both Android and iOS devices. Apart from the premium design you also have a MediaTek MT2502 processor which makes it deliver more faster in operaton. You have an internal memory capacity of 128MB and RAM 64MB. Like other smartwatches, the Oukitel A29 relates to the user's health. It monitors the exercise you do to count heartbeats, the number of steps, calories you burn, you "sounded the alarm" when you sit for a long time and monitor the quality of sleep.
The smartwatch is powered with a 320 mah battery which can be used for four hours of talk, 150 hours standby and it takes two hours to charge fully.
Features of Oukitel A29 Smartwatch Phone
Dialer / Bluetooth phone call: Unlike most smart watches, the A29 can independently make / receive phone calls with its own SIM card
Phonebook / call log / message / music sync
Save time: access notifications quickly on your wrist using smartphone sync
Music playing: With built in apps and on-board storage, enjoy your music on the go
Sleep monitoring: Wear the A29 at night to track and improve your sleep pattern
Remote capture: You can use your watch to control your phone's camera, but assure your phone's camera has been switched on in advance
Heart Rate Monitor: Considerate monitor contact designed on the behind of the watch, take care of your health anytime and anywhere
Pedometer: As a fitness companion, the A29 tracks your health measuring every step you take to help you achieve your health goals.
Sedentary reminder: Sometimes you just need a gentle reminder to stay active: built-in motion tracking helps you to minimize sedentary times.
Other Features: Sound recorder, alarm clock, calendar, calculator
Price and Availability
Oukitel A29 smartwatch phone is currently available on Gearbest only on pre-order till November 25, 2015. The smartwatch is available in 3 different colors (gold, grey and silver) for a price of $69.99 but you can buy it for $62.99 ($7 off) by using OTA29 as coupon code while checking out.
BUY OUKITEL A29 SMARTWATCH PHONE