RWATCH R11 features a classic design with round display screen am also inheriting the traditional beauty. The round display screen is 1.22 inch 240 x 204 resolution IPS screen, let you experience the ultimate touch sense; Genuine leather band, guaranteed to make you enjoy the most comfortable wearing.
Also, R11 has integrated with many features, such as infrared remote control, heart rate monitor, pedometer, dial, SMS, call log, Bluetooth music, phonebook, anti-lost, sleep monitoring,
compass, information push and so on.
The smartwatch is built with MTK 2501 faster processor and Bluetooth 4.0 for connecting to smartphones both Android and ios. Added is also RAM of 32MB and internal storage of 24MB. The design is also boasted for IP67 waterproof which implies the device maynot be affected when water touches the body. With a 220mAh Lithium-ion polymer battery you can use the watch for a longer period of time.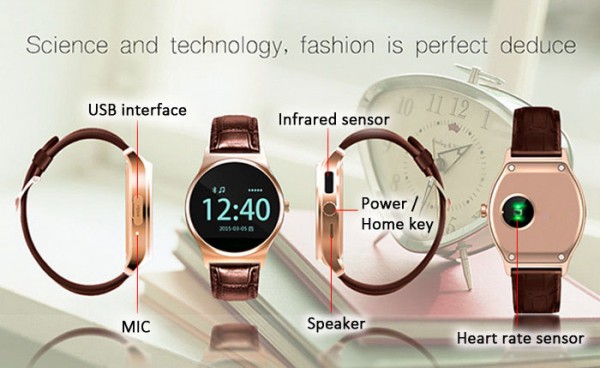 Features of RWatch R11 Smartwatch
MTK2501 + Bluetooth 4.0: Advanced MTK2501 chip
Bluetooth 4.0 technology has created RWATCH R11 which have powerful functions.
Infrared remote controller: Built in infrared sensor, remote control the TV and air conditioning by the RWATCH R11.
Heart rate monitoring: Equipped with optical sensor, detect
dynamic heart rate, let you in control of your heart rate.
Sleep Monitor / Pedometer: Real time record sleep / sports status, help you develop good living habits.
Sedentary reminder: After a long time sitting, RWATCH R11 will remind you to have a rest and get a stretch.
Remote camera: Control your smart phone to take photos, you can make selfie by yourself. (iPhone watch need to turn on the camera of the smart phone before using this function)
Find phone / Anti lost: Look after your smart phone and
watch, don't worry can not find them.
Information push: Can push SMS, MMS,Wechat, 360Gmail,
ZAKER LINE, Facebook, etc. information. (Only Android phones can do)
Compass: Your outdoors sports helper, always point you in the right direction.
Dialer: You can make phone calls on the RWATCH R11 via
Bluetooth, can realize two-way communications, let your hands free.
Phonebook / Call log: You can check the smart phone's
contacts / call log on the R11, needn't to take out the smart phone, take control of all information. (Phonebook can display contacts up to 1000 pcs)
IP67 water resistance and dust resistance: Splash-resistant, you can wear it to do daily washing, such as washing hands and face, also you can wear it to walk in the light rain.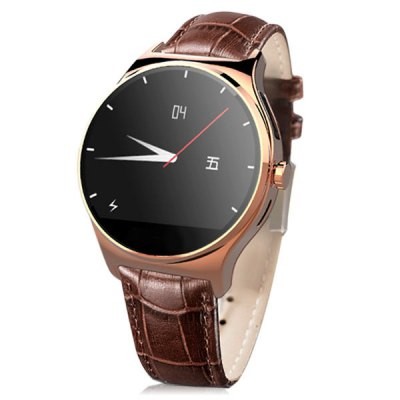 Price
Rwatch R11 is available on Gearbest for a price of $96.70 USD. But you can buy for only $42.59 by using R11 as coupon while checking out.
BUY Rwatch R11 Smartwatch Now