-Advertisement-
Welcome Guest, probably you may be thinking after all I have my browsers to download files for me. But can you just permit me to ask a Question? Can your Browser's pause downloads themselves while there is problem with the network or anything happens to your PC that suddenly stops what you are downloading? It can't unless to pause the download yourself and again even if you pause the download yourself for longer time the download may restart over while downloading with your browsers.
So, today I am introducing to you some software's that you can use to download files, pause downloads and continue back without any problems occurring. Even if you shut down your computer and boot up again your download are left in a queue where you would just continue downloading them. Unlike the browsers where you would need to start the download over and over again. Below are the list of download softwares: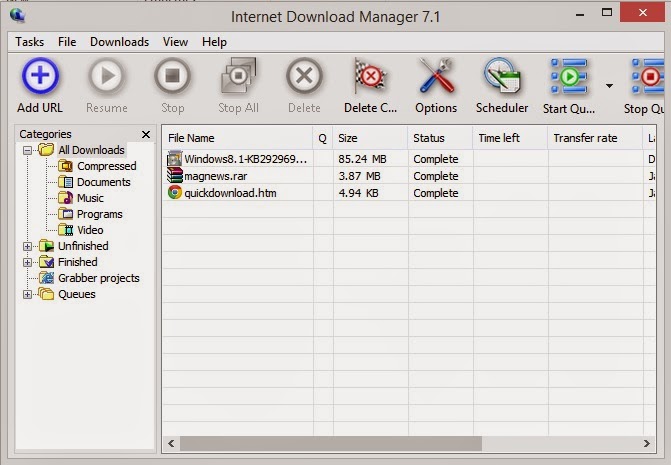 This is a great software to increase your files download speed 5 times the browser downloading speed and also allow resume and scheduling downloads. Have been using this software for long time and I have never regret of using it. The software segments downloaded files dynamically during download process and reuses available connections without additional connect and login stages to achieve best acceleration performance. IDM integrates into Internet Explorer, Mozilla Firefox, Opera and other popular browsers which implies that once you want to download a file with those browsers Internet Download Manager would download the files. What are you waiting for Download IDM today and enjoy new downloading speed.
Internet Download Manager is the best so far, but others listed here are also best alternatives for Internet Download Manager.
As the name implies, the software accelerates your downloading speed and makes download faster and easier. Although, I prefer IDM than IDA but am adding this for those that don't like using IDM. I can just summarizes that it solves three problems while downloading files which are: speed, resuming broken downloads and management of downloaded files.
This is an Open source free software just for downloading files from the internet. It is also faster same as Internet Download Manager to the extent I don't even know which is faster. It would save your precious time and you can also schedule downloads with it.
4. DOWNLOAD ACCELERATOR PLUS (DAP)
This was provided to increase the acceleration on files downloads. Move on now and download this software and see how great your download moves faster.
Orbit downloader is really a great download manager, it aims to download video or music and other files from most popular social media sites like YouTube, Myspace and others. It makes download faster, easier and saver.
Go!Zilla Downloader is for Windows and it also increase download speeds. It has many features and works great. Download now and see how great it handles your downloads.
-Advertisement-
Download Accelerator Manager enable users to download not only internet but also web media files from websites. It's also a best alternative to internet download manager.
-Advertisement-