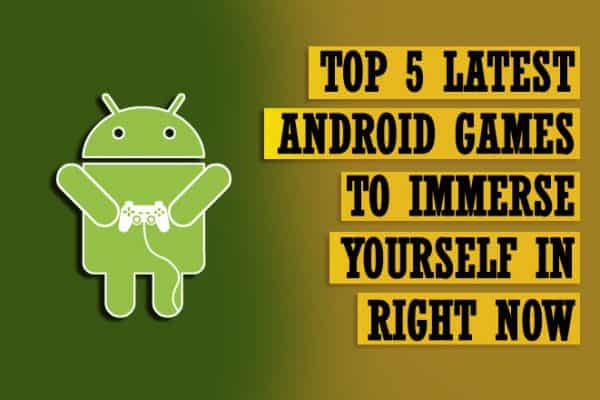 There was a time when video games could only be played in arcades. Kids had to leave home just to spend an afternoon in the magical Android games. Then, the gaming phenomenon shifted to homes in the form of desktop computer games. Now? Video games reside in your pocket. How? Because of smartphone technology, which has successfully encapsulated most aspects of human life in its petite design. These phones bring you the whole world in just a touch.
As such, there is no need to bicycle your way to the arcade, now that you've got an Android phone in hand. If you're looking for the latest Android games to try out, read on below!
Dunk Line
You hear the word "basketball," and suddenly you start picturing a packed auditorium, with a cheering crowd in the margins and tall players dodging each other and scoring baskets. You get pumped even thinking about it. Now imagine such an experience existing in your pocket, always within reach. How? In the form of Dunk Line, which is as interesting as it sounds. The game centers around the player (you) drawing a line, maneuvering the ball and making it go through as many baskets as possible, without letting it fall down. Once you start playing it, you won't stop until you've broken your own high score. It's THAT addicting. Get it for free from the Google Play Store.
Earth Wars
What makes a classic sci-fi story? One which has androids, aliens, bioweapons, and humanity's survival in question. Such is the plot of the much-underrated game Earth Wars, developed by Chinese and Japanese makers. The world as we know it is threatened by an advanced alien species (E.B.E.) which is virtually undefeatable. No weapon seems to even scratch their surface. With their defenses slowly cracking, humans see their end coming. That is until one bioweapon is invented, which fuses the alien's tissue with strong metal. This is the only ray of hope for humanity to get back at the intruders. A special forces team, A.N.T.I, is formed, equipped with the bioweapon, and ready to go through the challenges to win their turf back. Give it a go by downloading it from Google Play Store, ASAP.
Hills Legend HD
Everyone likes a good horror story, right? What if I told you about an Android game based on a horror story of the weirdest nature? Hills Legend HD is one such game, with gruesome and nerve-racking graphics. It's the story of a monastery turned mental hospital, where sinister entities roam the concrete halls, looking for prey. The lighting is terrible, which makes it perfectly apt, considering the ambiance. There are blood splotches on the marble floor, and jump scares of the most horrible kind. This game just received new updates, which amplify the experience to a great extent. Buy the game from Google Play Store, and play it at your own risk!
Run Sausage Run!
If a funny adventure game is what you're looking for, then you should download Run Sausage Run! The game's protagonist is, funnily enough, an animated sausage. As a player, you can select from a wide variety of juicy sausages, choose your hero, and begin your adventure. The goal is to keep on running and dodging the sharp obstacles. There are blood-stained slashing knives, meat-flattening hammers, a fiery grill, guillotines, ninja stars, and so many more weapons you'll have to avoid. Be careful, or your sausage character will die a gruesome death. This game is addicting to the last degree. If you wish to ward off boredom, give it a go by installing it from Google Play Store.
Hearthstone
Step into the medieval world of Warcraft with this wonderful card-based strategy game. Your cards dictate how much power you possess, as you go from one opponent to the next. With these cards, you can unleash unspeakable fury onto the opponent's deck, cast magic spells of curious kinds, and call in your minions for aid. There are ogres, dragons, gods, and more. It's a completely immersive, mythical, and creative experience, which you can have if you download this game from Google Play Store right now.
I hope you give these games a try. Just make sure you've got a good internet subscription, like the one offered through Comcast Xfinity. Nothing's more off-putting than a game which gets stuck at pivotal moments.