When you want to learn about design, one of the best resources to tap into are the numerous design videos that can be found online on streaming platforms such as YouTube as well as various design websites. Seeing as these videos are streamed you need to be online to watch them unless of course, you are able to capture them from the screen of your Windows 10 PC and save them so you can watch them later.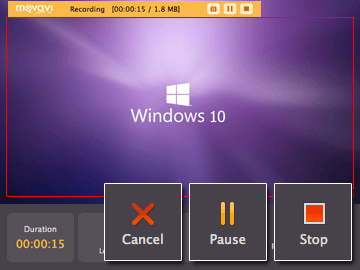 As much as that may sound complicated, with Movavi Screen Capture Studio it is actually anything but. Not only will this screen recorder for Windows 10 make it easy for you to capture design videos, but it will also supply you with several other useful features that you can use to ensure they are in exactly the form that you need.
Recording the Video
Once you launch Movavi Screen Capture Studio, you probably immediately notice just how streamlined and intuitive its interface is. In fact, it is so intuitive that you may even be able to figure out what to do without requiring any guidance whatsoever.
Essentially to start recording your screen all you need to do is click the appropriate option and begin by defining the capture area. In Movavi Screen Capture Studio that part is easy, as you can either select the specific window that you want to record by clicking on it, or draw a frame to define the area by clicking and dragging your mouse cursor. Needless to say, to capture a design video you should ensure the area you select encompasses the video.
After you've defined the capture area the interface panel will appear and you could choose a size preset in the list that it contains. On that same interface, Movavi Screen Capture Studio will also have several icons that will let you select the audio source (i.e. system audio or microphone, or both) and adjust the sound levels. So long as the system audio icon is highlighted you should be good to go, as that will record audio from the video.
Assuming you are done setting up the recording you can start it when you please and play the video at the same time. During the recording, you can control it (i.e. pause or stop) using the controls in the interface panel, or with the hotkeys in Movavi Screen Capture Studio as well. If you would rather not control the recording manually, you could schedule it to automatically start and stop at a specific time or set a timer to stop it after a certain duration.
In any case, when the recording is done you can stop it and review it. If you like you can save it immediately in video, but Movavi Screen Capture Studio will also give you the opportunity to open it in the built-in editor so that you can tweak it further. Some of the ways in which you could edit your video include by trimming out unwanted footage, merging clips together, enhancing the video quality, fixing common issues, applying special effects, inserting captions, or adding audio tracks.
Having the ability to edit videos in this fashion will be useful, particularly if you intend to save and learn from design videos. Not only could you use Movavi Screen Capture Studio to capture the videos, but you could also go a step further and extract the most important bits and pieces and save them as highlights to refer to. Alternatively, you could even compile videos of your own as reference material.