The command prompt is the best windows tool since there are some cool tricks you can use. Command prompt is the best feature where you can get a lot of information on your network as well as other things. However, everyone is scared to use this tool. Here are some of the best command prompt tricks you can use to make your PC use great.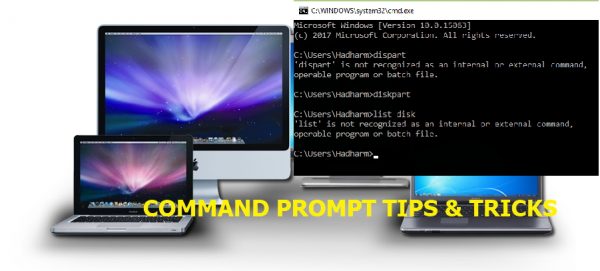 1. Fix corrupted system files or SFC Command
The system file checker (SFC) can find and fix corrupted file systems in windows operating systems. If you have difficulty diagnosing issues on system files, you can try it as a useful baseline action.For instance, if an icon disappears from your taskbar, you can type sfc/scannow and wait for the command to work. However, it might take a few minutes depending on the kind of system you have.
2. Examine the energy efficiency of your system
One talent that is not commonly known by cmd users is that you can check how efficient your battery is from the command prompt. You can even analyze how it is using power which is useful for laptop users. Desktop users can also use it if they are looking for system inefficiencies.If you have a 32-bit computer, simply type powercfg/energy in the command prompt. The system will analyze the power usage for 60 seconds and give a detailed report. The report will be in your system 32 folder and you will be notified of the location.
3. Find the IP address of any Website
Several commands can be used to find the IP address of a website. One of them is to use the nslookup command that is a favorite. All you need to do nslookup and type the websites address and see the results. For instance, nslookup Gadgetjar.com. You can also find a website's Ip address by using the ping command.The IP address will show in the box.
4. Restart or shut down another Computer
It is now possible to restart or shut down another computer through these steps. Shutting down your computer with CMD is not fun but shutting down another computer is more interesting.Type shutdown/1 in the command prompt. The remote shutdown dialog box will open. Next, you should to enter the name of the computer, select the option, and look at the results of your work.
5. Know information on your internet connection like IP address and DNS server address
It is very easy to know more about your internet connection. Just go to the command prompt, type ipconfig/all and press enter. You will see your IP address, DNS server, host name, node type and others.
6. Know if your wifi is being used by your neighbors
You can avoid having slow internet if you know who is stealing your internet with these simple steps.Type http:// 192.168.1.1 depending on your IP and server and enter.You should click on the button with the "attached devices" or something similar.Compare the IP addresses with those you know. If there are strange IP addresses, you should change the password.
7. Trace a hacker
Type netstat-an in the computer and you will get a list of computers your computer is connected to.There are many columns so you can start with the proto column that informs you of the type of transmission. The local address can give you the port that is connecting your computer to the other. You can get information on foreign computers through the foreign address.
8. Enable QuickEdit
To easily copy and paste, go to the CMD title bar and select the properties. Click the options tab followed by the edit option and tick the QuickEdit option. Copypasting has just been made easier with this option.
9. Run command Prompt as an Administrator
For you to run most commands, you are required to be an administrator. However, there is an easy way you can run command prompt as an admin. Once you search CMD on the start menu, you can press ctrl+shift+enter to run it to open it with administrative privileges instead of having to click the Run as administrator button on the right click menu.
10. Become a power user through function keys
These are the important function keys you can use to become a power command prompt user.
F1 pastes the last command character by character
F2 pastes the blast command up to the entered character
F3 pastes the last command only
F4 deletes the present prompt text only up to the entered character
F5 pastes recent command
F6 pastes ˄Z to the prompt
F7 displays the list of selected previous commands
F8 pastes recent commands and their cycles
F9 asks for the number of commands in the F7 list to paste.