EaseUS Data Recovery Wizard can be considered as one of the most effective and popular tools available among people who live out there in the world. When a person deletes data accidently, he would go ahead and use EaseUS Data Recovery Wizard Free to get back those files without thinking twice. The effectiveness and user friendliness associated with this tool has contributed a lot towards its popularity.
EaseUS Data Recovery Wizard is not just another free data recovery software. It offers some amazing functionalities, which you cannot find in traditional data recovery tools.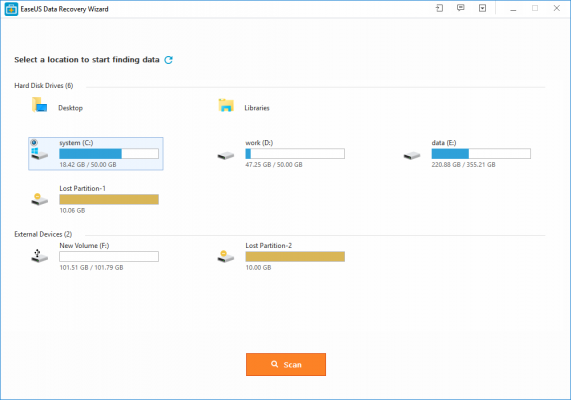 What exactly can you recover with EaseUS Data Recovery Wizard?
All the recovery options that you can get from the traditional data recovery tools can be experienced from EaseUS Data Recovery Wizard. They include recovery of all deleted files from your hard drives. This tool also has the ability to scan through media files and recover them in an effective manner. The other amazing recovery options provided by this tool include lost partition recovery, digital media recovery, recovery of data from CDs and DVDs, recycle bind recovery and undelete recovery.
You will also be able to run a complete scan on your computer system with the help of this free data recovery software. The user-friendly interface would teach you where you should navigate in order to initiate the functionalities. Therefore, you will be able to use this tool without any previous experience at all. As soon as you download the software to your computer, you can start using it.
Lost partition recovery
Lost partition recovery and recycle bin recovery can be considered as two of the most impressive features offered to you by EaseUS Data Recovery Wizard. If you have deleted an entire partition unintentionally or if you have emptied your recycle bin accidentally, your only hope would be EaseUS Data Recovery Wizard. It can assist you to get back all the files that you have lost. Therefore, you don't need to get stressed because of the mistake that you make.
Digital Media Recovery
If you have a pen drive or a portable USB hard drive, there is a high probability for you to lose the data stored in it as well. In fact, data stored in portable storage devices can get damaged quickly than you think. You are keeping high hopes on the data that you have stored in portable devices, but they can make you feel down in no time. In all such instances, you can simply go ahead and start using this free data recovery software.
Damaged Media Recovery
Last but not least, it is important to keep in mind that EaseUS Data Recovery Wizard Free has the ability to provide effective results to you with damaged media recovery as well. If you have a damaged hard drive, with either RAW or formatted partitioning, you can simply use this tool to get back the files. Therefore, EaseUS Data Recovery Wizard would be a life saver to you.