Iceland has so many high-quality waterfalls areas. It was hard for us to bring this list down to just ten. The top 10 we feature in this list are ones that are our personal favorites and ones that we/one of our readers have visited. We are able to gather information from our readers via our Facebook fan page. From our personal experience, in reverse order, here are our top ten must-visit waterfalls in Iceland.
Top Ten Iceland Waterfalls
10. Seljalandsfoss, Hamragardar, South Region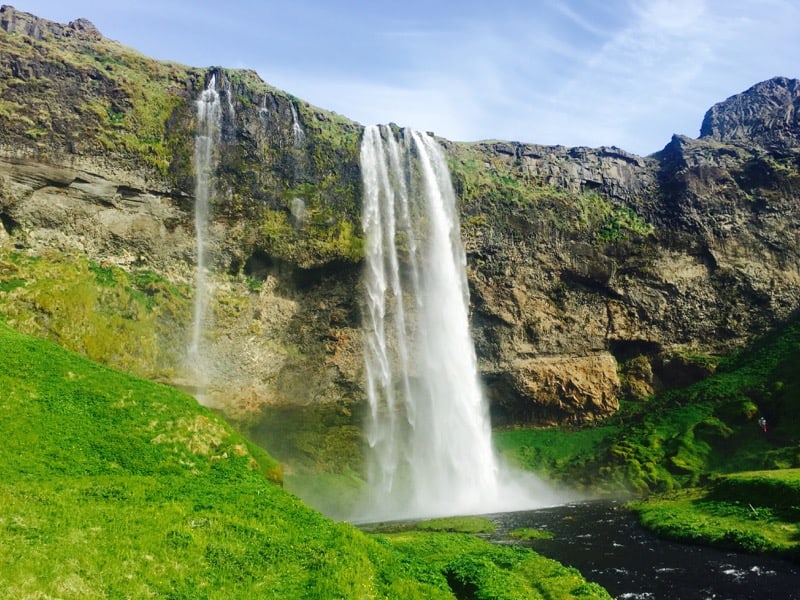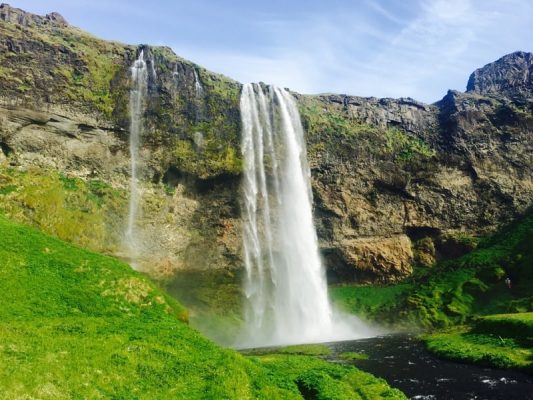 This waterfall that just made it into our top ten is popular due to its roadside location. Easily accessible for tour buses, this waterfall is special as you can actually go behind it, and also visit other smaller falls nearby such as the spooky Gljúfrabui. When we visited, there were lots of wildflowers in bloom at the base, making the overall experience not just beautiful but colorful too.
9. Godafoss, Mývatn District, Northeast Region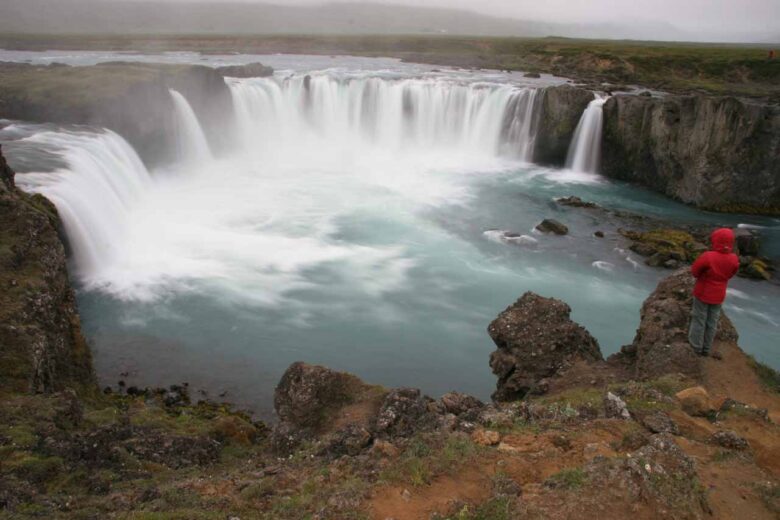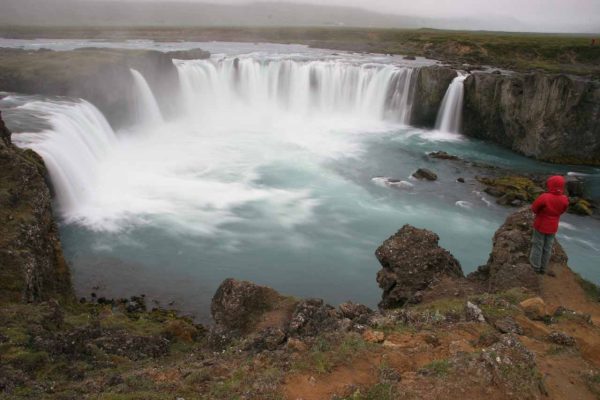 This waterfall played a role in Icelandic history and is a popular wide river waterfall. In the year 100, the law speaker for the assembly had to make the decision as to whether Iceland would become Christian or not. At this time, the death penalty was the other option if you refused to convert, the law speaker Þorgeir tossing his Norse deity idols right into the waterfall. Asides the rich history of this waterfall, the fall and the scenery around it are quite spectacular, the fall being accessible and visible from both sides of the river.
8. Glymur, Hvalfjörður, Capital / West Region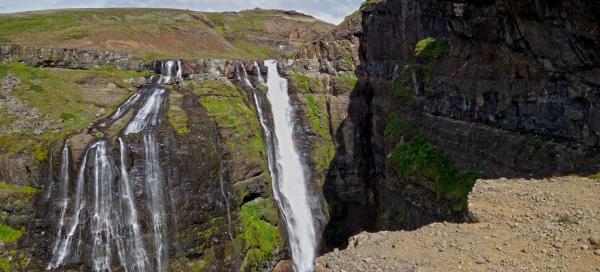 Glymur is Iceland's tallest waterfall, standing at an impressive 196 meters. Officially, the Morsárjökull glacier has now taken over the title, but this didn't stop us stepping of the tourist trail to visit it. For the best views, you need to stand right on the cliff edge, after an adventurous but worthwhile hike. Along our way we watching birds fly before diving before the falls as well as hiking through a natural double arch.
7. Hengifoss Egilsstaðir, East Region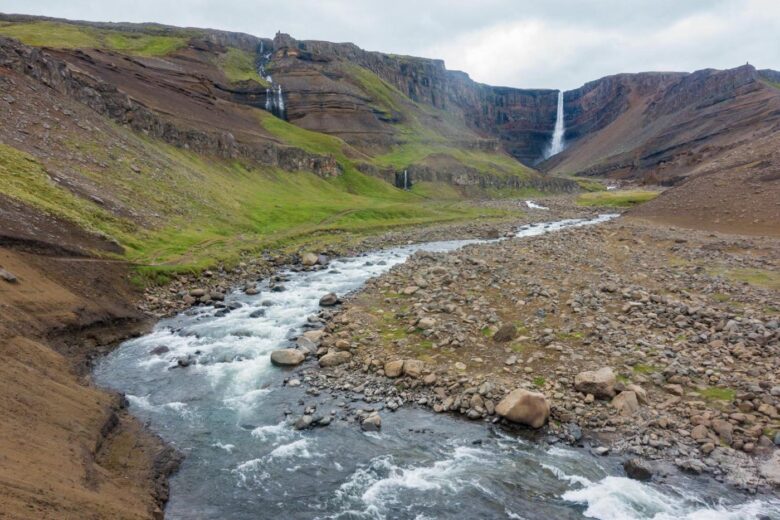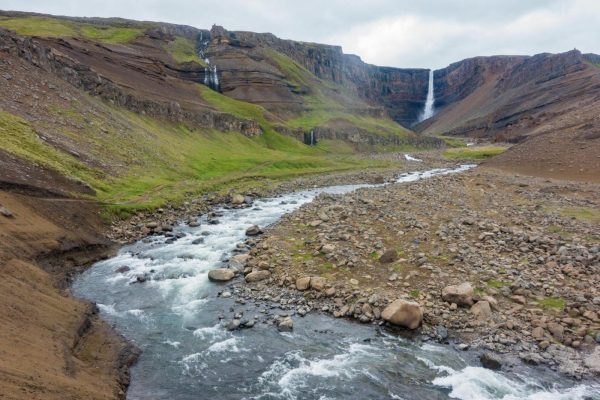 This waterfall stands tall at 118m, and is situated near Egilsstaðir above the powder-blue lake Lagarfljót. Asides it's astounding size, this waterfall made it into our top ten due to its interesting red stripes, violent geological events, and its interesting history. This visit that included a hike along a deep gorge, and a bonus waterfall, was well worthwhile and included a geology lesson!
6. KETUBJÖRG Skagafjörður, Northwest Region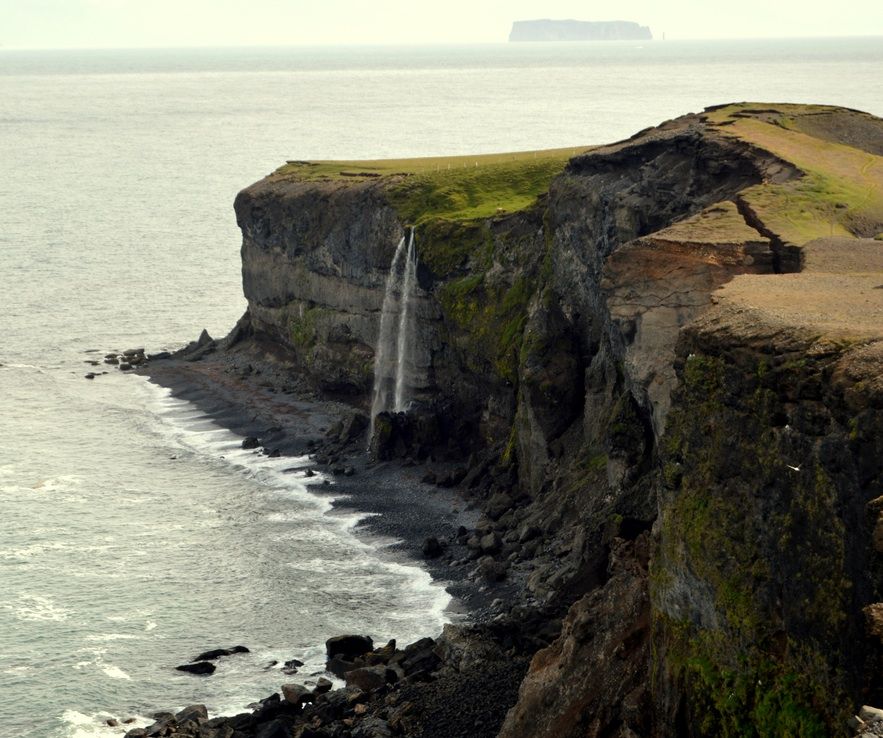 This waterfall is still relatively unknown, but is well worth a visit, the cliff location making for a stunning scene of the water diving straight into the sea. One of the most scenically positioned waterfalls we visited, the clifftop boasted purple wildflowers in bloom and birds that hovered around us in the cold winds. The best way to describe the experience would be to say that we felt at one with nature during our visit to this most stunning of locations.
5. DYNJANDI Arnarfjörður, Westfjords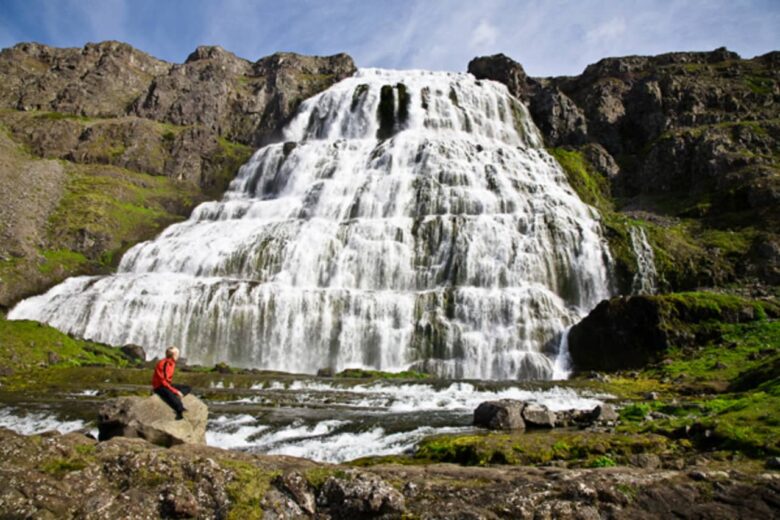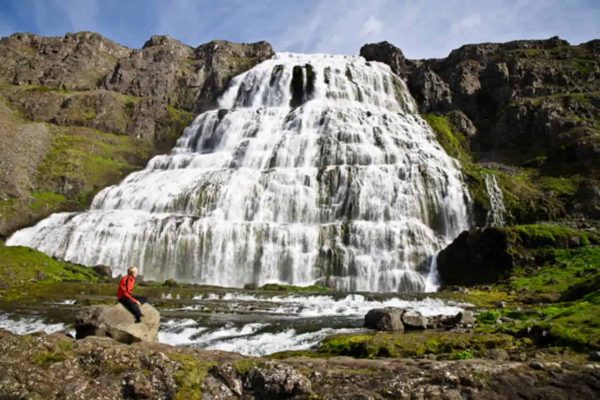 This waterfall boasts a gaudy size and unusual shape, situated in a remote and wild area where a well-established trail led us up the 100m to the top. The cumulative drop of this waterfall is actually divided up into stages, the trail allowing us to stop off at each tier and soak in the natural beauty of the waterfall. Asides the perfect photo opportunity presented at the top of this waterfall, on the way back down you will also be met by panoramic views and a fjord, an added bonus after hiking up the 100 plus meters to the top.
4. HÁIFOSS Þjórsárdalur, South Region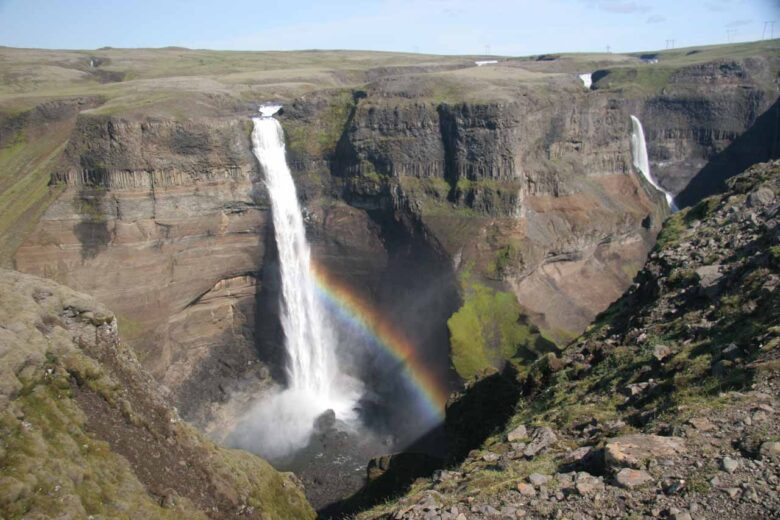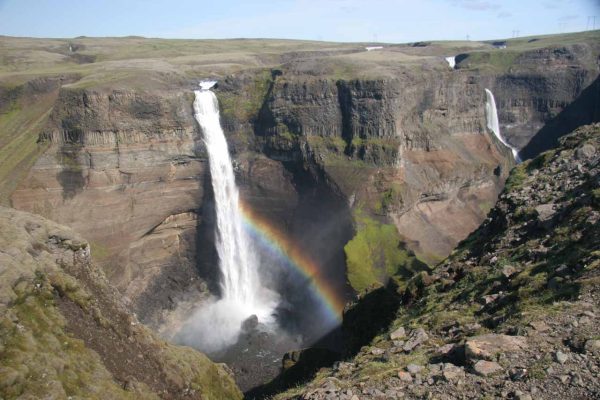 This waterfall is known as being the second highest in Iceland, and we visited alongside a neighboring fall called Glanni. Both waterfalls were similar in height and sizes, making it appear as though you are seeing twins. If you catch this waterfall that is nestled within a gorge in the Þjórsárdalur Valley, you will be wowed by the beauty of the rainbow that accompanies the view. Getting to this fall does involve going along some rough roads, but what lies at the end of the trails is well worth a visit.
3. SKÓGAFOSS Skógar, South Region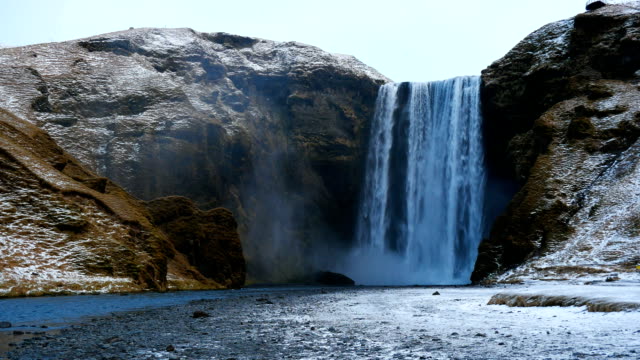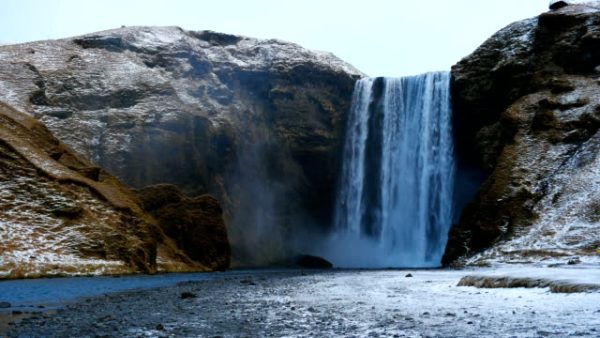 This is one of the great Iceland waterfalls. It comes up high in our top ten due to its accessibility and classic rectangular shape. One of the country's most-visited and most popular falls, this fall is easily accessible on foot from the ring road. This waterfall boasts a precarious top and misty base with countless more falls being accessible along the Skogá River if you take the time to hike a little further upstream.
2. DETTIFOSS VatnajJökull National Park (formerly Jökulsárgljúfur), Northeast Region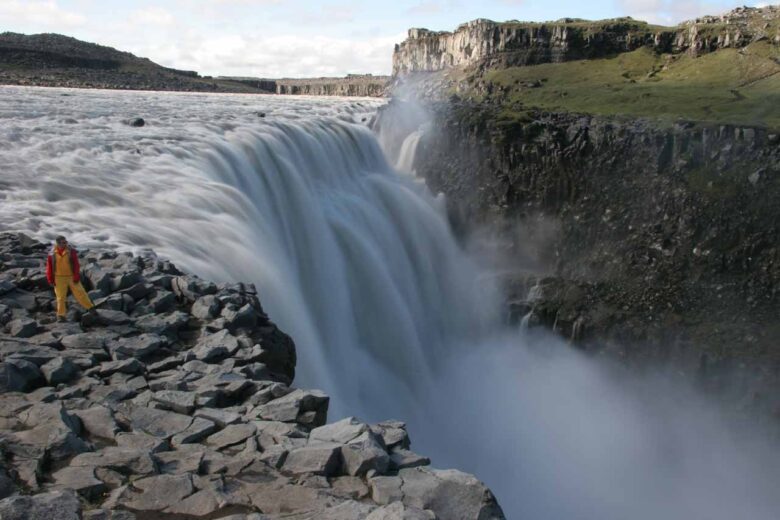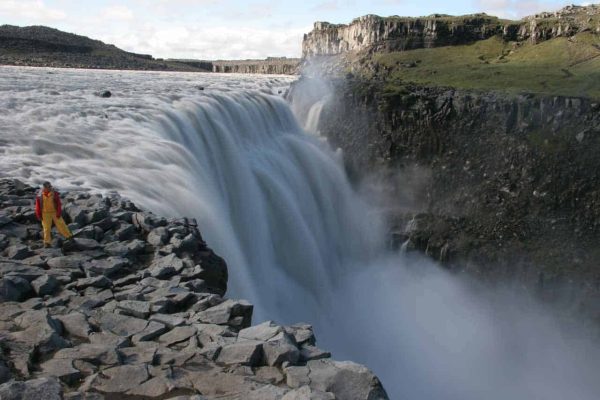 This monster of a waterfall that comes in at number 2 in out top ten is known for being the most powerful waterfall in Europe. The glaciers of Jökulsá á Fjöllum were responsible for carving the massive canyon Jökulsárgljúfur found here that is home to not just Dettifoss but three more waterfalls, Selfoss, Hafragilsfoss and Rettárfoss. The ground beneath you trembles with the force of Dettifoss, making for a remarkable experience in this remote part of Iceland.
1.GULLFOSS Haukadalur, South Region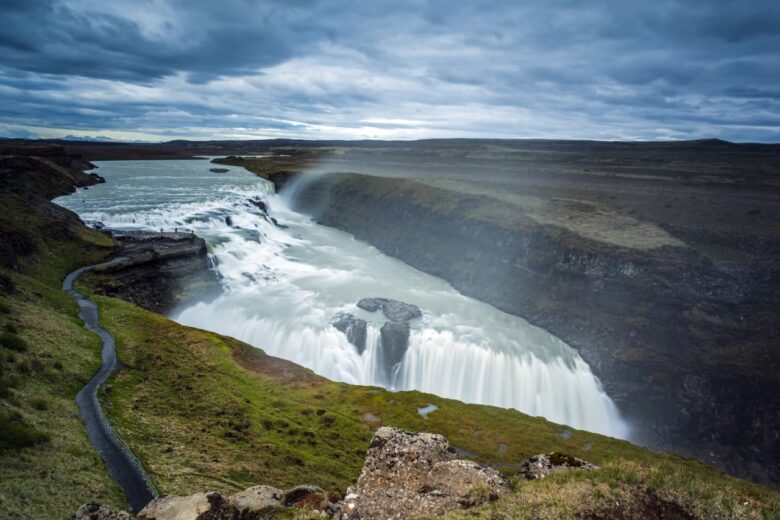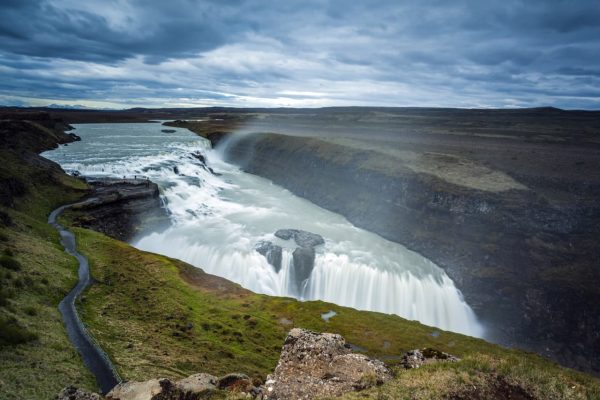 Coming in at the top spot, this 32-meter waterfall that plunges in two stages is the country's most famous. Depending on the vantage point you view the fall from, this really does look like the Hvitá River plunging down into an abyss. Depending on the weather during your visit, you can often see arching rainbows that form at the misty base of the fall, making for a spectacular and unforgettable experience.