Did you know that Facebook has a lot of information about you to the extent of every other thing you don on other websites/Apps? No need to panic there is a new tool called "Off-Facebook Activity" which will allow you to control what data you want Facebook to see or have with them. Did you even have an idea about how Facebook got all your history, searches, and lots more? All those are gotten from sites you visit and the apps you use on your gadgets. Most of these websites and apps make use of Facebook Pixel to track users' activity. Facebook in return now takes advantage of that to get user's information and serves you targeted ads.
I was passing and heard some guys gisting some days back. I overheard them saying Facebook is listening to their conversation or checking their inbox to show sponsored content. But all they don't know is that Facebook is tracking their activities in one way or the other. Today, you will be surprised about the number of information or activities Facebook has in its capacity about you. Now, let's find out how you can stop Facebook from tracking you and keeping your information or data.
YOU CAN CHECK: FUN THINGS YOU CAN DO ON FACEBOOK
How to Stop/Disable Facebook Tracking Activity on Other Websites/Apps
1. Visit Facebook and log in to your account.
2. Move the cursor to the top right-hand side of the page and locate a small dropdown. The dropdown will show list of menus just click on settings. Check the below image for tip.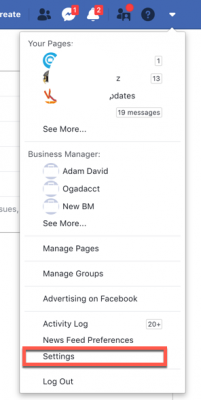 3. On the settings page, scroll down to Your Facebook Information. Now click on Off-Facebook Activity


4. Off-Facebook Activity page will show like the below screenshot. Two things can be done here, you can clear your current history with Facebook and also stop Facebook from tracking you as from now. It is advisable to do both if you want to stop Facebook from tracking you at the moment.
We will first go through the step of clearing your history with Facebook. We are still on the Off-Facebook Activity page, locate Clear History on the right-hand side and click on it.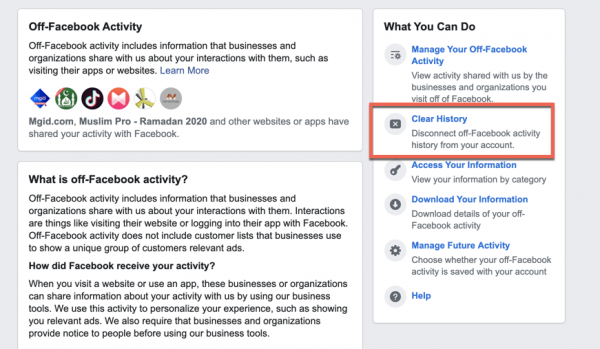 5. A popup will show like below to confirm that you truly want to clear your history.


6. Now to stop Facebook from tracking you, go back to Off-Facebook Activity page and locate Manage Future Activity on the right-hand side.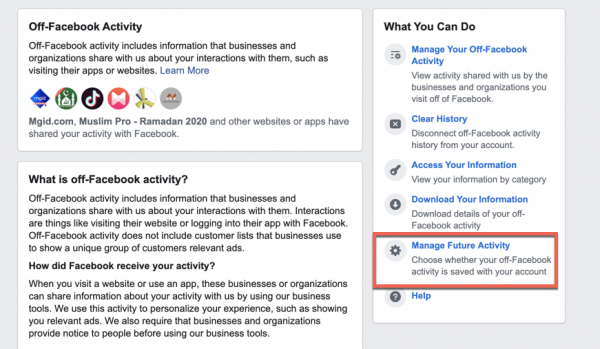 7. A popup will be displayed giving you a hint on what will be disabled. Just click on Manage future Activity.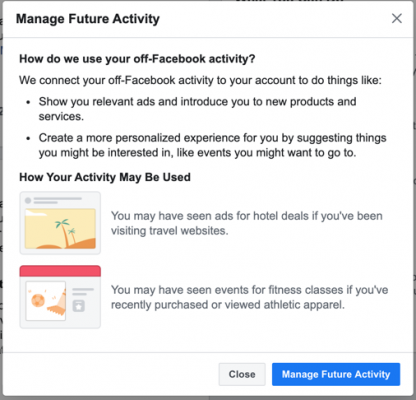 8. You can now toggle off your history and facebook tracking.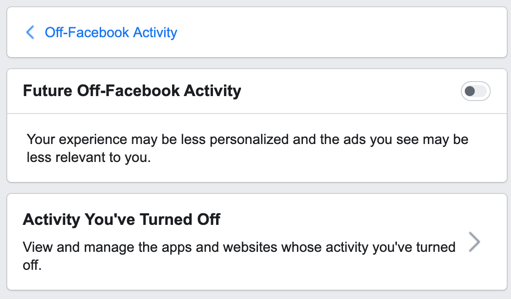 Now, it is time to tell your loved ones about this vital information. Kindly share it with them.