As we all know smartphones are now in market with different specs but with the frequency most buyers keep thinking which smartphone can I buy? What are the differences in this smartphones? How much can this smartphone cost? and lots more.
Recently, both Innjoo and Infinix came up with new flagship smartphone, Innjoo One and Infinix Hot Note. This smartphones have greater features and am really impress with it, so it's time we compare both smartphones with their respective specs and see which one suites or is better for your use.
Both smartphone features 3G network. Both smartphone features dual sim but Innjoo One is
built with one micro sim and one Nano sim (the nano sim slot is also an sdcard slot which implies users can have 1 SIM Card and One SDCard or 2 Sim Cards in the device but not all three at once) while Infinix Hot Note uses two micro sims.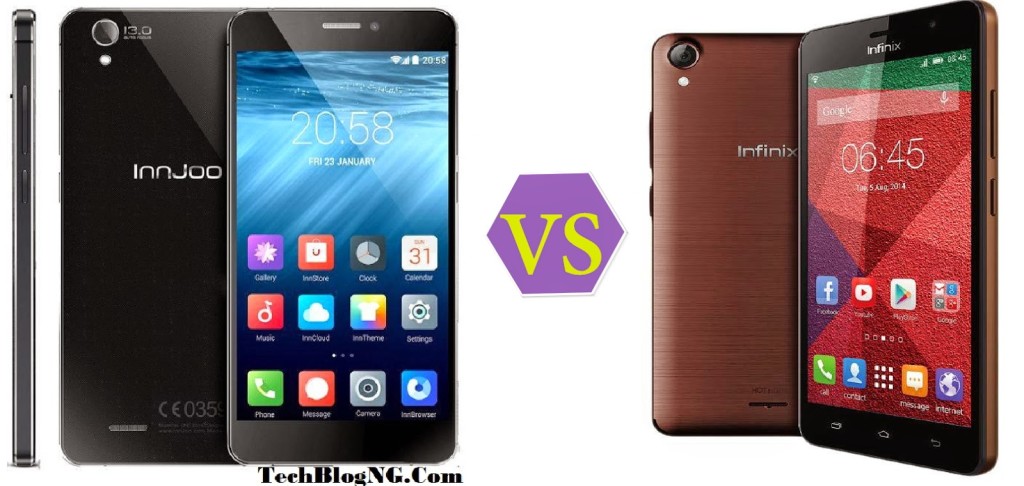 Design, Display & Dimensions
Innjoo One is pretty with full Metal Frame and a Sleek Design, 6.99mm thick, the metal frame combines with though glass cover on the front and back to give the smartphone a premium look and
feel while Infinix Hot Note has a premium look and feel with a stunning body of 8.99 mm thick that
makes it easy to hold, it also have a metal textured finishing on the back and side frames.
Innjoo One has a dimension of 142.7 x 70.2 x 6.9mm and 123g in weight while Infinix Hot Note features a dimension of 156 x 77 x 8.9mm with 172g in weight which shows it have a bigger dimension and size than the Innjoo One. Innjoo One features 5 inch, 720×1280 pixels with brilliant HD display screen which makes it easy to navigate through but the Infinix Hot Note has a professional 5.5 inch display, 720 x 1280 pixels (267 pixels by inch).
Both smartphone comes in different colors which allow you to pick your choice.
Hardware Comparison
The Innjoo One is with a Mediatek chipset with 8 cores, each clocked at 1.7GHz while Infinix Hot Note features Octa Core each clocked at 1.4GHz. Both smartphones also features Mali-450MP GPU and MediaTek chipset.
With this processor comparison, it's definitely sure the Innjoo One performs better and faster than the
Infinix Hot Note. Both smartphone runs on Android 4.4.2 Kitkat OS but with differences in RAM. Infinix Hot Note is built with a 1GB RAM while the Innjoo One features a 2GB RAM which would make it performs better and faster in using its features than the Infinix Hot Note.
Both smartphone also have loudspeaker, WiFi Hotspot, WiFi 802.11b/g, Bluetooth 4.0 and
functioning USB ports for charging and Mass Storage functions.
Memory
The Innjoo One is built with 16GB Internal Memory with External SDcard slot with capacity
of about up to 64GB and the Infinix Hot Note also have a 16GB internal Memory but with an External Micro SDcard slot of up to 32GB. But there is still existence of Innjoo One which features more internal memory and SDcard slots of higher space but not available in Nigeria yet. Both smartphones are really good to save files, datas and lots more with the huge storage space they have got.
Camera & Batteries

Innjoo one was really born for taking shots featuring a 13MP Rear/Back Camera and a 5MP Front Facing Camera. Infinix Hot Note really lack behind here with a Rear Camera of 8MP and there is also change with a low 2MP Front Facing Camera. Both smartphones cameras are very clear and sharp with LED flashlight for Night Shots, you could even feel it for professional camera. But in terms of talking about taking selfies the Innjoo One is really better than Infinix Hot Note in this aspect.
Infinix Hot Note features a reasonable battery life of 4000mAh compared to that 2600mAh polymer battery of Innjoo One. Therefore, Infinix Hot Note has a better battery life than Innjoo One.
Price
For Nigerians, both smartphones are available in Nigerian Largest Online Markets dealing with
Gadgets, Jumia and Konga. You can get the Innjoo One from JUMIA for N27,999 while Infinix Hot Note sells for N23,500 on Jumia only for now.
Where to Buy Phones?
JUMIA.COM.NG (NIGERIA) – N18,270

JUMIA.CO.KE (KENYA) – Ksh 5,399

JUMIA.COM.GH (GHANA) – Ghc 5,399

hiideemedia.com/konga – N15,399