A mobile application is a kind of software built up and designed to run on a mobile device such as a smartphone or a tablet. These applications are designed to provide users similar services as those accessed on personal computers. Some apps will not run on all mobile phones so when designing a new mobile app, it is important to know the target operating system. Mobile phone operating systems vary from Android, Apple IOS, Microsoft, and Blackberry etc. Of course, this is just the tip of the iceberg given that there is more to mobile app strategy. The good news is that this article gets you all covered as we take an in-depth look at all you need to know about mobile app strategy, why your business is craving for it and the simple steps you can take to craft one for your business.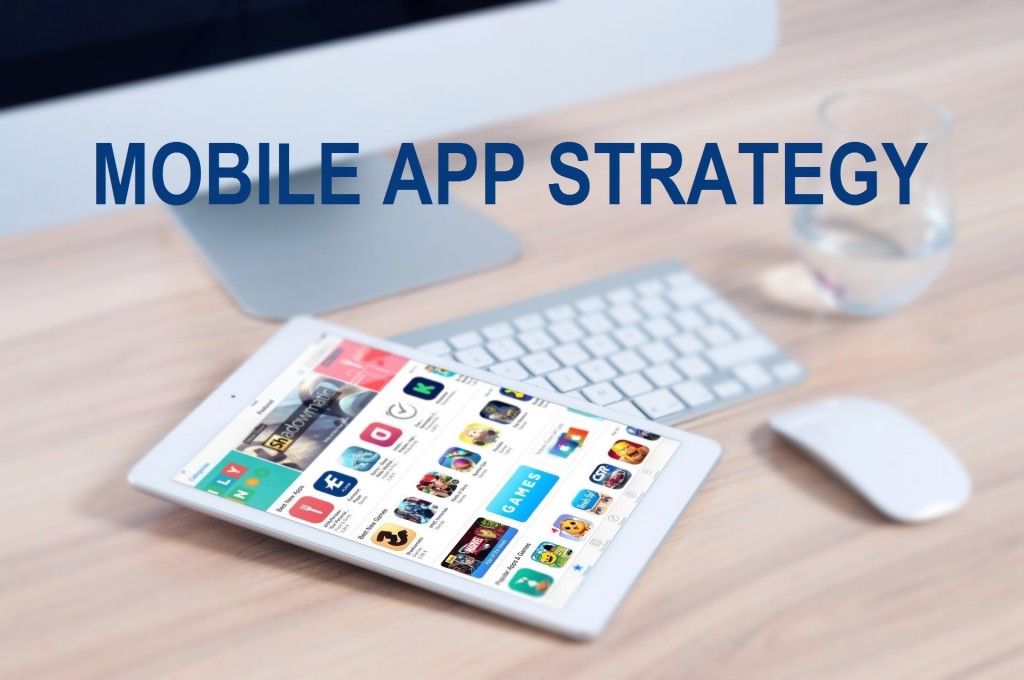 What is mobile app strategy?
Companies these days want their employees and clients to know about trending and important information about their services. With mobile app strategy, companies can create personalized apps that suit their employees and customers. In simple terms, mobile app strategy is an approach that bridges the gap between businesses and clients using mobile communications or rather mobile application design.
Why Your Business Needs a Mobile App?
Just in case you are still contemplating on the need to build a mobile app for your business, then here are some of the reasons why you should start working on one:
Open up New Business Channels for your E-commerce Business:
If you run that kind of business, where online transactions take place then a mobile app will open up even better ways to conduct business. Say you run an online fashion store and you are having a headache trying to solve how to get the best out of the modern consumer trends. A mobile app would be the smart answer to your problems. It will ensure that customers can make purchases from their phones as a result; driving your sales to new level-then everyone will go home happy!
Full-Time Visibility:
Research has shown that people in developed countries spend over two hours a day on mobile devices. That is just a yardstick given that the trend is more or less the same in developing countries where mobile communications have escalated since the turn of the century. Now these may sound like mere statistics but from another perspective, it presents an avenue for businesses to tap into the value of business psychology. Of course, a user will tend to scroll around his/ her device to access apps of choice and with your app on the list; you are bound to create a lasting image of your brand to customers. As weird as it may sound, that is how advertisements work!
Direct Marketing Channel:
The beauty with mobile apps is that they afford you the chance to deliver many functions on a single tailored platform. Think of it as a way to give your customers and other potential clients' general info about your business. In other words, there is no cheap and efficient channel to advertise than using push notifications to remind constantly your customers of your business at sensible intervals.
Create Brand Awareness:
Business mobile apps are also a cool way to convey brand awareness to your targeted audience. Visualize a mobile app as that blank billboard where you can create something stylish for customers and potential clients to identify with. With a mobile app, it is all up to your creative team to come up with a beautiful design for the public to see!
Customer Relations Management:
Everyone fancies that timely communication and apps do give you a way to integrate efficient CRM functionalities to your app. This kind of model will surely improve customer engagement and inculcate customer loyalty. Talking of customer loyalty, it will be nice if your customers are always a fingertip away from your business.
Steps to Create Mobile App Strategy:
Now, that you know why you need an app, you are probably clueless on how to get started. These simple steps will get you there and suggest steps to create mobile app strategy:
Understand the business needs. Start by taking the time to decide what the app will do for the business and what goals can be reachable with the success of the mobile app. Are there any opportunities to be created with the new app? If there are opportunities then how can the company take best advantage and capitalize on it?
Consumer demands. With so many apps available in the market, consumers want better applications than what is already there. Research should be done to know exactly what the consumer wants and if an enterprise already has an app, the consumer can indicate what changes they would want to see.
Platform development: There are many mobile operating systems such as the apple IOS, Symbian, android and others, each with their own native capabilities. Native mobile apps should be considered-in other words, a custom application is built for a specific type of device, and the user can download and install the app on the phone before it can be used.
Evaluate your development resources: Developing mobile apps requires experienced developers who know their way around the relevant programming languages like Java for Android, Objective-C/Swift for IOS. A company wish to develop an app can use an in-house developer who knows and understands the company very well. You can also outsource the task to a developer but keep in mind that will cost more money and time for he/she has to learn about the company needs and the deliverables of the app in question.
App and Information management: The Company must think about what information the consumers will receive. Is it what the customers want? Does it draw them to your business and are they purchasing what is offered?
Governance and management of the app should be properly stated. Who is in control and who has the right to make any changes and updates? All departments should be involved in contributing to the app development to show that everyone in all departments is empowered and the final decision on what is to be included in the app should be made after proper consultation with relevant stakeholders.
Security strategy: Security of the data should also be carefully designed. For example, the app might need to prompt a user to create an account and have log in details to login. Security questions should be set in place like what will happen if login details are forgotten? How many accounts can a person have? Is the app safe from hackers and unauthorized people? Where cloud services apply, measures to prevent and deal with threats and attacks?
Continuous application delivery and access: Consumers expect constant updates on the app from bugs in a bid to fix those to improve interfaces and experiences. The app must be available to the user at all times and updates should be available to create new exciting experiences for the users to interact with the company. People carry their mobile devices everywhere they go and they should be able to access the app and their accounts every time. Customers also need a way that allows them to communicate with you by help desk feature within your app can really make an impression in your interaction with your customers.
 One fact is that mobile phones and apps are here to stay and it is safe to say that they will be a standard component of any business in the near future. This will improve processes in a significant and positive ways. In business, it is all about making profits and with a proper mobile app strategy; you can make even more money in what you do!