Streaming platforms have transformed the entertainment landscape in our modern world. With an overwhelming number of choices, selecting the perfect streaming service that aligns with your preferences and viewing habits is vital. Netflix and Hulu are two well-known players in the streaming market. This article will provide in-depth information on Netflix and Hulu Comparison. We will examine their content, features, pricing, and user experience. Our aim is to empower you with the knowledge to make an informed decision and elevate your streaming experience. Netflix vs Hulu, let's start with full details about both platforms.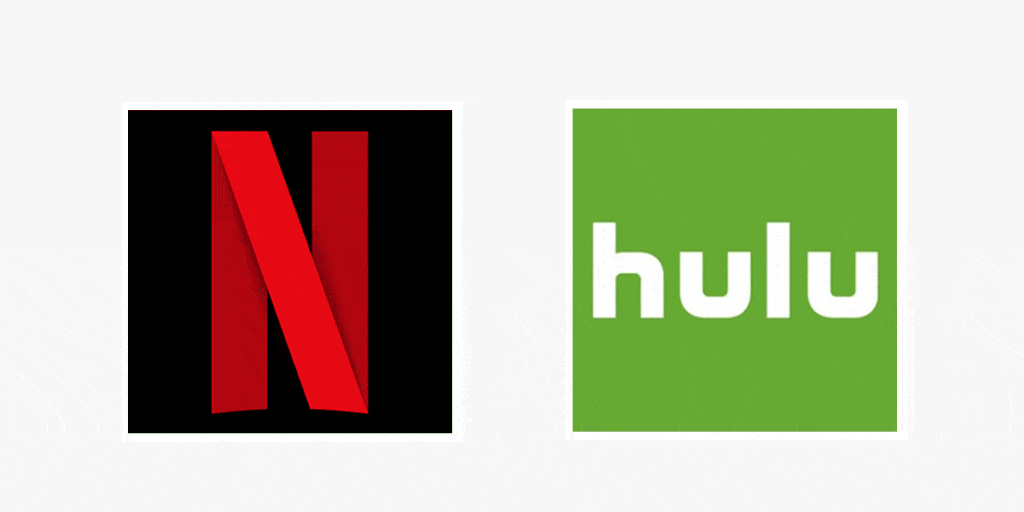 Netflix: The Entertainment Behemoth
When it comes to streaming platforms, Netflix reigns supreme, earning its title as the king of streaming. With an extraordinary library loaded with movies, TV shows, documentaries, and original content, Netflix offers an unrivaled selection that caters to every taste and interest. It has become home to a multitude of critically acclaimed original series, such as the captivating fantasy epic "The Witcher" and the thrilling heist drama "Money Heist." It's a treasure trove of entertainment that continues to grow, ensuring there's always something captivating for everyone.
What sets Netflix apart is its remarkable diversity of genres. Whether you're a fan of gripping dramas, side-splitting comedies, spine-tingling thrillers, heartwarming romances, or mind-bending science fiction, Netflix has it all. It's a virtual playground of cinematic experiences, offering a never-ending journey of discovery.
One of the hallmarks of Netflix is its ability to produce binge-worthy series that capture the imagination of viewers worldwide. From the supernatural adventures of "Stranger Things" to the gripping historical drama of "The Crown," Netflix has a knack for creating original content that becomes a cultural phenomenon. This series does not only entertain but also pushes the boundaries of storytelling, captivating audiences with its compelling narratives and memorable characters.
But Netflix doesn't stop at TV series. Its movie selection is equally impressive, boasting critically acclaimed films that span across various genres and eras. Whether you're in the mood for a thought-provoking indie gem, a pulse-pounding action blockbuster, or an award-winning foreign film, Netflix delivers a rich tapestry of cinematic experiences that cater to diverse tastes.
Netflix also stands out for its dedication to thought-provoking documentaries. From eye-opening explorations of social issues to in-depth profiles of fascinating individuals, Netflix's documentary catalog offers a wealth of educational and enlightening content. It's a platform that not only entertains but also stimulates curiosity and broadens perspectives.
Hulu: The Home of Live TV
If you're someone who loves staying up to date with the latest episodes of your favorite TV shows, Hulu is the streaming platform that stands out from the crowd. With a vast selection of current TV shows, Hulu ensures that you won't miss a single moment of your beloved series. From captivating dramas to side-splitting comedies and everything in between, Hulu has got you covered.
What sets Hulu apart is its dedication to delivering current and up-to-date content. While its library may not be as extensive as Netflix's, Hulu makes up for it by focusing on the shows that are currently making waves in the television landscape. Whether it's the gripping mysteries of "The Handmaid's Tale" or the hilarious antics of "Ted Lasso," Hulu ensures that you have access to the most talked-about TV shows as soon as they air.
But Hulu isn't just about current TV shows. It also offers a wide range of classic TV series. From beloved sitcoms like "Seinfeld" and "Friends" to timeless dramas like "The X-Files" and "ER," Hulu brings fruitful remembrance and allows you to relive the golden age of television.
Moreover, Hulu has expanded its offerings beyond TV shows and boasts a diverse collection of movies for your viewing pleasure. From Hollywood blockbusters to independent gems, Hulu provides a well-curated selection of films to cater to every movie lover's taste. And just like its TV show offerings, Hulu ensures that it keeps its movie library updated with the latest releases.
In addition to its impressive array of TV shows and movies, Hulu has also ventured into producing its own original content. With critically acclaimed series like "The Handmaid's Tale" and "Ramy," Hulu has proven its ability to create compelling and thought-provoking original shows that rival the offerings of other streaming platforms.
So, if you're a TV enthusiast who wants to stay current with the latest episodes of your favorite shows, while also enjoying a range of classic series, movies, and original content, Hulu is the perfect streaming platform for you. With its focus on delivering current and up-to-date content alongside a captivating library of timeless favorites, Hulu ensures that you'll never run out of engaging entertainment options.
Netflix vs Hulu Comparison: Features and User Experience
Now, let's dive into a proper Netflix vs Hulu comparison;
Netflix: Seamless Streaming Pleasure
Netflix's user-friendly interface and intuitive design make it incredibly easy to navigate and discover new content. Its recommendation algorithm analyzes your viewing habits and suggests personalized recommendations tailored to your tastes. Netflix also allows users to create multiple profiles, providing a personalized experience for each family member. With support for various devices and the ability to download content for offline viewing, Netflix ensures a seamless streaming experience.
Hulu: Enhanced TV Experience
Hulu's interface focuses on providing an enhanced TV-like experience. Its layout resembles traditional cable or satellite TV, with an emphasis on curated collections and recommendations. Hulu also offers the option of adding live TV to your subscription, allowing you to stream live channels alongside on-demand content. With a user-friendly interface and an emphasis on ease of use, Hulu caters to those seeking a more familiar TV experience.
Netflix vs Hulu: Platform Support and Quality
Netflix takes pride in its broad platform support, ensuring that users can access their favorite content on a variety of devices. Whether you prefer streaming on your TV, smartphone, tablet, gaming console, or web browser, Netflix has you covered. It supports popular platforms such as Smart TVs, Apple devices, Android devices, Roku, Chromecast, and many more.
When it comes to streaming quality, Netflix stands out with its commitment to delivering a top-notch experience. It offers various streaming resolutions, including Standard Definition (SD), High Definition (HD), and Ultra HD (4K), depending on your subscription plan and the capabilities of your device. Netflix also employs adaptive streaming technology, adjusting the quality based on your internet connection to ensure smooth playback without buffering issues.
Hulu's platform support is not as extensive as Netflix's, but it still covers a wide range of devices. You can stream Hulu on popular platforms such as Smart TVs, Apple devices, Android devices, Amazon Fire TV, Xbox, PlayStation, and web browsers. However, it's worth noting that some older or less common devices might not be compatible with Hulu.
In terms of streaming quality, Hulu offers a range of options depending on the device and subscription plan. The majority of Hulu's content is available in HD, providing a crisp and enjoyable viewing experience. However, it's important to note that Hulu's highest streaming resolution is 1080p, which falls short of Netflix's Ultra HD offering. Additionally, Hulu's streaming quality may be affected by your internet connection, and some users have reported occasional buffering or playback issues.
Overall, Netflix takes the lead in terms of platform support, offering compatibility with a wide range of devices. It also excels in providing high-quality streaming, including the option for Ultra HD content. While Hulu supports popular platforms, it may not be as compatible with certain devices, and its streaming quality, although generally good, doesn't match the highest resolution capabilities of Netflix.
Netflix vs Hulu Comparison: Movie Selection
A Cinematic Wonderland: Netflix
Netflix takes pride in its vast movie library, catering to a wide range of tastes and genres. Whether you're a fan of action, romance, comedy, or independent films, Netflix has something for everyone. From Hollywood blockbusters to acclaimed international movies, Netflix continuously adds new titles to keep its collection fresh and exciting. Moreover, Netflix frequently acquires exclusive distribution rights, ensuring a diverse selection of movies at your fingertips.
Netflix has established itself as a leader in producing high-quality original content. With a dedicated production team and a substantial budget, the streaming giant consistently delivers captivating series, films, and documentaries. From award-winning shows like "Stranger Things" and "The Crown" to critically acclaimed movies like "Roma" and "The Irishman," Netflix has revolutionized the streaming landscape with its original offerings. Its commitment to diverse storytelling and investment in talented creators have propelled Netflix to the forefront of original content production.
Hulu: Accessible and Curated Choices
While Hulu's primary focus lies in TV shows, its movie catalog is still noteworthy. Hulu excels in providing access to a diverse range of movies, including recent releases and timeless classics. It specializes in offering a selection of critically acclaimed independent films, documentaries, and art-house cinema. Additionally, Hulu frequently features collaborations with film festivals, making it a go-to platform for cinephiles seeking more niche and lesser-known movies.
Although Hulu's focus is primarily on TV shows, it has also ventured into producing original movies and documentaries. While its original movie library might not be as extensive as Netflix's, Hulu has made notable contributions to the world of original content. Films like "Palm Springs" and "Bad Hair" have received critical acclaim and showcased Hulu's commitment to engaging storytelling. Hulu's strength lies in its ability to produce thought-provoking and distinctive content that resonates with its audience.
Netflix vs Hulu Price Comparison
Netflix: Flexibility and Variety
The platform offers three subscription tiers: Basic, Standard, and Premium. The Basic plan provides access to content in standard definition on a single device, while the Standard plan offers HD streaming on two devices simultaneously. The Premium plan supports Ultra HD streaming on up to four devices concurrently. Netflix's pricing provides flexibility to choose a plan based on your streaming needs and the number of users in your household.
Hulu: Affordable and Ad-supported Options
Hulu offers two main subscription options: Hulu (ad-supported) and Hulu (no ads). The ad-supported plan offers access to the complete library but includes occasional commercial breaks. The ad-free plan, as the name suggests, eliminates commercials for uninterrupted streaming pleasure. Additionally, Hulu offers add-ons such as Live TV and premium channels like HBO and Showtime, allowing you to customize your subscription further.
More Topics for You;
Conclusion
Netflix and Hulu are two prominent players in the streaming arena, each with its strengths and target audience. Netflix reigns as the ultimate hub for a vast range of content, including its highly acclaimed original series. On the other hand, Hulu specializes in providing access to current TV shows and offers a more traditional TV-like experience. Your decision between Netflix and Hulu ultimately depends on your preferences, viewing habits, and budget. Consider the content selection, features, user experience, and pricing discussed in this article to make an informed choice and elevate your streaming experience. I hope you have gained one or two things from this article about Netflix vs Hulu comparison. Kindly tell us your best choice using the comment box below.