For a good number of years, Netflix has been the dominating and most popular streaming platform in 2018 even garnering the famous "Netflix and Chill" phrase. Their services are available in most countries including third world countries, so their reach is broad. After a while, you might be looking for fresh content to follow, or their subscription fee doesn't match up to your budget.
Whatever your reason is, there is no reason you shouldn't be able to enjoy other streaming services, and we've compiled a list of "like Netflix, but better" Top 10 best Netflix Alternatives. Some of the services are either less or more expensive than Netflix or completely free. Your cup runneth over!
Best Netflix Alternatives
1. Amazon Prime Video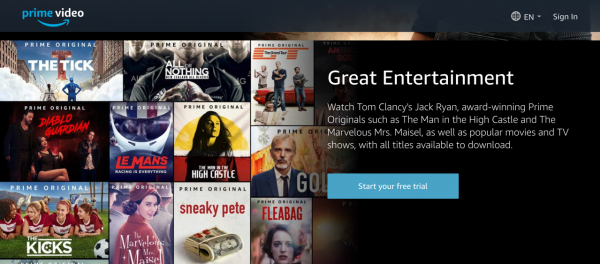 Amazon Prime Video is one of the best Netflix alternatives sourced from the media section of the online retail company. The first 30 days are free after which you have to subscribe to a paid plan.
The subscription has a wide selection of both TV shows and movies. The site streams TV shows from other networks such as HBO and Starz. Although there's also original Amazon content that has already garnered a following such as Gods of Amazon.
You can also watch old classics from their massive library if you exhaust or get bored with the newer shows at 8.99 dollars per month amounting to 99 dollars credited annually or 10.99 per month for the full membership and access to their large library. Although it's a dollar more expensive than Netflix, the subscription has additional Amazon benefits such as faster and free delivery from the online retail storeHulu Huluing options are through a smart TV if it supports Amazon Videos, a computer, or through their website. They also have an iOS and Android app.
2. HuluHulu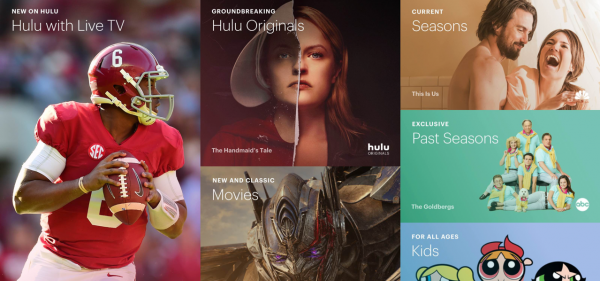 HuluHulu is also another popular Netflix alternatives. The platform also has a free trial month after you sign up. The majority of the content on Hulu is TV shows both current and from old selections. However, the platform has a smaller Movie library compared to Amazon and Netflix.
Similarly, Hulu has a short selection of original shows so be sure to check them out if you do subscribe. After the trial month, you will be prompted to choose one of their subscription plans. The basic program is 7.99 dollars a month, but it also has limited commercials. The premium plan costs 11.99 dollars a month with no ads.
Hulu is available as a website streaming platform and also as an APP available on both Android and iOS, but it is also available on other platforms such as the Xbox One.
3. YouTube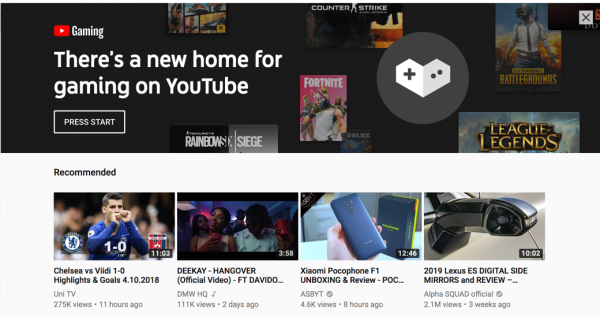 YouTube is now no longer just a homemade and music video site, introducing YouTube Premium and YouTube TV right to the screen near you.
YouTube Premium is available in a few countries. It allows you to enjoy YouTube, YouTube Music, YouTube Gaming, and YouTube Kids free of ads and also the capability of viewing videos offline. YouTube Premium also has YouTube original series from its biggest creators. The premium service costs 9.99 per month.
YouTube TV is exclusive to the US. It is a nifty replacement to cable services because it hosts your favorite TV channels including ABC, NBC, FOX, ESPN, and Disney among others. The Google service also has a Cloud DVR service with unlimited storage, but you can only store shows for up to 9 months. YouTube TV costs $40 a month.
4. HBO Now
HBO already has a lot of shows with a massive fan following, case in point Game of Thrones. It is also one of the Netflix alternatives. The platform also has a variety of Movies and documentaries if you want to take a break from TV shows. The platform also has a selection menu suitable for kids.
Like the other platforms, there's a monthly trial period which you can cancel before or after the period is over.
An HBO subscription will cost you about $14.99 a month. The platform can be accessed via smart TVs, a computer, and other gaming boxes such as the Xbox One.
5. MUBIMubi
MUBIMubi is one of the most dynamic streaming platforms in 2018. While you won't find blockbusters and favorite TV shows on there, there is something new every day from the independent movies sections. Every day there's a new addition to the site's catalog which is available for 30 days after which it is removed from the site. So on any given day, you have 30 films to choose from.
Mubi membership costs only 5.99 dollars a month. You can stream from a TV or PC although their app is available on both iOS and Android.
6. Fandor
At Fandor, they offer more genres of indie, foreign and documentary films although they are American-owned.
Their selections are always interesting which makes them a fresh alternative and experience from Netflix. One of their moderators manually verify each addition. The genres are also broad, and their catalog is updated on a weekly basis. You have over 6000 reasons to go over there and check out their content.
Membership plans cost 10 dollars a month, but if billed as one annual payment it's only 90 dollars. Fandor is available on your PC and also on other platforms, like Roku and Kindle Fire.
7. Crackle
Crackle is a free platform owned by Sony. Their collection has sitcoms, adventurous and thriller movies, comedy, to name a few. Although Crackle's collection is not as big as Netflix's, we guarantee you will find something you love on Crackle.
While the site is entirely free, you can either visit the website and start streaming or create a free account to manage your favorite shows better or watch later movies. You can also download their Android or iOS app from the stores.
8. Tubi TV
Tubi TV is a legal streaming platform much like Netflix actually. The site allows you to watch the selected movies and TV shows on-demand even those from well-known studios, like Lionsgate and Paramount.
While it is free, it hosts ads that you might have to watch while your content is streaming. You can stream through the website or otherwise download their iOS or Android app.
9. SelectTV
SelectTV has millions of channels, Movies, and TV shows to select from. If anything it is an upgrade from Netflix for a small monthly fee. The platform hosts TV shows from popular networks including FOX, CBS, TLC and NBC, and even Amazon and Netflix. It is listed as cable TV, but it is definitely more than that. You cannot exhaust their catalog with more than 400,000 TV episodes, over 100,000 movies, and about 2000 channels which makes it one of Netflix alternatives.
The best part about SelectTV is that it costs only 2.99 dollars a month. You can access it on a PC or Smart TV.
10. Vimeo
Vimeo is more of a video-sharing platform than Netflix. Users upload owned content to the site where you then get to stream the content.
Here you will find independent films and documentaries which are all original and unique content. While also having TV shows and sitcoms, there is also a variety of music and mixes to listen to when you do your stuff around the house. Vimeo is only available exclusively on the internet, so you need a PC or phone to access it.
There you have it. There are a plethora of options out there. Some are more expensive than Netflix but with other benefits like Amazon and others are entirely free, so you have no reason to get stuck watching the same stories every day. And if you're too lazy to look, you can always refer to our list of the next best Netflix alternatives.