Over the past two articles, I introduced you to some key terms and hopefully made it easier to make the right choice when shopping for a best budget action camera, of course being practical is a must. In this final article, I will introduce some essential accessories to make the best movies and still images with your action camera.
Take cover!
One of the first accessories to consider is a waterproof housing. Even if you have no plans to dive underwater, putting on the housing can protect the camera from snow, water, rain, dust and other harmful substances. So mount it on your bike, motorcycle, helmet, boat, car or wherever else you want to so you can capture your point of view.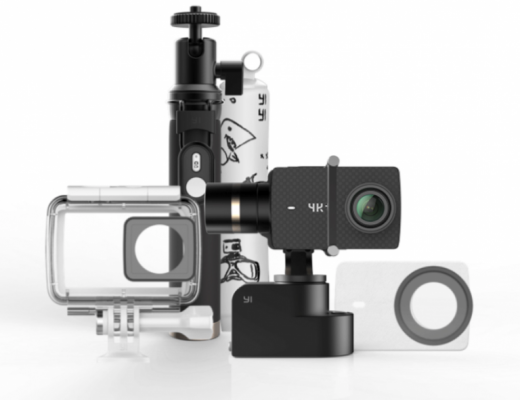 If you do decide to go underwater, you'll want to make sure the housing will go well below 100 feet, or 30 Meters. If you plan on taking your camera snowboarding or skiing, you'll also want to make sure the housing will work at temperatures below 0 degrees Fahrenheit or -18 degrees Celsius.
Get up! Stand up!
Whether you choose to use a housing or not, you should ensure your action camera has a ¼-20 threaded tripod socket to be used for mounting. Having the ability to mount your camera results in the most stable viewing and will keep people from becoming nauseous as they follow along either live streaming or later viewing.
If you have a nice level surface and plan to keep the camera in one spot, consider a portable tripod with collapsible legs. They start around the US $15/€15/£12 and can go up into the hundreds in any currency. Just be sure to choose one that is easy to carry and has a built-in spirit level to ensure your shots are level. You may want to get a tripod head that can pan easily if you plan to move the camera from left to right.
If you are trying to secure it to a tree, for example, there are small table-top tripods that have legs which can wrap around branches, pole, fence post, etc. that cost a little less and can go wherever you go.
Beyond the tripod, the other fun way to mount your action camera, as mentioned above, is to use a helmet, bike mount, car mount or motorcycle mount, amongst many other creative choices using the tripod socket, mount or specialized mount.
Ready, Steady, Go!
You can't really avoid the selfie-stick these days. There are so many of them out there that many cultural and popular locations have banned their use. However, they work well for story-telling and a first person point of view. They usually will mount to the tripod socket. When you're ready to get serious about stability.
The next step is using some sort of gimbal system to keep your video smooth and control your camera while moving. If you are going to be moving around with your camera extended away from your body, consider a gimbal with a selfie-stick. I Gimbal keeps the camera stable and smooth by counteracting movement in most directions. Look for one with long battery life.
Of course, there are drones as well as other cool ways to mount your action camera. If you can think of a new perspective or new point of view, there's probably a way to make it happen. Experiment with different angles and keep your motion as smooth as possible.
With so many action cameras to choose from, be sure to get the action camera that offers you the best choice of mounting options, stability, and accessories. These will help you get a professional look that will keep your audience coming back for more. Who knows – you might get offered a job in Hollywood!
More About Action Caamera
– How to Choose an Action Camera – Seeing, Setting, Shooting, Sharing
– How to Choose an Action Camera – Resolution and Frame Rates