Samsung and Apple Smartphone company has been the most competitive among all since 2014, they keep producing new smartphones with different specifications to serve their customer. Both Samsung Galaxy S5 and the iPhone 6 was released in 2014. This also saw history repeat itself with the two topping the list of 2014's most popular Smart phones as well.
Both phones are equally popular because of their outstanding specifications and features. They can both make any Smartphone enthusiast very happy. One of the biggest advantages the Galaxy series has had over the iPhone is screen size, but with its latest rival, the iPhone 6, spotting a bigger screen size than all its predecessors, it has managed to win over buyers who prefer large screen displays.
Both the Galaxy S5 and the iPhone 6 have unique incomparable qualities that make choosing between the two a very tricky affair. However, in an attempt to tell which one is the best Smartphone, we need to look at a number of factors. Let us begin with their specifications.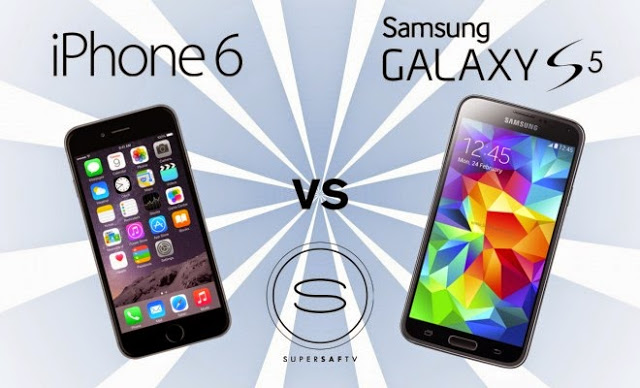 Display
All previous Galaxy smartphones have always been bigger than the iPhone's. Even with the iPhone 6's bigger screen, the Galaxy S5 still wins when it comes to screen size. The iPhone 6 has a 4.7-inch LCD display with a 750 x 1334 pixel, 326-PPI resolution. The Galaxy triumphs this with a bigger 5.0-inch AMOLED screen with a 1920 x1080 Pixel 432 ppi resolution.
Camera
The latest iPhone has an 8 Megapixel camera equipped with iSight technology. It is also able to record 1080p videos. This is a bit inferior to the Galaxy's 16 Megapixel camera complete with an LED flash, and 1080p video recording. Despite the obvious hardware differences, the iPhone 6, somehow, still manages to take better pictures and video compared to the S5.
Storage
Both the iPhone 6 and Galaxy S5 are available in 16GB and 128 GB internal storage options. With the iPhone, you get an extra option, a 64GB version. Both have a microSD slot that can expand memory to 128GB.
Processor
When it comes to processing ability, the galaxy exhibits better processing power thanks to its 2.5 GHz Quad-core Krait 400 processor backed by a Snapdragon 801 chipset and an Adreno 330 GPU. The iPhone 6 on the other hand is powered by Apple's A8 1.4 GHz Dual-core Cyclone and Apple's M8 motion co-processor. The Galaxy S5 also has a bigger 2GB RAM compared to 1GB RAM.
Battery
A 1800mAh battery powers iPhone 6 while the Galaxy S5 has a bigger capacity 2800 mAh removable battery.
Design
Although the Galaxy S5 is the most practical of the two, an iPhone 6 is smaller and is more ergonomically designed to be more palm-friendly. Due to its size, the iPhone 6 is also less conspicuous and fits comfortably in the pocket compared to the Galaxy S5. The S5 on the other hand makes up for this with a grip texture and curved edges that make it better to hold.
How Durable are the Two Smartphones?
The Galaxy S5 has been criticized for its plastic body, however, when it comes to durability, the iPhone 6 is no match against the Galaxy S5 water and dust resistance. The Galaxy S5 can withstand up to a meter of water for up to 30 minutes making it the more durable of the two.
Finally, making a decision on which phone is the best for you all depends on what you are looking for. If you want a premium design Smartphone with intelligent features, then you might want to consider the iPhone 6. However, if you are looking for a fancy Smartphone with a large screen, longer battery life and effective water resistance, the Galaxy S5 is your best choice.