To start with, what are tags called in Blogging?  Tag is a non-hierarchical keyword or team assigned to a piece of information (blog post) to describe the post and allows it to be found again by browsing or searching. It also helps in the classification of blog posts, although categories/labels do the same there is a little difference in them which you would find out soon in this blog post.

Tags are an important part of blogging as have explained above, tags are not keywords. They're primarily used for organizing the various topics you write about and for building topic authority for each tag used and reused. Apparently, the search engines out there use tags to send traffic to blogs if only you use tags appropriately. So, if you want to have more traffic from search engines, you should tag your posts very carefully. In fact, if you want to tag your post under the topics people are most interested in, WordPress can help. It has a Tag cloud with all the most popular tags in different sizes. The larger they are, the more popular they are (I honestly didn't know that at first but later on knew about it from blogs have visited so far.
If you want more traffic, you can go to the cloud and 'tag' your post under one of the largest categories. Make sure you tagged your posts under the correct category i.e. if you have a blog post on "Top Android Apps for Successful Blogging" and you tagged it under 'online marketing instead of "Blogging Tips" simply because you knew people likes online marketing stuffs to blogging stuff and just to get more traffic. That same traffic might get ticked that you're misleading them and your idea might backfire. Visitors might just leave your blog without even planning to search your blog for more valuable content you have provided.
Tag Clouds – A tag cloud is an optional navigation feature that you can add to the sidebar or footer of your blog. And depending on how many times a tag is re-used, it will appear larger or smaller in size within the cloud. Tags clouds may look a little strange well. I happen to like how they look), but they do provide visitors with a quick and easy way to navigate within the greater categories on your blog for more specific topics. This is especially useful if you have a lot of content on your site.
When a visitor clicks on a tag within the cloud, they are brought to an archive page of excerpts (350-400 words) of related articles that are tagged in the same way (of course, if your blog archives are set upright). They can now quickly scan the archive page and decide what articles they want to read. I have found that the average site visitor won't spend more than a split second wading through months of post archives and are more likely to click on a specific tag within your tag cloud than a broader, more generic category.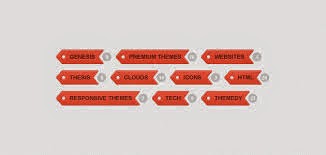 Since it's so important that post tags should be concise and
uniform, try making use of "most used tags" rather than continuously creating new and redundant tags for the same topic. i.e. you wrote a post about "How to use WhatsApp on PC" and tagged it with "
WhatsApp on pc
". You still wrote another post on "Problems & Solutions about Using WhatsApp on PC" and you give a tag "
problem on whatsapp pc
" it would be better to firstly tag the post to "
whatsapp on pc
" you have created before since it's still talking about WhatsApp on PC and then you may later add more tags.
With many content management systems, tags and tag clouds are even case sensitive so make sure your tags are all upper case or the first letter of each word is upper case or all the letters of each word are lower case. Although some themes are actually smarter than others when it comes to tags and
will auto-correct or make all tags upper case (but not necessarily in the cloud), you will find that it's best to tag uniformly and stick to it – and for a number of reasons.
Now, that may have been a ridiculous example, but I am sure you got through it easy enough. Tags create traffic, and traffic increases your SEO ranking. So having useful (and not overdone) tag navigation will increase traffic flow on your site, reduce the number of people who come for one article, and then leave (we all hate that, don't we?).
As for direct ranking results, having "blogging" tagged on a post will not make it appear any higher than it will be with no tags. However, that "blogging" tag may bring in 5, 50, 500 more readers from other "blogging" articles on your website, which will tell Google "Hey, this blogger knows what he/she is talking about, he just got 500 views on a single post".
In Conclusion, although have seen many blogs without showing their post tags before or after post would you believe they make use of tags. If you don't believe look at their sidebars and footer if you see anything relating to tags or not. Am very sure you would find it there. So I would just say it's very important to use tags as it would increase website rankings and provide easy navigation between blog posts for readers.
Now it's your turn to share with us what was your experience since you have been using tags on your blog but if you don't have tags enabled you can start it now and you would surely see positive changes out of that.