A laptop must be judged on how easily they fit in our lifestyles. One must ask for a laptop whose functionalities offer most comfort in fulfilling our purposes. Their multiple uses have earned them a space in every household. Our task has become to choose the perfect one for the given need from the varying range available in the market.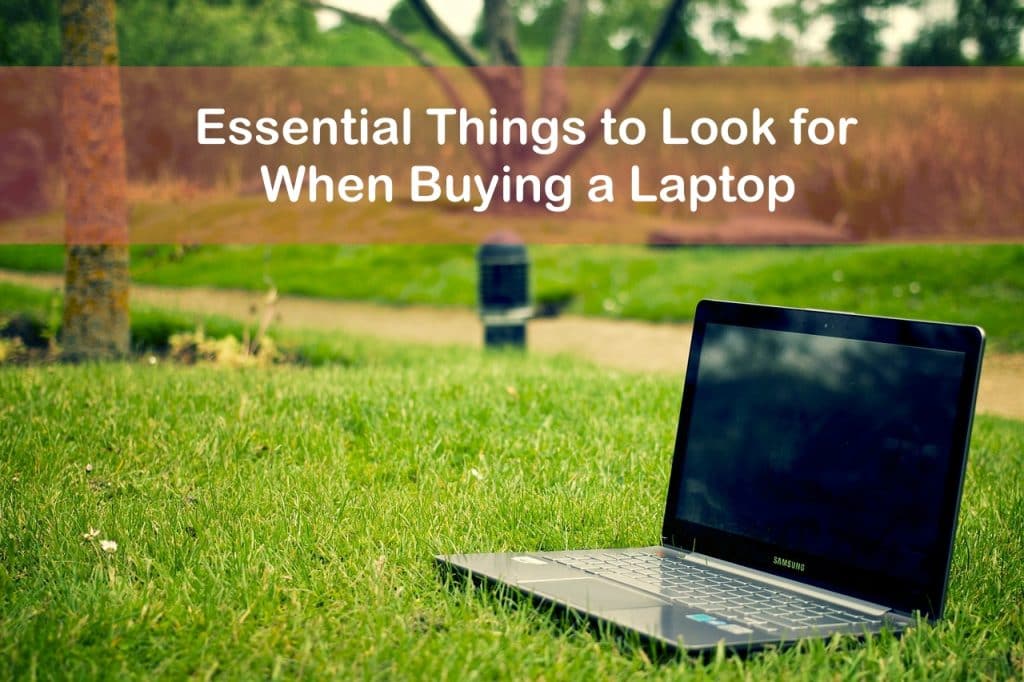 Knowing what you definitely want and what are the fields that you can compromise or can do without in your system will help you in buying one. So here are those fields to consider while buying:
1) The requirement to fulfill
Keep in mind the reason for buying a laptop in first place. It can cover Presentation making, playing games movie watching or simply some business stuff. First of all, make an estimate of your budget before get going then look for the required features in that estimated range. For instance, Acer Aspire E 15-E5 (for $349.99) and Dell Inspiron 15 5000 (for$449.00) are capable of giving a perfect movie watching experience whereas Dell Inspiron 15.6 (for $304.08) and HP 15.6-inch Premium laptop (for $257.00) can be preferred for making presentations.
2) Battery life
Though it is a major factor there is no need to make up your mind over it only. This is so because there are choices like non-removable batteries that are integrated into the system itself for when you are on the move or using backup batteries. If the concept of packing multiple batteries is not pleasing go with upgrading your cell size but only at the cost of gorgeous the sleek look of your laptop. Also, make a note that battery life claimed by the company is not examined while using any of the functions of the laptop as you will so expect it to be one or two hours less than claimed.
3) Size and weight
It is yet another point that depends on whether you have to carry your system or not. For carrying it around go for smaller size like 12 or 15-inch screen. They are comparatively light in weight (around 2-2.5 kg) and are easy to handle when you are on the move. A big screen of say, a 17-inch screen may seem quite tempting to own but don't fall for it if a large part of your day is spent carrying it with you. If your laptop is an at-home machine, then its size is not an issue.
4) Storage
The options available for storing data are state drives which have silicon based memory, hard drives-used for the longest time and then there is also RAM. Being highly reliable and strong, they can be opted for rough and tough use, at the cost of being expensive and lesser memory space as compared to hard drives. RAM is a factor in itself. 2 GB is the minimum requirement. For 4GB and more you will need a 64-bit operating system.
5) Screen Resolutions
Screen resolutions deserve a whole discussion for themselves. Now-a- days screens are made so that they work on a fundamental resolution and deviation from this can result in making everything look fizzy. If your requirement is to use your laptop for the whole day then go with 1600X900 resolutions, if mostly you need to use it at one place and sometimes on road go with 1366X768 resolutions. Resolution is not of your concern if you use it as desktop only with an option of mobility.
6) Central Processing Unit (CPU)
You should be aware that extraordinarily low prices are offered at the cost of efficient CPUs. There are CPUs out there that can take as much as ten minutes to simply boot the windows or do as simple as supporting your simple applications. Unless you are deep into gaming or content making for which you may need a quad-core processor, go for dual core perfect for aiding activities as simple as net surfing. Some of the good ones out there include Intel's new i5 with specialties like lesser power consumption and lesser heat generation as compared to previous models.
7) Ports
Cost reduction of the systems these days also has its direct effect on the number of ports available in cheap laptops. People often mistook that modern systems will consist of everything from USBs to serial, parallel ports including DVI and VGI. Even if you are on a budget going with 3 or 4 USB ports is a better option than 2 of them, and for storage purposes, USB 3.0 is preferable than USB 2.0. PC card slots should also be considered.
8) Track Pad
Reducing the size of laptops also means reducing the size of keyboard and touchpads. While buying one type on the keyboard to see if your hands can comfortably work on them and keys are placed suiting your typing style. Then check for the trackpad as per your comfort and its responsiveness. There are options like scrolling with two fingers, one finger as in Apple models and two different regions to scroll the page and its content.
9) Wi-Fi port
Wi-Fi technology is a feature that ought to be looked out for. Mostly laptops are integrated with a standard 802.11n version that supports fastest maximum speed and good signal range and have good resistance to signal interference from any outside sources. Another latest version of Wi-Fi in the market is 802.11ac that has dual-band wireless technology and is able to support connections on both the 2.4 GHz and 5 GHz Wi-Fi bands. Check for this feature in the model of your interest.
10) Time Your purchase suitably to buy best and latest
While buying a laptop you can have two opinions, either you thrive for an absolutely best deal with a budget in hand or you are keen on latest technologies and models. If your opinion is the second one then keep in mind that enjoying the latest version is a temporary deal as there is always something new to come. Still, you can time your purchase within a short span of a newly released model as it takes another 9 to 10 months for a newer one to be released.
To summarize, as a buyer you should be having the knowledge about what fits you best. You cannot compromise with your priorities, money you can invest and quality of the product you are buying. To make the balance is the key to getting the best experience with your product.