Technology is making headway in every field. Mobile phones, tablet PCs, computers, and other gadgets are getting better and better. However, it is difficult to keep pace with the increasing power of these gadgets at the same time. A processor is the heart of any gadget. It is the brain that processes all the requests from the different components of the gadgets. A processor's power determines how fast a gadget works and its efficiency. It is important to know about the different types of processors. This article will discuss the different types of processor and also take a look at their working.
You will have been hearing about or seeing single, dual, quad, hexa, octa, and other cores online or on the gadgets specifications list. Processors are named according to their numbers of complete independent units known as cores. Dual as you already know means double or two, quad means four so the same thing is applicable with processors. Dual-core processors are processors made up of two cores. Quad-core processors are made up of 4 cores and so on. So once the number of cores is high, the performance and task handling will be faster.
Read Also: Must Have Applications on Your Android Device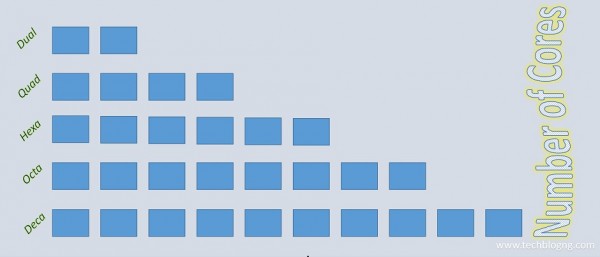 Let's imagine, a work to be carried out by four men of Group A and the same work to be carried out again by 8 men of Group B. This already clearly shows that Group B will finish the work ahead of Group A. The same thing is applicable to cores, when you have a deca core processor (10 cores), task handling will be faster than when it is carried out with Hexa core processor (6 cores).

Now, let's discuss all multi core processors that are currently existing and how they work.
Check This: 4 Cheap 4G Smartphones You Can Buy Under $75
Single Core Processor
As the name suggests, a single core processor is a CPU with a single central processing unit (core). This type of processor is the most basic and most common type of CPU. It is typically found in entry-level computers and lower-end devices. Most single core processors are affordable and offer decent performance. However, they are not as powerful as multi-core processors and may not be able to handle more demanding tasks.
Dual Core Processor
A dual core processor is a computer processor which has two independent cores on the same die, each with its own cache. Dual-core Processor simply means Central Processing Unit that has two complete execution cores per physical processor. This design enables the processor to run two threads simultaneously, thereby increasing its overall performance. Dual core processors are available in both desktop and laptop computers, and are especially well-suited for multitasking and multimedia applications. Dual core Processor are also used in some high-end gaming consoles.
JUST FOR YOU: How to Download Facebook Videos on Your Smartphones & PC
Quad Core Processor
Quad-core processor is a chip with four independent units that read and execute information and tasks to be done in the central processing unit (CPU).
Within the chip, each core operates in conjunction with other circuits such as cache, memory management, and input/output (I/O) ports. The individual cores in a quad-core processor can run multiple instructions at the same time, increasing the overall speed for programs compatible with parallel processing.
RECOMMENDED: How to Choose A Good Gaming Laptop
Hexa Core Processor
Hexa core processors are the latest and greatest in CPU technology. They offer significantly more power than quad core processors and can handle even the most demanding tasks with ease. They offer incredible performance and power efficiency, making them ideal for high-end gaming PCs and workstations. Hexa core processors have six CPU cores, which means they can handle more demanding tasks than quad core processors. They also have lower power consumption, so they don't generate as much heat.
=> The Best Freeware for Your PC and Other Devices
Octa Core Processor
The octa-core processors are made up of eight (8) independent cores to handle and perform tasks efficiently. This implies that Octa-core processors can perform double faster than quad-core processor.
You might find out that two sets of quad-core processors are present in a gadget, it is still octa-core as you cannot call it a double dual-core processor. The cores will split various tasks between them according to their types and works brilliantly.
RELATED: How to Download YouTube Videos on Android, Windows & iOS Smartphones
Deca Core Processor
Dual core processors is made up of 2 cores, quad-core with 4 cores, hexa core with 6 cores and octa-core processors with 8 cores. Deca-core is also made up of 10 complete independent units to handle and perform tasks very efficiently than other processors. Having deca core processor along with an efficient processor type would really make Gadgets perform efficiently and super faster than others.
Deca Core processors are the latest and new processor. We have only heard about a few smartphones having deca-core processors. Most companies are using Dual Core, Quad Core, and Hexa Core processors. Am pretty sure more gadgets with deca-core processors will be welcome in the future.
Conclusion
We hope that you enjoyed our article about the different types of processors (dual core, quad core, hexa core, octa core & deca core processors). We know that understanding the differences between these processors can be a little confusing, so we hope that we helped you to understand the different types of processors and how they can help you. If you have any questions about the different types of processors kindly drop a comment below. Thank you for reading, we are always excited when one of our posts is able to provide useful information on a topic like this!