Having great equipment helps in the making of a good photographer. And while most people think having an expensive DSLR camera is the first thing you should do, technology is continuously proving them wrong. Yes, a DSLR is the way to go when capturing moving objects but for still photos, which is most of what everybody snaps anyway, having a great camera phone is the way to go. Apple has made sure that they continue launching products that make the work easier while never compromising your product. Here are some of the reasons why iPhones are replacing DSLR cameras.

iPhone vs DSLR: Portability
A camera is not only bulky, but it also requires extra care. Now compare this with your phone. Phones are easy to carry around and being just a few inches wide they are so much easier to hold than a camera which you have to use both hands if you don't want to drop it accidentally. The weight is also another aspect you need to look at. iPhones are light, weighing slightly above a few grams while DSLR cameras will even weigh up to a pound or more, and you haven't also factored in the weight of the rest of the equipment.
Phones are also almost always in your hand. So all you have to do is open up your camera app and snap away.
Storage
Everything is being stored in the cloud these days. And for a good reason. It's more secure and takes away the manual work of saving your images in flash disks and other external disks which by the way, could get damaged at any time, and you could lose all your precious work in an instant. The iPhone also comes with large internal storage and in addition, background apps like iCloud, google photos and one drive automatically back up your work as soon as you snap as long as you're connected to the internet.
iPhone vs DSLR: Videography
A DSLR camera will never record videos. And as long as you are not willing to invest in thousands of dollars worth of recording equipment, the camera is your next best bet.
Technology advances have deemed that even an iPhone X will record 4K UHD at 24-60 fps. If this capability and the option to edit your videos on the spot doesn't convince you, I don't know what will.
iPhone vs DSLR Third-Party Lenses
Lenses used to be one of the reasons why photographers opted to go for DSLR cameras. Not anymore. From the iPhone 7 generations going up, they have dedicated attachable lenses created by OEM, moments, and other companies.
[easy-tweet tweet="iPhone Camera vs DSLR Camera, Which is Worth Your Money?  https://hiideemedia.com/iphone-camera-vs-dslr-camera/" user="hiideemedia" hashtags="#hiideemedia #tech #iphone"]
Fast sharing
It is just as easy to share your work on multiple social media platforms with just the tap of a screen. And in a World where your following or approval ratings measure our life, what better way to enhance that. With a traditional camera, you have to pull out the SD card, transfer the files to your computer then transfer them to your phone, and only then can you share them with family and friends. Sounds like an unnecessarily tedious job to me.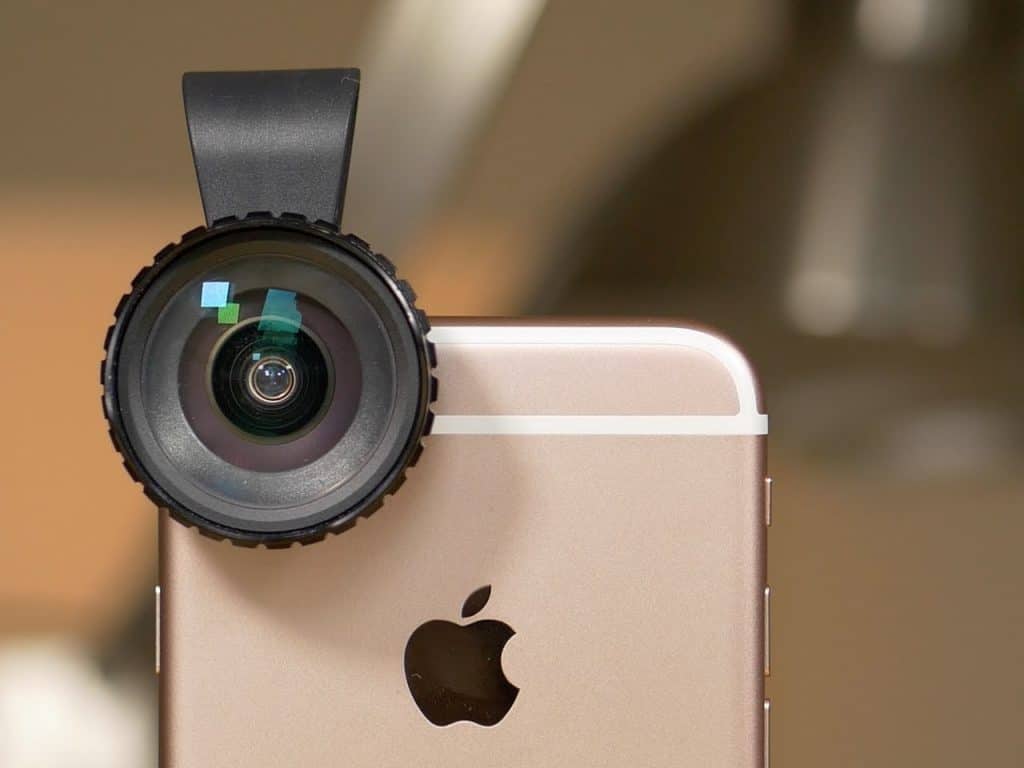 iPhone vs DSLR: Price Differences
As a person who wants to venture into photography, you're lucky to live in this age because while an iPhone goes for around $999, a DSLR camera costs double or triple that, and you haven't even bought extra lenses and equipment.
About Editing; The apple store offers thousands of both third-party camera apps and also editing apps. All you have to do is download or purchase them, and you can begin playing around with your work right from the device.
Let's have a look at special features available only in an iPhone camera.
Locking the Focus
There is nothing quite unappealing as a blurry photo. An iPhone offers a proper setting where you have the option to lock the focus. This is a simple trick that is activated by long-pressing your finger on the item you want to focus on, and after that, it gives you the ability to move your fingers around. It eliminates the need to focus every time you want to capture manually. It appears as the AE/AF lock appearing on the screen so you can confirm whether it was locked.
Expose Yourself
Instead of applying features later on to photos, this feature allows you to change the lighting of your shot on iPhone quickly. You only need to slide your finger up to brighten in case you're shooting in a dark or poorly lit area, or down to darken the image in case you're in the sunlight
It comes in handy when creating moodier low-light snaps.
Blurred Lights and Background Effect
In case you have spotted some photos where their background seems conveniently blurred out, it looks like professional camera photography. This effect was unavailable for camera phones until Apple decided to include it in the iPhone camera features. The result is quite natural to accomplish. First of all, you need to lock the focus, as mentioned earlier, on an object close to the camera, in front of your light scene. With the focus locked, remove your hand from view, and your background is now blurred.
Secondly, you need to reduce the exposure by swiping on the edge of your screen to highlight the lights you're trying to capture out of focus. It's that simple. Now all you have to do is capture, and your super-focused picture will be saved.
Panorama Mode
Panorama modes have been on almost every smartphone for a long time. They are perfect for capturing sweeping vistas or other holiday views. But have you ever tried anything other than the prescribed left to right sweep on your iPhone? It gives you the option to sweep from right to left by tapping on the directional arrow. The iPhone panorama mode also allows you to shoot in landscape mode to capture skyscrapers or other similar phenomena.
Burst Photography
The iPhone can also snap ten photos in a second with the burst mode, but it's not an option as
You will notice from the mode slider in the app. So you only get the present photos. It is a great option though, and no DSLR camera will give you that. The burst mode is only available in Photo or Square modes. It is easy to create a burst, instead of tapping on the shutter button, hold it down until you see the captured images. A counter appears above to show you how many pics you have snapped.
There's also a neat tool that allows you to view what images are excellent. It is denoted by a grey circle icon below the thumbnail you will see it when you are in the gallery and the camera folder. In all iPhone 7 series phones, there's also a vibration effect when you scroll through the best shot in the burst timeline. It makes it easier to select which photos to keep and which ones to delete.
Show of your slow-motion effect skills
One benefit of having a camera phone is the ability to take videos. Another great tool the iPhone camera offers you is the ability to make slow-motion videos. What a time to be alive. You even get to use the focus and exposure tools in video mode too. This will make sure you have fewer edits in the final product. Even if you have previously shot videos and you would like them to run in slow motion, you can use the edit tool to select what part of the video you want to run in slow motion.
The reverse also applies, if you accidentally recorded in slow motion, you can edit out the video and ultimately eliminate the effects from the recording.
Don't forget to adjust the focus and exposure controls before hitting the red record button.
iPhone vs DSLR: Live Photos
You can choose from several different animations for your Live Photo options. The default Live option plays the captured video clip usually, while the loop will see the movement repeated continuously.
There's also Bounce and Long Exposure, with the former creating a back and forth animation from the video clip, while the Long exposure gives you stunning shots which work particularly well with moving water and traffic.
Live Photos is turned on by default on supported iPhones, but you can just as quickly turn it off by tapping the circular icon in the top bar of the camera app stops the effect from being applied to shots. The best part about the iPhone camera settings is you can undo your mistakes. If the Live Photos effect was on while you took the photo, find the picture in your gallery, press edit at the bottom of the screen, and then tap the Live Photos icon at the top of the display.
Filters
Apple does provide an option where you hold down on a filter, and the other options will disappear, leaving just your selection alongside the standard view. Sliding your finger from side to side allows you to switch between standard view and your filter of choice, allowing you to see how it changes the scene.
You can also edit previously taken photos in the camera app.
iPhone vs DSLR: Perfecting Portrait Lighting
If you own an iPhone with dual rear-facing cameras, you'll be able to use this effect. Apple's Portrait mode camera effect ensures the background behind your subject is blurred just like in a DSLR professional shot.
Portrait mode also offers a selection of different lighting effects, allowing you to make some adjustments and create a more striking shot. You can only select the lighting option you want by scrolling the cube icon at the bottom of the viewfinder. This tool is also available for photos you have already taken.
Although the latest is always the best, here are some critical built-in aspects to look out for, while selecting a great iPhone camera phone.
Aperture: There are the f/1.7, f/11 numbers you see on product specification pages. The lesser the number, the wider the aperture opens to let light in.
Shutter speed: The slower the shutter speed, the more light is let in, but the trade-off is motion blur. So find a camera that's somewhere in the middle
Megapixels: A professional photographer can work with anything from 8 megapixels. But for an amateur, it's essential to start with 13 moving forward. This can be enhanced by the um pixel figure.
Large phone screen: This can be helpful to see detail and unwanted clutter in the picture clearly.
Optic image stabilization: Without tripods and other equipment, it can be tough to get clear shots. This built-in feature helps to minimize the effect a shake may have on your image and prevents it from being captured and ultimately ruining your perfect chance.
Other camera aspects that can be enhanced by third-party solutions are:
• Lens.
• Camera settings- through third-party Camera apps.
• Flash- this is not an essential feature, and most expert photographers do without it on a camera phone.
• Battery life– Carry your charger. And invest in a good power bank.
• Editing apps. These are all over the marketplace. Both free and premium. Find the one that best suits your needs.