It is an unexpected news that YouTube will soon be having a chat service integrated into the app. At first, I thought of what would be the importance of chat service in YouTube App and still i am unable to provide myself tangible reasons. But we would later know what for.
Wired reports that YouTube is testing a new "native sharing" feature starting today. It's essentially a messaging service that lives right within YouTube's mobile apps and allows you to share embedded YouTube videos natively in the chat window.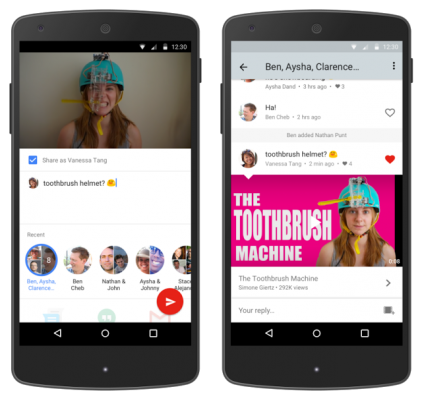 Your friends can then reply via text or with another video, and there's even a 'heart' button for messages and clips, because social. That said, don't expect other messaging features like sharing images or sending stickers – this is purely about YouTube videos.
Still, it's a useful feature; sharing YouTube videos on mobile normally involves a lot of copy-and-pasting and switching between apps; the new sharing feature should make it much easier to discuss videos on the fly, and gives you one more reason to never leave YouTube.
That said, it does put the future of Google+ further into doubt; having a chat service built into YouTube gives people one less reason to use Facebook's take on a social media platform.
Only a small batch of users will be able to use the feature initially, but they can make it available to friends by inviting them to a conversation.
No word on when the feature will roll out more widely. So we will keep intouch to update when the feature is available.