We are still in the Era of smartphones and different companies keep bringing in new devices for their customers. This lead Infinix to introduce a new phablet called Infinix Hot Note which has got lots of pre-order on Jumia before arrival. This smartphone is just an advanced mode of Infinix Hot with greater features and I am really impressed with it, so it's time we compare the smartphone with the Popular Infinix Zero making use of their respective specs.
Both smartphones feature a 3G network. Both smartphones are built with dual micro sims slot.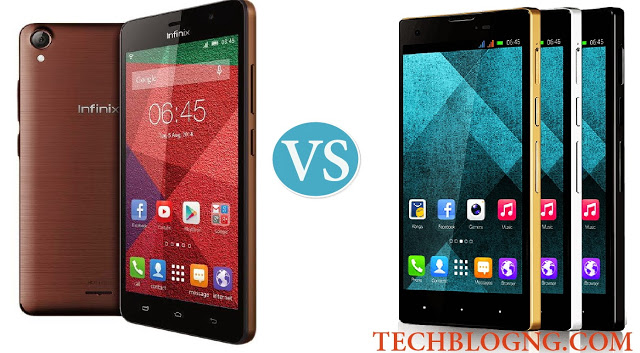 Design, Display & Dimensions
Infinix Hot Note has a premium look and feels with a stunning body of 8.99 mm thick that makes it easy to hold, it also have a metal textured finishing on the back and side frames while Infinix Zero has a cutting edge design and a stunning body as well with 7.99 mm thick that makes it easy to hold and explore, the Infinix Zero body is made of metal and wrapped in a very durable and damage resistant body glass casing.
Infinix Hot Note features a dimension of 156 x 77 x 8.9mm with 172g in weight while Infinix Zero features a dimension of 140 x 70 x 7.9mm. Infinix Zero is built with a 5 inch, 720×1280 pixels brilliant HD display screen while Infinix Hot Note has a professional 5.5-inch display, 720 x 1280 pixels (267 pixels by inch).

Hardware Comparison
Both New Infinix smartphone are built for high-performance sporting Octa core each clocked at 1.4GHz while Infinix Zero features Octa Core each clocked at 1.4GHz. Both smartphones also features Mali-450MP GPU.
With this processor comparison, it's definitely sure it would be hard to differentiate which smartphone would perform better because they are of same processor. Both smartphone runs on Android 4.4 Kitkat OS but difference in RAM, the Infinix Hot Note provided with 1GB RAM while Infinix Zero is gifted with a 2GB RAM which would make it runs apps and functions better than the Hot Note.
Both smartphone also has loudspeaker, WiFi Hotspot, WiFi 802.11b/g, Bluetooth 4.0 and functioning USB ports for charging and Mass Storage functions.

Memory
The Infinix Hot Note is built with 16GB of Internal Memory with an External SDcard slot with a capacity of about up to 32GB. The Infinix Zero is of two types one with 8GB internal memory while another with 16GB internal memory but both with external sd card slots of up to 32GB.
Camera & Batteries


Infinix Zero was really born for taking shots featuring a 13MP Rear/Back Camera and a 2MP Front Facing Camera while Infinix Hot Note is provided with a 8MP Secondary Camera and 2MP Front facing Camera. Both smartphone cameras are very clear and sharp with LED flashlight for Night Shots, you could even feel it for a professional camera. If you are selfie lovers it's advisable you go for Infinix Zero as it can serve your purpose.
Infinix Hot Note features a reasonable battery life of 4000mAh compared to that 1920mAh battery of
Infinix Zero. Therefore, Infinix Hot Note has a better battery life than Infinix Zero but we are still expecting better battery life from Infinix.

Price
Both smartphones are available in Nigerian Largest Online Markets dealing with Gadgets. You can get the Infinix Hot Note from JUMIA for N23,500 while Infinix Zero sells for N28,900 on Jumia and It costs #29,500 on Konga. You can click here to buy if you live in Kenya.