If you have been visiting this blog, you will notice that the permalinks (URL structure) of most of the articles have changed. Though changing permalinks may alt SEO and there will be loss of traffic but there are some things to be carried out so that you won't lose any traffic at all. You can read how I changed my permalinks without altering SEO and referral traffics below.
MUST-READ: How to Change Permalinks & 301 Redirect Old Posts Without Altering SEO
After I changed the permalinks, I noticed most of my social shares are no more existing. Then I thought of reverting the permalink back to the default one I was using before. But later on, I found a social share plugin that helped me regain social share counts without any stress. The plugin name is Social Warfare Plugin. This is one of the best social share plugins have used so far.
Interesting Features of Social Warfare Plugin
– Recovery of Social Share Counts
– Tweet Social Share Count
– Click to Tweet Feature
– Frame Buster
– Analytics Tracking
– lots more and easy customization.


DOWNLOAD THE SOCIAL WARFARE PLUGIN
How to Regain Social Share Counts Using Social Warfare Plugin
1. Get your own copy of the social warfare plugin here.
2. Install and Activate the plugin. Here is how to install and Activate WordPress Plugin.
3. Go to the Plugin Settings Dashboard and let get started.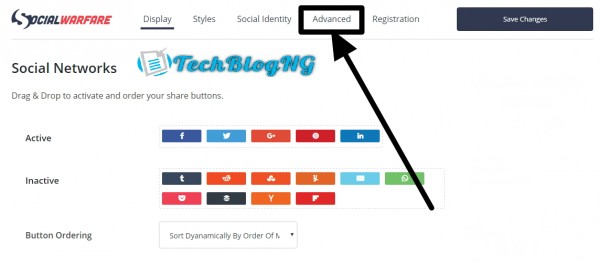 4. My Social Warfare Plugin Dashboard looks like the screenshot above. Now got to the Advanced settings tab. Scroll down till you see the Share Recovery Menu.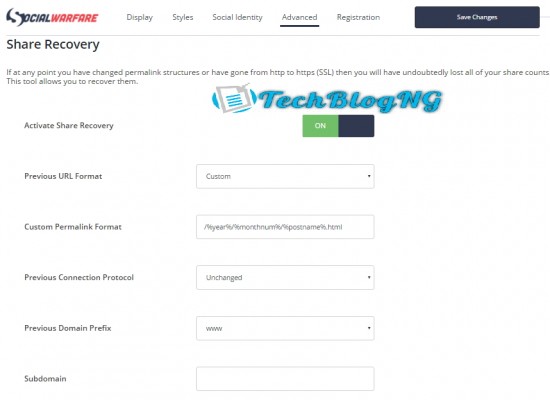 5. There we are, firstly Activate Share Recovery by clicking on the corresponding button in front of the text "Activate Share Recovery".
6. Now, choose your Previous URL Format from which you intend to regain shares counts. Options include unchanged, plain, day and name, month and name, numeric, post name, and custom.



7. Next is the previous connection protocol, this is necessary if you just got an SSL Certificate for your website otherwise leave it unchanged.



8. Choose your previous domain prefix as well, either www or non-www version.



9. Insert Subdomain if applicable to you.
10. Now save changes and your recovered share counts should start displaying after 24 hours.
There is a way to check whether you have set everything as expected. Just input the code below at the back of any of your post url.
?sw_cache=rebuild&sw_recovery_debug=true
For example, to check recovered social shares on my URL "https://hiideemedia.com/web-design-tips-for-a-pro-website/" the url to be used will be:
https://hiideemedia.com/web-design-tips-for-a-pro-website?sw_cache=rebuild&sw_recovery_debug=true
Click To Tweet – Social Warfare
Click to Tweet has been integrated into the warfare plugin. This allows you to easily create tweetable content for your readers. Use pull quotes and custom messages inside the body of your blog post to highlight your content for the reader and make it simple for them to share on Twitter. The amazing part of this feature is that it comes with different themes. You can choose any customization of your choice which will work perfectly with your WordPress theme.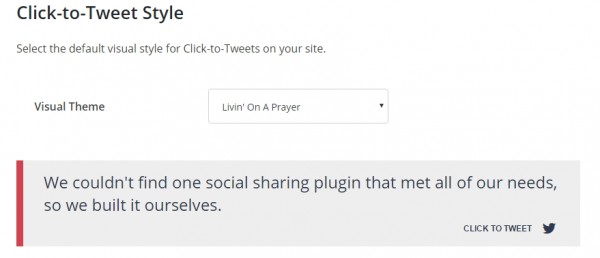 Get your own copy of social warfare plugin to get started.