As
we all know
Whatsapp
is the best
chatting service with over 400 Million active users and also rapid increase in
population of people using it. Whatsapp provide
individual chat (chat between one another) and also group chat (chat between
many peoples but a maximum of 50 as for now), but there's no confirmation when
someone added you to a group chat all you would just see is found yourself in a
group chat instead to receive a message or popup to tell you that Your
attention is needed in so so so group. I think whatsapp should find a
lasting solution to this as many people use to add me to group chat and mostly
not all of these groups are making reasonably chats. That's still better ooo
but some group they usually add messages all the time which may reduce the life
span of your phones battery.
You
can also Read
:

Howto Save Data Plans on Android Devices
.
Now, have you been
added to a Group Chat you don't like on Whatsapp? If yes then you have two
options:
Either you mute the group or you exit
and leave the group.
I would like to Explain How to leave and exit first:
Launch your whatsapp, then scroll down to the group press
left soft key and you should find the delete and exit group option there.
Launch your whatsapp and scroll to the Group you would like
to remove yourself from. I would be using the 18+ group as in the image below.
Press the left soft key, scroll down till you
see exit
group. Just choose it and wait till you would be removed from the
group. After succesful removal you wouldn't see the group again on your list of
chats.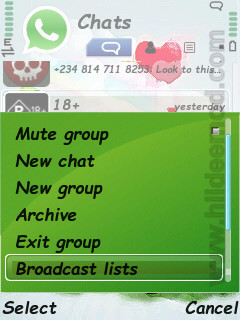 Launch Whatsapp App and you should see your list of chats as
I have with me here with my list of chats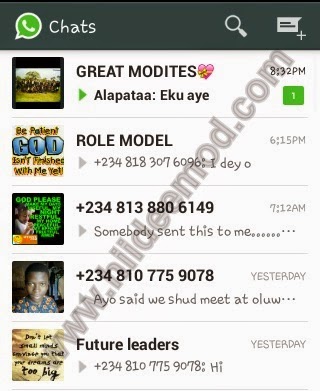 Now Press and Hold the Group for some seconds and you would
be provided with a popup as below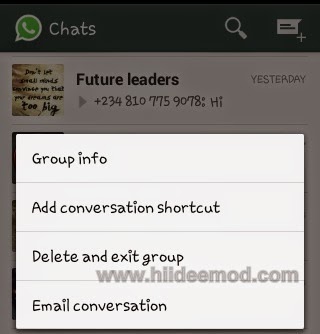 Just Tap the Delete and exit group option and you are done.
The above procedure is also applicable to IOS devices and
Blackberry touch smartphones.
To Mute Whatsapp Group Chat
Continue Reading:
If you would like to mute the group just scroll to the group,
press left soft key (for java and
symbian users) for Touch devices just hold your thumb on the group for some
seconds and you can now move to Group info, Press the left soft key (java and symbian users) but
for other phones just press Menu Button on reaching the group
info and you should see the Mute Group option
the next thing is to click on it to activate. Note that it would ask you how
long to mute the group either for a day or a week just choose any option of
your choice and you are done. These would just stop notifying you about chats
from the group but you can go back there any time to read last chats.