Nowadays, Smartphones keep rocking the technology Market and nearly there are new smartphones released every week. Not all smartphones are that good in performance, but it only depends on what feature is needed and how much you have to get yourself one. Today I would be discussing the difference and comparison between the Mlais MX Base and the Oukitel U8 Smartphones. Are you ready to know about Mlais MX base vs Oukitel U8 ?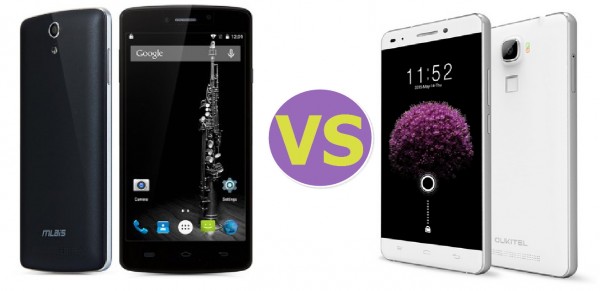 Starting with the design, both smartphones features a stunning and premium design. Mlais MX Base is equipped with a 5 inch display screen with resolution of 1280 x 720 pixels while the Oukitel U8 is a phablet with 5.5 inch HD display screen with resolution of 720 x 1280 pixels. Both screen are covered with tempered glass screen for additional protection, the displays also delivers sharp and clear images and graphics.
Hardware & Storage
Mlais MX Base features the 64bit MTK6735 Quad Core processor clocked at 1.3GHz and  Mali-T720 graphic processor while Oukitel features the 64bit MTK6735 Quad core processor as well but clocked at 1.0GHz and with Mali-T720 graphic processor. Both smartphones runs on latest Android 5.1 Lollipop and also uses RAM of 2GB. Both smartphone are also built with the 16GB internal storage and also have external sdcard slot for additional storage spaces. Both smartphones features the 4G LTE network connectivity for faster internet connectivity. Looking at the back of the Oukitel U8 theres a large fingerprint sensor there which can enable the owner only to unlock the device and also use it as any other means of identity.
Cameras
Mlais MX Base features a 8MP back camera and a 5MP front facing camera while Oukitel U8 has a Rear camera of 13MP and front facing camera of 5MP. The Mlais MX features a single led flash placed after the rear camera but the Oukitel U8 features a dual led flash with different colors, the two led flash are placed just beside the back camera. Without more argument we can simply say the Oukitel U8 would be good in taking great selfies than the Mlais MX Base because we expect the 13MP to performs better than the 8MP.
Battery
Mlais MX Base is equipped with a 4,300 mAh strong battery life while the Oukitel U8 have a 2,850mAh battery. Mlais MX have chances of long lasting battery life than the Oukitel U8. You can use Mlais MX Base battery for over 48 hours while the Oukitel U8 can only last for not more than 25 hours on stanby usage.
Price & Availability
Both smartphones are available for purchase on most large online shopping mall nationwide. The Mlais MX Base is available for a price of $134.61 USD but if you wanted to buy from Everbuying you can use MlaisMX as coupon while checking out to buy for only $109.99. The Oukitel U8 is available for only $113.99 which is the lowest price already.