We all know Paypal is allowed in Nigeria only for making payments. But if you want to use PayPal for other things apart from making online payments you can follow the guide below to open and verify a PayPal account from other countries. Other things you can do with PayPal are to send funds/money, receive funds and make online transactions.
Without wasting time, all you need are;
Dedicated IP Address (must not change when accessing the PayPal account)
A computer with internet connection
Fresh Email Address Your Name and Your Home Address
A MasterCard (Payoneer Mastercard , First Bank Dollar Visa Prepaid Card , Diamond Bank Savings Account Visa Card or GTBank Dollar Visa Debit Card)
NOTE: Make sure you leave a balance of at least $5 or N1,500 in the card or account the card is connected to. Once you've done that,you are set to proceed with the opening of your UAE PayPal account following the steps highlighted below.
MUST READ: How to Setup/Configure Your Browser for Dedicated/Static IP
Please Note: The IP you choose from the above link should be the only one you will be using to access the paypal.
How to Register United Arab Emirates Paypal Account
1. Visit https://www.paypal.com/ae on your browser that has been configured for the Static/Dedicated IP. Kindly note that your surest bet of getting your account lasting is to open,verify and be accessing your UAE PayPal account with the Static/Dedicated IP recommend because bot don't like one to be accessing his/her PayPal from different IPs else you PayPal account might get limited.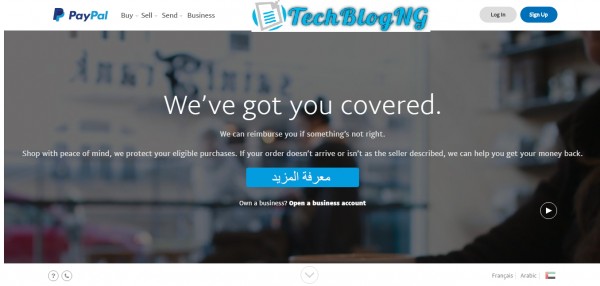 2. Click on the Signup button, the blue-coloured button placed at the top right-hand side of the page. While on the Sign Up page that opens up, Click on "Personal Account" (if you will only buy and sell online). Do not open Business account for a start to avoid complication for yourself because they can start asking you for documents to prove your business existence. Now click on Continue.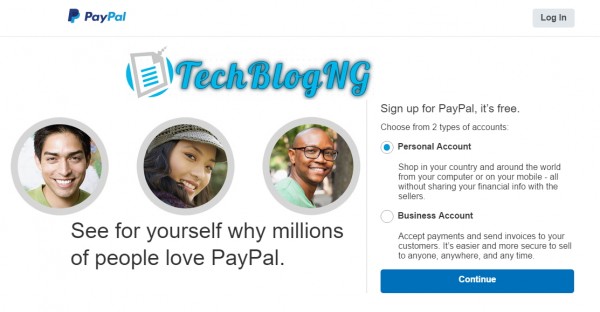 3. On the next page, make sure "Your country or region" section is showing United Arab Emirates. Fill in your email address and strong password. Then click on Continue.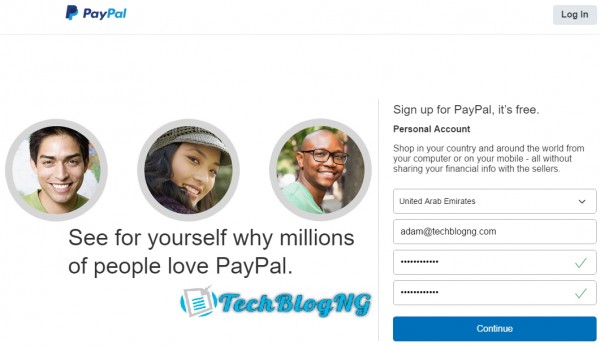 4. The next page is for information about yourself, this includes name, address, date of birth, national id, Zip Code and mobile number.
The Address and Name you will use for the UAE PayPal account are another thing you will need for the smooth opening of this your PayPal. You will need to use your real Nigeria address and real names that will match with the details of your mastercard and possibly any identity card you do use. Name combination you are to use must be your real Nigerian names as it is on any of your Identity cards such as National ID card, Voters card (highly recommended because it shows names and address), Drivers license and International passport. Reason for using your real identity to sign up with them are because you are to thread legally with the account and that will always remind you to abide with being legit.
Date of Birth to be used should be your actual date of birth as it reflects on any of your Identity Card. For National ID just insert the NIN number on your Nigeria National ID Card.
City and State including Postal Code to use are also very paramount of which you can use any of those ones listed below both as City and State.


Dubai , Abu Dhabi , Sharjah , Al Ain, Ajman, Ras Al Khaimah, Fujairah Um Al Quwain , Khor Fakkan , Dibba, Dhayd , Falaj-Al-Moalla


Each City/State has Postal Code which you can get from google.com but here are examples of postal codes of some well-known places in UAE that you can as well make use of. But it is adviceable you search for the postal code of any of the States or Cities that you want to use.  For. Al Dhafrah and Abu Dhabi the Postal Code that you can use is 97126. For Bur Dubai and Dubai Postal Code that you can use is 251788.
Phone Number to use should be in the format of the samples given as follows :

+971 4 3362794, +971 4 3320011 and +971 4 3341936

and many more that you can get when you search for phone numbers in UAE with the help of google. Any of the phone numbers you want to make use of can be made unique by changing the last 4 digits of the phone number. The main point is to make any one you want to use unique.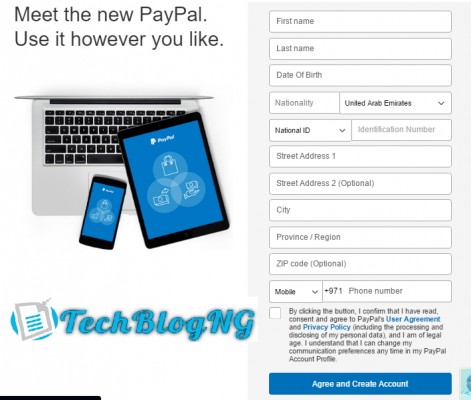 5. Once all is filled. Mark the checkbox to accept that you have read the privacy policy and user agreement. Now click the blue-coloured "Agree and Create Account" button. If a security challenge comes up, type in the characters shown in the image and click "Continue".
6. The next thing is to link your debit card. We have talked about the type of cards acceptable before. I make use of my payoneer mastercard so if you have it you can just make use of it as well. Just input your card number, CVV and expiring date as requested by paypal. PayPal will charge your linked card around $1.00 – $1.95.
7. You have to verify your Email Address, PayPal must have send an activation message to the email address you signed up with. You will need to verify that you own this email address by signing into the email account, locate the new email message from PayPal. Once seen, open it and click on the verification link inside it only if you are on the Static/Dedicated IP browser. Otherwise copy and paste the verification link onto the Static/Dedicated IP browser.
The page that opens up which will ask you to input your password and as well tell you to set up your security questions and answers (you must save or master your security questions and answers because you will surely need them soon or later especially for gaining access to your PayPal account if the unexpected happens) confirms your email address is verified and your PayPal account is active.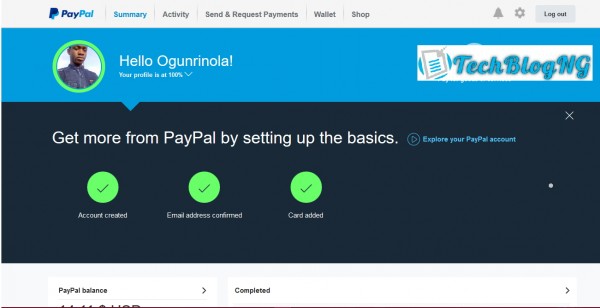 If you encountered any problem or have any question, you can make use of the comment section below.