In recent weeks, WhatsApp, under the Meta umbrella, has been on a mission to enhance its platform with exciting new features. Following the introduction of Chat Lock and the ability to edit sent messages, WhatsApp is now poised to become an essential app in your daily life with the launch of Channels. WhatsApp Channels bring private broadcasting to your fingertips, enabling you to stay informed about the latest developments in your areas of interest.
While the concept of Channels is not entirely novel, as Telegram already offers a similar feature, WhatsApp's take on it brings its own unique twist. Channels serve as a one-way communication tool, allowing administrators to share text, photos, videos, and other media files exclusively with their followers.
To facilitate easy exploration, WhatsApp has created a directory where users can discover and subscribe to channels that pique their interest. Additionally, joining a channel can be accomplished seamlessly through invite links.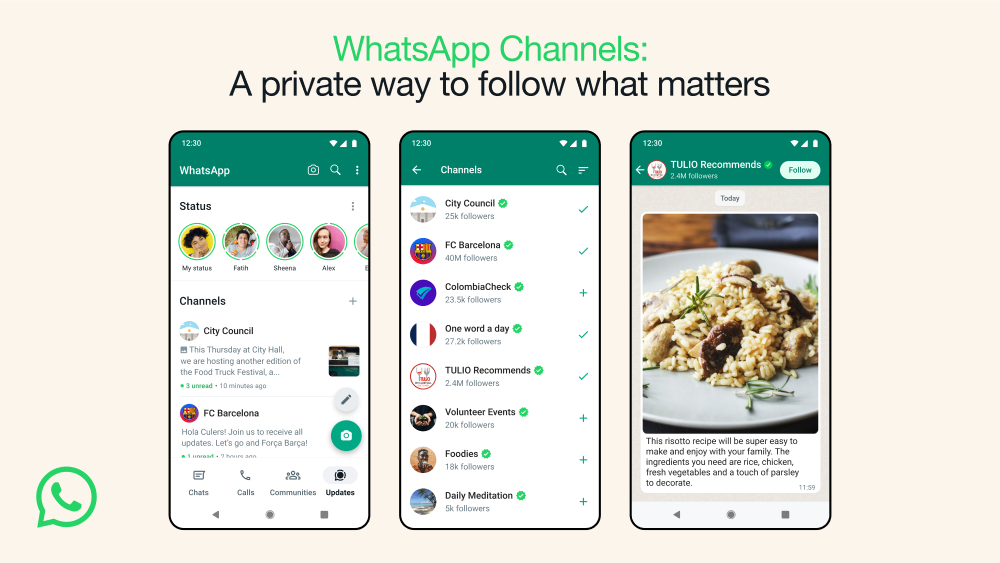 WhatsApp's primary goal with Channels is to build the most secure and private broadcasting service possible. To achieve this, the platform ensures that channel administrators and other followers cannot view your profile photo or phone number. Furthermore, any messages posted by channel administrators will automatically self-destruct after 30 days, emphasizing the ephemeral nature of updates. WhatsApp is actively working on implementing even faster ways for updates to disappear. Moreover, channel administrators have the ability to disable screenshots and forwards for added control.
Admins have complete authority over the discoverability of their channels and can decide who can join them. It's important to note that unlike other forms of communication on WhatsApp, Channels do not currently provide end-to-end encryption. However, the messaging platform is actively exploring this as a potential option for the future.
WhatsApp is also paving the way for businesses to fully leverage Channels by allowing them to utilize the platform's payment services and promote their channels within the search directory.
Initially, WhatsApp is launching Channels in Colombia and Singapore through strategic partnerships with select organizations. Over the coming months, this broadcasting feature will expand to more countries, eventually enabling anyone to create their own channel and share their content with the world.