If you are looking for a smartphone from a prominent and also global company, then Samsung is worth giving a thought. The Korean giant is known for its fishing out one excellent product after another that choosing one becomes a little bit of an uphill task. Nevertheless, if you are looking for the perfect smartphone then you happen to be in the right place because below is a faceoff between two of the giant's best smartphones; Samsung S9 Plus and Samsung C9 pro to help you make a choice. I have been using the Galaxy C9 Pro for a long time before the Galaxy S9 Plus was released. Now, I have the two smartphones here and I want to share you the features, price and other specifications of both great device.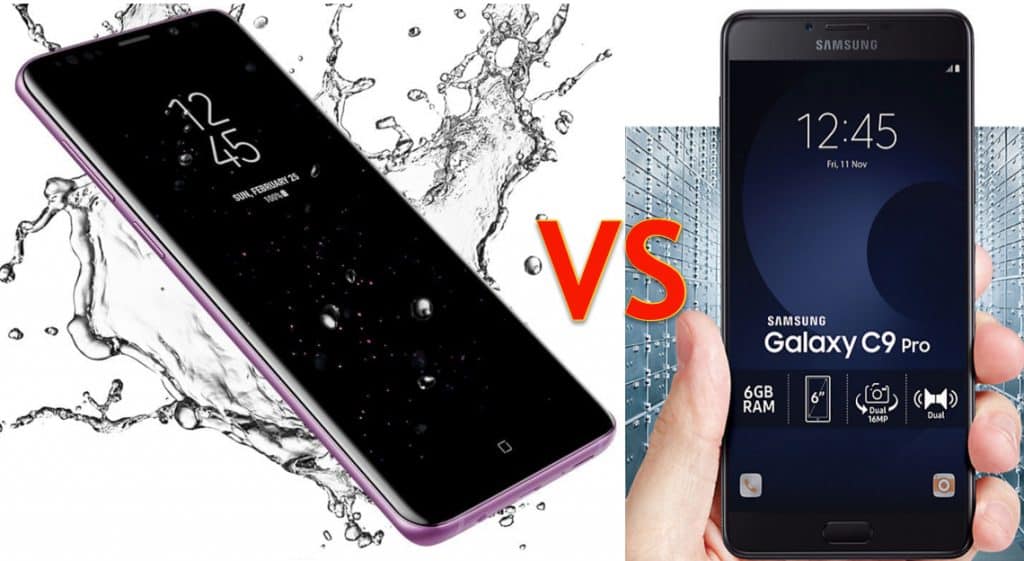 | | | |
| --- | --- | --- |
| Specs | Samsung S9 Plus | Samsung C9 Pro |
| Display | 6.2 inches AMOLED display | 6 inches Full HD AMOLED display |
| Weight | 189 grams | 189 grams |
| Colors | Lilac purple, coral blue, midnight black | Matte black, pink and gold |
| RAM | 6 GB | 6 GB |
| Internal memory | 64 GB | 64 GB |
| Camera | 12 MP+ 8MP (Rear and front) | 16 MP + 16 MP Dual |
| Operating system | Android 8.0 oreo | Android 6.0.1 marshmallow |
| Battery | 3500mAh | 4000mAh |
Galaxy S9+ & C9 Pro Design Comparison
One feature that Samsung gets right is the design and both the C9 Pro and the S9 plus don't disappoint. However, the Galaxy C9 comes with a phablet shape and is thinner hence creating a sleek look than most previous phablets thus it's worth giving a consideration. It comes in a black metal finish and a screen that's carved out of Corning's gorilla glass thus doesn't easily smudge but the black matte metallic case does smudge a little and in comparison to Samsung S9 plus it is much more lightweight. The home button is just below the display on which the fingerprint sensor is embedded for more natural access. For smooth operation, the home button is backed up by two backlit touch button on each side to ensure that users have an easier time using it just like Samsung S9 plus does. Nevertheless, if you're looking for something different, then the S9 plus might impress you better as it is not only bigger with a 6.2 inch AMOLED screen that unlike most Samsung phones is curved. If you want a smartphone with a larger screen and a smaller body, then this is the phone for you. It also has its fingerprint sensor aligned below the camera and in the center position so that users can naturally access it whenever the need arises. A big plus to the Samsung S9 plus is that it has more enhanced security features in comparison to Samsung C9 pro thanks to its iris scanning and face unlock features thus keeping nosey people at bay. However, the S9 plus is a little heavier and also bigger than the Galaxy C9 Pro, so if you are looking for a pocketable mobile phone, then you might find yourself in a dilemma. The headphone jack is beside the USB port while the three sim card and one microSD slots are on the right side below the power button while the left side has the volume buttons. The C9 Pro comes in matte black and gold colors while the S9 plus offers you three color options as you can choose between lilac purple, coral blue, and midnight black.
Performance
Both phones have something great to offer, and it all comes down to your preferences. For instance, C9 Pro has 6GB of RAM which means that users don't have to worry about their phone lagging when they are in the middle of a graphics intensive game or any other activity. The RAM is doubled up with an internal storage capacity of 64 GB which if you need extra space, it is expandable to 256 GB via an SD card. That is more space than you'll ever require and when combined you can expect excellent performance. When it comes to the S9 Plus the RAM and internal storage capacities are similar because S9 plus has 6GB of RAM and 64 GB of storage so the performance is the same only that you might experience annoying lags when trying to launch Bixby AI. However, one area in which the S9 plus beats the C9 pro is the audio because, besides the 3.5 mm port headphone jack, it also has the downward firing speakers at the bottom edge and another unit of stereo speakers above the display. That means when you are holding the S9 plus you can still listen to your music clearly because the sound doesn't become muffled in your palms. Another feature which makes the Samsung S9 an audio powerhouse is that it supports Dolby Atmos technology which often makes it possible for you to listen to individual sounds hence creating a more exhilarating experience. Even though the Korean company claims that the C9 Pro has dual speakers, it is easy to note that the second speaker only reflects the sound coming from the primary speaker so if you are looking for quality audio, then the S9 plus might work best for you. The S9 plus also offers you additional features such as the AR emoji which allows you to take a selfie and then converts it into your real emoji while the Bixby vision brings you essential or exciting info regarding your location.
Camera


With 16 megapixels for both the front and the back camera's, Samsung C9 pro offers you nothing but epic pictures. You can quickly launch the camera by double pressing the home button, and through the pro mode, you can adjust various settings such as exposure, white balance, and ISO. It also has a button specifically meant for impressive video recording and has eight filters, and you can still download more to suit your photogenic nature. It lacks shutter lag and is quick to focus. Nevertheless, the S9 plus beats the C9 when it comes to the camera game thanks to its 12 MP dual-aperture technology. This new technology means that S9 plus's camera balances out light depending on the lighting conditions to ensure that images are neither too dark or blown out. It achieves this by letting in more light when the environment is too dark and less light when there is too much brightness. To add to this awesomeness, users can now record videos at super slow-Mo at 240 fps at 1080 pixels and 960 fps at 720 pixels. Also, it boasts the motion detection features. The rear camera has 12MP while the front one has 8MP which give you almost if not perfect pictures.
Other Features
Mostly all features on the C9 pro can be found on Galaxy S9 Plus but we have some on latter which are not available on the former. The S9 plus has optical image stabilization (OIS), AR Emoji, as well as Super Slow-Mo, features added to its camera features while the C9 Pro lack all these features. With S9 Plus you can record 4K Videos while this is not possible on C9 Pro. You also have the Edge Screen on S9 plus which has the edge panels (Apps edge, People edge, Smart select, Reminder, Tasks edge, Quick panel, Clipboard edge, Device Maintenance, Weather, Calendar) where you can access some features quickly in short period of time. An app called Bixby came along with Galaxy S9 Plus, this Bixby App is a virtual assistant developed by Samsung. It represents a major reboot for S Voice, Samsung's voice assistant app which was firstly introduced in 2012 with the Galaxy SIII. This Bixby App works exactly like you have Cortana and Siri on Windows and Mac PC respectively. Though both smartphones have the fingerprint sensor, the presence of Iris and face scanner on the S9 Plus makes it better than the C9 Pro. The water and dust resistant features of the Galaxy S9 Plus has also made it better than C9 Pro. With S9 Plus charging up won't tie you down because you don't need to fumble with charging cables when you want to recharge. Just place the S9+ on a wireless charger and your phone battery will start charging in no time. It is sad that Galaxy C9 Pro lacks the wireless charging technology.
Battery life
Samsung C9 pro comes with a 4000mAh battery which I put to the test to see how long it would last and we have to admit that I am impressed. Even with the intense usage, the battery lasted me for a day and a half which means it can last you much longer if you do not use your phone heavily as I do. However, the battery life of the Galaxy S9 Plus is much shorter as it lasted me for a single day. Anyway, that is quite a long time considering it comes with a 3500mAh battery.
Price & Availability
Both devices are available in all big mall and electronics store close to you. We already know that the S series prices are not always smiling, the new Galaxy S9+ is available in the market for around $800 – $900 depending on your location. I am not surprised about the huge price of the device because the phone really worth it. Galaxy C9 Pro is available for only $430. The price is still okay for the device as well. Your choice depends on what features you want and how much you can afford. I will be helping you with the purchase links below:
BUY S9+ NOW – AMAZON
BUY S9+ NOW – ALIEXPRESS
BUY C9 Pro NOW – AMAZON
BUY C9 Pro NOW – ALIEXPRESS
Verdict
Both Samsung models have something great to offer but according to our intensive review Samsung S9 plus is way much better and more feature packed. From the excellent audio, a more extensive screen to superior dual aperture camera technology, it provides what most Android users yearn for. Nevertheless, that is not to say the C9 Pro is not a good smartphone because if it weren't, we wouldn't be comparing the two. The Galaxy C9 Pro has a great sleek design, excellent performance and for its price, it's worth every cent you spend on it. Both models have their downsides, for instance; you might find the Galaxy S9 too thick and pricier while the Galaxy C9 tends to get smudged quickly and the audio gets distorted at high volumes. However, at the end of it all, it comes down to your preferences.