So far as am into blogging have visited so many blogs/websites frequently and have noticed how they updated their blog. I applied the same strategy here on my blog and there are different things I passed through which I would share here today.
Although, posting every day may help some blogger why it may not for some like News and Entertainment Blogger's but let me share what have experienced with daily updating of my blog which I did recently.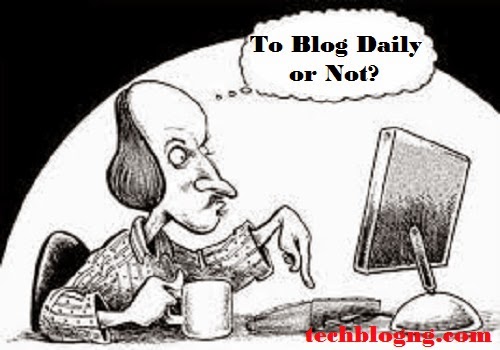 Before sharing mine I would like to give you the reply to the same question I asked from expert's:
QUESTION: Why do you Prefer Not updating Your Blog Daily?
Harleena Singh:  It is not advised to update your blog daily because; it wouldn't be possible to reply to all comments, it wouldn't be possible to promote recent posts daily and it's not practical to write quality posts. However, this depends on the type of blog you have. Many blogs on Google and Blogging, update many times a day with the latest news and happening but on my blog Aha!NOW we write detailed posts that are nearly 2000 words and that take 10-20 hours in its creation only so therefore no room for daily updating. But it can however be done if it's  a Multi Author blog.
Rohan Chaubey: I publish one post per week and throughout the week I prefer replying to the comments which I get from Twitter, Google+ and Aha!NOW community regarding my published posts. Throughout the week I also focus on preparing content for my next blog post and sharing my older posts on various social media platforms. Updating blogs daily is not really necessary as posting once or twice a week is enough. This doesn't exhaust you and still keeps your blog active.
Nisha Pandey: Daily posting can give us daily readers. We can engage our readers with daily updates. Always post for your users, help them, try to solve their queries. If you post new strategies daily or alternately. So, people will definitely come to read and enjoy your blog.
Aseize Okaztle: Updating on daily basis is good if you have enough post to publish but if not once or twice a week is okay. You would have your time spent on other things to be done.
I still asked one of my friends and below is the reply I got:
Dahunsi Wale: "i DON'T POST DAILY Because I value quality to quantity."
Why I Prefer Not to Update Daily Again
As of November to December, 2014 I think of sharing Tech News here daily which simply makes me post at least 4 posts daily, and below are what I experience for the short period of time.
1. Decrease in Subscribers: Let me ask Do you always read emails you received from Blog updates you subscribed for? Okay let assumed you received 7 emails from a blog update you subscribed for,  Would you open and read all the Mails and visit the site?
If am the one probably I won't but I may check some. I put this in a condition when I detected there's a little reduction in my feed subscribers.
2. Reduction in Social Proof: I would simply say social proofs are evidence left by your readers. When you posted on your blog and your reader found it useful they would think of sharing it to their social networks. But let just say you updated daily, your latest post would got replaced and some readers would just read from main-page but how would the ones you updated earlier before latest post be served to your readers? which simply implies Readers would not keep up with posting schedule and it would surely reduce the sharing each post suppose to have.
3. Relationship with Readers: As we all know, if your readers like your updates they would be glad to drop comments on your post about how they feel or requesting for more enlightenment on the topic and from there you build a relationship between yourself and your readers. But if you have too many updates do you think there would be more comments? Probably, my reply to this is there would be less comment because have experienced it here.
What Have Been Doing Instead
1. Planning my posts: Planning posts is greatly important as you would have time to research, think and got things together for your readers which they would appreciate and solve a problem.
2. Sharing to Social Networks: Afer Publishing post the next thing is not to keep writing another post, although there are different ways to auto-share to social networks but there are groups which this posts haven't be served to and do you agree with me, Everyone wouldn't be online as at when you shared the post. Sharing again would let more people be aware and they would be glad to visit.
3. Taking part in Forums and sharing links to my blog post whenever Needed: When taking part in forums you gain popularity and people get to know you and you can invite them to visit your blog. There are still some questions that are asked in forums in which solutions to the questions asked are not available in the forum. You can simply drop a link to your blog post that would give a solution to what the person needs.
Now, I'm expecting from you your view about this and have you ever noticed anything while updating your blog regularly 🙂