Payoneer is a financial services business that provides online money transfer and e-commerce payment services. Payoneer is a registered Member Service Provider of MasterCard Incorporated Worldwide. With Payoneer, you can receive payments online. Payoneer operates in up to 5 countries which include; United States, United Kingdom, China, Germany, and Japan which means you can receive money from bank accounts in those countries (USD, GBP, CNH, EUR and JPY respectively). If you don't have a Payoneer account before Signup now.
SIGNUP FOR YOUR PAYONEER ACCOUNT
How to Add Your Local Bank Account to Payoneer
The Withdrawal service allows you to withdraw funds from your Payoneer account to your local bank account. To add your bank details to your Payoneer account, please follow the steps:
1. Log in to your Payoneer account
2. Go to the Withdraw menu and select To My Bank Account
3. Click on Add New or Add Bank Account.
4. Confirm your security details.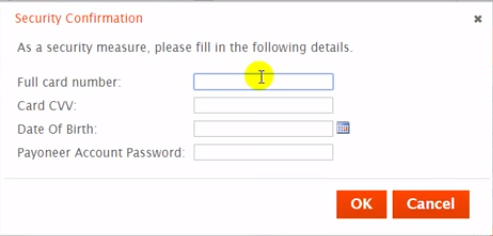 5. Add the details of your bank account. Add your bank name e.g Guaranty Trust Bank PLC. Add your bank account name just like you have it on your account, then enter your account number. For the swift number of your bank, google search for Bank Swift Codes in your Country and enter it in the swift code space. For example, swift code of GTB which am using is GTBINGLA.


You will receive an email notification when your new bank details for withdrawal are approved.
How to Withdraw Payoneer Funds to Your Local Bank Account
1. Log in to Payoneer.
2. From the menu, go to Withdraw >> To Bank Account.


If you have not yet added a bank account to withdraw your funds to, follow the procedure above to add it.
3. Select the currency balance or card you want to withdraw funds from.
4. Enter the withdrawal details, as explained below:
A. Select the bank account you want to withdraw funds to.
If you need to add a new bank account, click + Add new below this field and fill in your bank details. Our team will review and verify your info (this takes a few business days) and we'll send an email when you are all set to withdraw funds.
B. Enter the amount you want to withdraw. Note your available balance, displayed at the top of the page.
C. If you would like, enter a description for your records. This is not a mandatory field.
5. Click REVIEW. The withdrawal summary will be displayed.
6. Review the details of your withdrawal and make sure everything is correct. If you need to change anything, click Edit and make the necessary changes.
7. After you're sure that all is correct, mark the checkbox I approve this transaction and click WITHDRAW.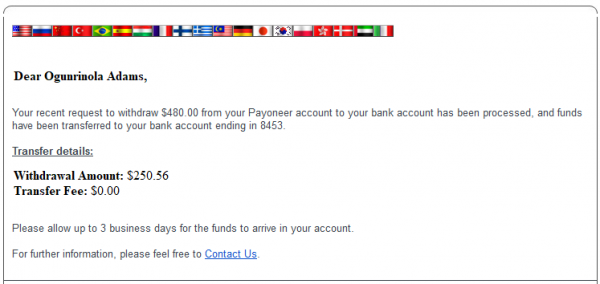 8. You will then receive an email confirmation after completing the withdrawal and your funds will be available in your local bank account within 3-5 business days.