When I built my gaming computer, I made sure to research all the products well before buying them. And when it comes to gaming motherboards, I sort out a shortlist of requirements which can be taken as a consideration for buying the best motherboard for gaming PC.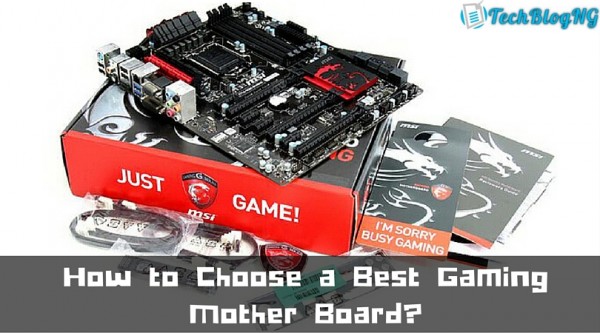 The gaming industry has grown pretty well in the last decade. It has upgraded from the 80's pixel-based games to today's 2D and 3D Virtual Reality gaming. To really enjoy high-class games, the gaming motherboard is an essential thing you should consider. Check these below tips which will help you to choose a Best Gaming Mother Board for your PC.
Tip-1: Go for a Top Brand
If you want to worth your money, you should be looking for the best brands of a gaming motherboard available on the market. There are some new brands available on the market who provide highly rated features, but you should rely on the best. The reason is, they have satisfied a number of customers and by considering the reviews they got, you can choose the best option for quality gaming.
Tip-2: Compatibility of Your RAM and CPU
You must buy a gaming motherboard which is compatible with your CPU and RAM. For RAM, there are three things you can consider to:
1) RAM Capacity: RAM comes with a storage capacity of 32/64/128 GB. If you are building a high-performance system with a ton of memory, then you must know the maximum amount of your RAM can take on. It is not a big problem for most of the builders, though.
2) RAM Type: There are two types of RAM you can get, either DDR3 or slightly faster DDR4. Both are good, you can select any. But remember that a motherboard supports one or the other only, so if you buy a DDR3 RAM, then you must pick a DDR3 motherboard.
3) RAM Speed: After making sure your motherboard supports the type of your RAM, you should also check the specific speed of your RAM. If you buy a RAM with a speed of 2133Mhz, then you must check whether your motherboard supports 2133Mhz RAM or not.
You must also check that the type of your motherboard and CPU are same. If you choose an AMD gaming motherboard, then it will be only compatible with gaming desktops built for AMD. And it's not only about the brand like AMD or Intel, you must also match the socket type (processor interface) of your CPU. For example, if you buy an Intel Core i5-6500 which has a socket type of LGA 1151, then you must pick up a motherboard with the same socket type. That's it.
Tip-3: PCI-E and USB 3.0 Ports
Now or then, you will be looking to upgrade your gaming PC with a sound card, graphics card, network card, etc. For this, you should make sure that PCI or PCI-E port of your gaming motherboard are enough to insert them. Also, your motherboard should have enough USB 3.0 ports. This is not an issue with the modern gaming motherboards, but it is an essential rule to consider.
Tip-4: Size of Your Mother Board
Gaming motherboards come in different sizes (form factors). You should choose the CPU case which is suitable to your motherboard. The two most common motherboard sizes are ATX and Micro ATX. The Micro ATX boards are usually small in size and have fewer features like add-on slots and ports. The most common size is ATX, but if you want to build a budget-friendly and small gaming system.
Tip-5: Networking Support
Last but not the least tip, you should check the Local Area Network and WiFi support for your motherboard. Most motherboards support LAN networks such as DSL and fiber optic connections only. If you want a next-gen gaming, then you should look for a motherboard that supports a WiFi network too. If you bought a motherboard that does not support WiFi, then you can take help of a WiFi adapter or dongle to do the work for you.
That's it for today! I guess you have learned a lot about the guidelines for buying the best gaming motherboard for your PC. Follow these essential tips and enjoy a high-class performance on your next-gen gaming PC.
Author Bio:
Niki is a graduate in Electronics and Communication. She is passionate about writing on technology, electronics and SEO. Currently she blog at Best on Internet. You can meet her on Google Plus and Twitter.