If you want your business website to reach more prospective customers, then you cannot ignore mobile users. Your leads and prospects are spending more and more time on their smartphones searching for information and new products and services. In fact, more Google searches now take place on mobile devices than on desktop computers in the United States.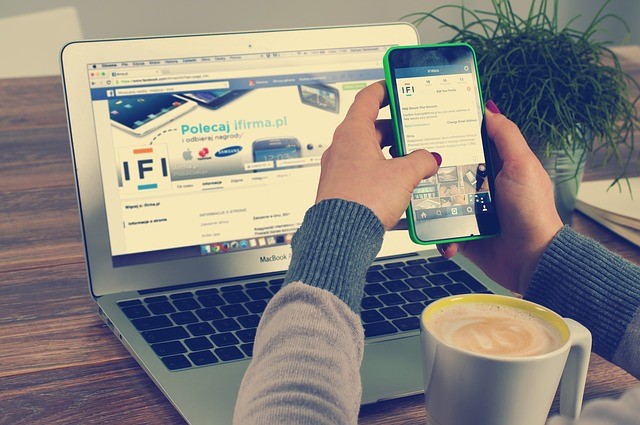 The mobile web has become so important that Google released a mobile-friendly update in April 2015. This update is designed to boost the rankings of mobile-friendly web pages on Google's mobile search engine results pages (SERPs).
Following the mobile-friendly update, apps also started to appear as organic links in Google's mobile SERPs. Apps now feature prominently on Google's mobile search results if they're deemed relevant to the user's query, whether or not the app is installed on the user's device.
The Importance of Responsive Web Design
As your leads and prospects are searching on a growing number of devices for information that will influence their purchase decisions, it is vital that your business website displays content responsively. Websites that adjust their content seamlessly to fit the screen sizes of different devices are following the principles of responsive web design.
Responsive web design gives users an optimal viewing and interactive experience—including easy reading, scrolling, clicking, and navigation. If your business website is not responsive, then Google will not display your web pages to its mobile users, even if your content is relevant to their search queries. This can lead to a significant dip in the organic traffic to your website, which in turn will negatively impact your conversions and sales.
To prevent any losses, consider upgrading your website to make it responsive. If you're an SMB on a tight budget, consider outsourcing the website upgrade to a reputable web designer or web design company.
[clickToTweet tweet="Checkout Best Tips on Optimizing Your Business Website for Mobile Users" quote="Tell Your Friends about how they can optimize a Business Website for Mobile Users"]
Tips for Improving Your Website's Visibility on Google's Mobile SERPs
Though recent studies indicate that organic real estate on Google's mobile search results is shrinking due to a growing emphasis on paid listings, the organic listings on Google's mobile search results have not lost their importance.
To drive targeted mobile traffic to your business website, you'll need to tweak your mobile SEO (search engine optimization).
Perform mobile keyword research and create content specific to mobile audiences.
Pay attention to frequently typed queries on mobile devices, as well as queries that are exclusive to mobile devices. Based on the results of your mobile keyword research, you should create mobile-specific content optimized with the right keywords.
You can use paid and free tools for mobile keyword research, including BrightEdge and SEMRush. By expanding your keyword portfolio, you can increase your organic search footprint and drive more relevant traffic to your business website.
To help you understand the difference between desktop and smartphone search intent on your website, you should access your Search Console data in Google Analytics. You can separate mobile from desktop clicks by selecting Devices > Compare Devices.
MUST READ: Checklist In Making Your Website Ready For Local SEO
Fix mobile-friendly errors on your website.
To strengthen your site's visibility on Google's mobile SERPs, you should fix your site's mobile-friendly errors.
Common mobile-friendly errors include the following:
Blocked JavaScript, CSS, and image files
Content that cannot be played on mobile devices
Faulty redirects
Mobile-only 404s
Slow page loading speeds
Conduct a thorough audit of your responsive or dedicated mobile site, and fix any mobile-friendly issues.
READ ALSO: How to Recover Social Share Counts After Changing Permalinks or Protocol
Integrate your website with social media.
You should complement your mobile SEO and mobile content marketing with a strong social media marketing strategy. By integrating your website and blog with popular social media sites, you create a strong buzz around your brand. Choose the right social media platforms to link your website and blog to, and encourage your followers or customers to interact with your content and your brand.
Fine-tune your mobile marketing strategy with Google Analytics.
Use Google Analytics to gain valuable insights about your site visitors. You can use Google Analytics to track how many people visit your website in a given period, the devices they use, and how frequently they visit your site.
Additional data that can be gleaned from Google Analytics include the location of your site visitors, the social media platforms that drive visitors to your site, as well as the content they share from your site or blog.
READ ALSO: 10 Things To Do After You Have Started Your Blog
You can use the resulting insights to fine-tune your mobile marketing strategy and improve the effectiveness of your business website. By fine-tuning your mobile marketing strategy, you can drive more conversions on your site, which will positively impact your sales and revenues.
| | |
| --- | --- |
| ABOUT THE AUTHOR |   |
|   | Alex Gomez is a freelance contributor for Adorama, an online store that sells smartphones and other computer products. You can follow him on Facebook and Twitter |