As already know, there are new versions of software's which PC users would be expecting every year. Although, there are many important and valuable software's but your PC security software is mostly important as it is needed to safeguard yourself. Today, I would be introducing the list of best free Antivirus Programs to safeguard your PC this year and few of their features. There are instances you might have some data's deleted you can make use of a free data recovery software to recover deleted files.
The below Antivirus to be discussed are free which means you can download them and use free of charge without payment, they also have lots of interesting features but may have advertisements and limited support in them but efficient nonetheless.

In terms of powerful protection and security against some of the widely identified malware, spyware issues, Avast 2015 edition is your better option as it tops all other Antivirus this year 2015. I am using Avast Antivirus on my PC and I can say it works great as it comes with a lot of additional support including home network security, free remote assistance and browser cleanup function that ensures PC / Computer to be running at its highest possible speed.
Avira Antivirus is a software that provides comprehensive protection against all types of threats, secures your data, protects your privacy and ensures your PC remains virus-free. There is also more features for people using Avira Antivirus Pro which includes:
1. Protection against identity and credit card theft
2. Protection from email-borne threats
3. Free support from a team of dedicated experts
AVG is the most lightweight programs around and if you are an avid gamer. The in-built features will help you join multiplayer matches without difficulty. A free antivirus is an ideal option for many low end computers and users who don't use multiple RAM to keep their system running quick. It's easy to use, and saves you from most blacklisted viruses and malware.
Another popular choice and the new version of this free antivirus program has been embraced by the general public for its amazing performance. It uses an online database where all types of new malware and spyware is being uploaded by computers from around the globe. Even if one PC gets affected, it will automatically mark the exact file as unsafe and save you from the trouble of getting hacked or infected.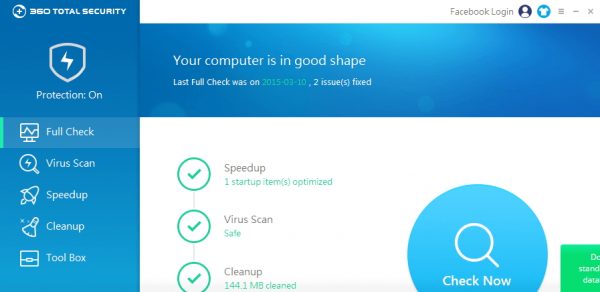 360 Total Security is a free antivirus program for maximum security and optimization of your Computer. It is your Total Security Solution. It has great features and performs great. It will cleanup and frees your disk space by removing junk files and plugin, which can improve system performance. It offers maximum protection in 4 different user selectable modes – Performance/Balanced/Security and Custom. Each mode offers a different level of protection from malware, phishing attacks and backdoors. With 360 Total Security, you can quickly check the overall condition of your computers' health and safety with one click.
Norton is a really popular brand and most computer users might have come across it one time or the other. The version provides excellent malware and privacy protection but lacks  Their paid versions are much more efficient because of the whole lot of features they offer but if you want basic protection against malware, the free version of the tool should be more than sufficient. Just have a good PC configuration for it to run smoothly and use the settings as per your requirement.
Although this free antivirus list is not complete unless there is the inclusion of data recovery software and mobile antivirus programs because smartphones are really PCs these days and you should protect them also. The Avast Antivirus, 360 Antivirus, and Kaspersky Internet Security which has been exclusively designed for Android phones is a good pick to get secured.