Picking anyone between WordPress, Magento and Drupal is not that easy as each of them has different perspective and functionality. It all depends on your business objectives and requirements.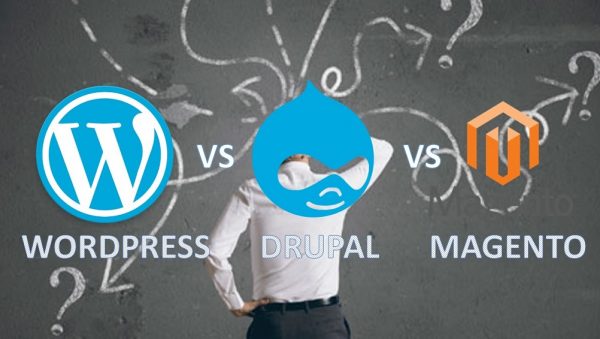 The discussion which is the best platform has been going on for quite some time. Conclusions vary from people to people. You simply cannot overlook a platform just because it lags behind others in one of the parameters. We have a plenitude of CMS to start web development process with. But, nonetheless, we are always perplexed when it comes to picking anyone.
To make things simple, we've dwindled down the list to three most widely used CMS i.e. WordPress, Magento and Drupal and would see under what specific requirements which platform would be reliable. So, let's get an insight of it.
WordPress
The first name that comes to our mind when we heard the word "CMS" is WordPress, isn't it? It is the most widely used Content Management System and one of the best website builder platforms. Initially, it was launched merely as a blogging platform but because of its rich functionality and features and the easy of usage made it a popular website builder platform.
Let's have a look at some of its facts:
– WordPress powers approx 24% of the total websites.
– it has been downloaded more than 160 million times.
– WordPress related keywords score 37 million searches per month.
– More than 75 million sites depend on it.
– It has more than 45,000 plugins to choose from.
– WordPress sites publish 24 posts every second.
Isn't these facts are awesome ? Well, we would another blog if we keep talking about its facts. As we can clearly see from the pie-chart that it is the most popular and widely use CMS, without any seconds thoughts. What makes it so popular? Its simplicity and flexibility and ease of its usage. Whether you're an expert in programming or hold a strong grasp on web development services or even layman, you can easily operate upon that. You don't need any prior experience in the, coding field and no technical expertise just devote some time and efforts and you can easily make a website.
Whether you want to create a blogging site or an e-commerce site or any other site, WordPress has it all and everything to offer you for developing a reliable website.
The biggest reason why it is the most sought after CMS is the reason being that it is an open source and free and the add-on is its plugins and the ease of customizing websites. That much of flexibility and usability you won't get in any other CMS. Plugins enhance the site's performance and functionality. You don't have to write a single line of code just install the respective plugin and voila.
Its major drawback is its security. Being famous and popular comes at a price and is more susceptible to cyber attacks and prone to hacking but you can add an extra layer of website security using the plugins.
Some sites that run on WordPress: TechBlogNG, SONY, The New Yorker, BBC America, TechCrunch, eBay Inc and much more.
Magento
Most of the e-commerce you have come across till now are made have been developed on Magento. It is the best-known e-commerce platform the reason being, its ability to manage e-commerce sites and controlling all the web pages simultaneously through single admin control. Generally, e-commerce sites have hundreds of pages and controlling them is a strenuous task but, with Magento, you can easily control them plus all the additional functionality such as product description pages, shopping cart, price tags, etc.
As of now, there are more than 502,666 websites that run on Magento out of which 251,825 are live while 150,841 sites have previously used it. If you want a site with complex functionality, then Magento would be the ideal choice as it has rich features and built-in Search Engine Optimization facility, therefore, you don't have to worry about your site's ranking on search engines. Also, store administration is easy with Magento whether you want to add new pages or modify existing ones, it's very easy with Magento and you can efficiently, effectively and conveniently do that.
Apart from that, it also offers other features such as product management, detailed analysis report, mobile compatible payment, etc. E-commerce sites built on Magento are more secure and scalable and are more stable. With easy customer segmentation and sorting and searching of product capability, it is perfect for developing sites that call for advanced functionality.
Some sites that run on Magento are: Nestle, Coca-Cola, Burger King, BevMo and much more.
Drupal
Drupal is ideal for developing large scale websites that require more advanced functionality. As it is based on MySQL and PHP, you need have a strong command over these languages and prior experience in web development for developing websites on Drupal. As the complexity factor rises, it demands more advanced technical expertise, but it is worth.
If you want to develop an educational site or any other portal, then this platform is a perfect choice as you can easily manage the site making it a clutter free process. It is simple and lets you conveniently customize the site as per your requirement plus the myriad of plugins and extensions add to its functionality.
Drupal is recommended if you're into Content Marketing as post the very unexpected Google updates in its ranking algorithm, content marketing has emerged as the new way of online business promotion. If your purpose is to advertise through content marketing, then choosing Drupal would be the right decision. It has standard features like easy content authoring with reliable security, but its module flexibility is what makes it stand apart. It lets you build well organized and structured content and a versatile and dynamic site. It is also recommended for developing integrated digital frameworks and can add extensions and plugins after that. You can even integrate Drupal with external functionality and other applications making it the most scalable and powerful one.
Some sites that run on Drupal: NBC, Oxford University, MTV UK, Disney etc.
All the three are fantastic CMS and provide different functionality under different parameters. One may have some enriching inbuilt features while another is easy to use or has a strong global community. Whatever the reasons are, the best solution really depends on your specific objectives.
Just remember that that in the long run, being realistic about your capabilities and your goals will drive a successful website.